Australia 27-8 Georgia: Talking points from the Wallabies' scrappy win
Michael Cheika's Australia confirmed a quarterfinal spot at the 2019 Rugby World Cup with a 27-8 win over Georgia.
The Wallabies overcame the Georgians on a day ravaged by constant rain and wind – a direct result of Typhoon Hagibis which caused the England-France and New Zealand-Italy games to be called off.
Due to the inclement weather, the contest at the Shizuoka Stadium was a rather scrappy one, full of handling errors and knock-ons.
Unlike other matches in this World Cup, fans had to wait a long time to see points being scored. Where the previous matches have seen points being scored in the opening 10 minutes, in this game, Australia opened the scoring in the 23rd minute.
Scrum-half Nic White was the man to initiate movement on the scoreboard. White was able to bundle in a try amidst some resilient defensive work from Georgia.
The Georgians, however, were back in the reckoning five minutes later. The Wallabies conceded a penalty via a high tackle on a Georgian and Soso Matiashvili got home three points from the kick.
Cheika's men got a penalty of their own, in the 37th minute. Despite the heavy rain and wind, Matt To'omua incredibly scored from the 45m spot to make it to 10-3 in Australia's favor.
Where the first half saw some suffocating defense from Georgia, the second was a tale of errors and knock-ons.
Milton Haig's men had a major opportunity to score a try in the 46th minute with Davit Kacharava weaving his way within the Australian 22. The ball being wet, however, led to Kacharava's pass being squandered and the Wallabies regaining possession.
Georgia's high-intensity defense had left its players fatigued and it showed in the 58th minute.
With a drop of his shoulders, Marika Koroibete dinked and wrong-footed Georgian players whilst on his way to score a fantastic solo try. To'omua's conversion made the score 17-3 in Australia's favor.
Lasha Khlamadze emulated Koroibete in the 70th minute. The fly-half bamboozled the Wallabies with a dummy that opened space for him. Khlamadze embarked on a tearing run before handing it off to Sandro Todua for the try.
All hopes for Haig and his team for a comeback though, were dashed in the 75th minute. Jack Dempsey was powered through for a try by the Wallaby ruck to give Cheika's men some breathing space.
Four minutes later, the Wallabies earned the bonus point with Will Genia scoring the final try of the game.
Australia are likely to finish second in Pool D, unless Wales lose to Uruguay on Sunday – a highly unlikely event. This means that the Wallabies will be up against eternal rivals, England, in the quarterfinals.
Talking points
Mamuka Gorgodze's last stand and Georgia's resilient defense is a welcome experience for the Wallabies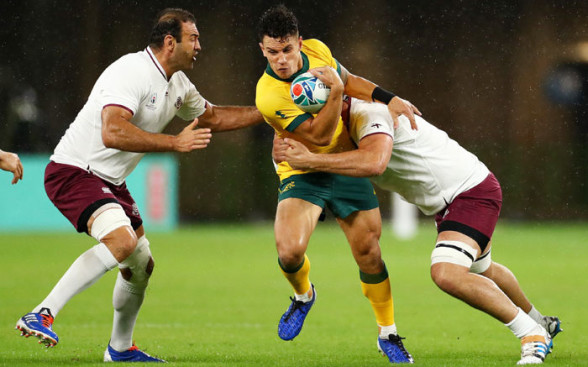 Georgia are no pushovers. Their imposing size and defensive acumen make them a fearsome test for any team.
This was clearly evident in today's game as Georgia put up another impressive stand on the defensive end.
Haig's men attempted 218 tackles and posted an 86% success rate (218 made tackles). Their positioning was on point, rarely allowing Australia opportunities to break the line.
The finest moment for the Georgian defense came in the 16th minute when they prevented the Wallabies from scoring while at the five-meter line. A combination of tough play and quick-thinking allowed the Georgians to win a penalty and clear their lines.
In his final international game, Georgia legend Mamuka Gorgodze was immense. He clocked in 15 tackles with a 100% completion rate.
Along with Bekha Saginadze, Beka Gorgadze and Giorgi Nemsadze, Gorgodze was one of the lynchpins for Georgia today.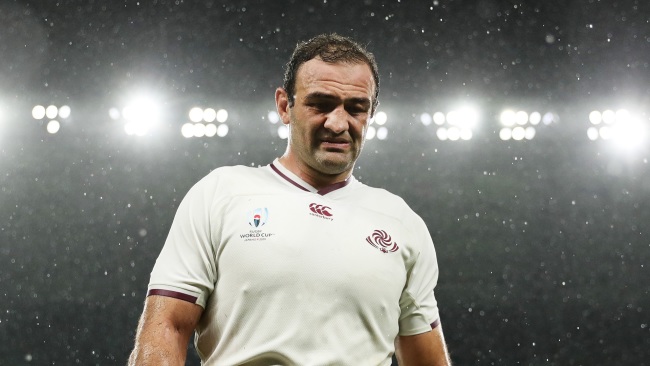 Gorgodze's influence and attributes will clearly be missed by his nation.
For Cheika, going up against such a sturdy defensive unit, right before a tough quarterfinal, is a blessing. Australia had to grind out the result and as we go deeper in this World Cup that is something the Wallabies would have to do more and more.
The weather plays havoc
Incessant rain and heavy winds in Shizuoka made this Australia-Georgia game extremely scrappy.
With the ball being wet, it was difficult for players to handle it. This resulted in a whole host of turnovers.
The Wallabies and Georgia combined for a total of 33 turnovers in the game with the former committing 22.
The second-half, especially, was characterized by knock-ons and handling errors. In fact, between the 46th and 48th minute, there were two knock-ons in succession.
In the end, the weather made the game an untidy affair which did not make for the best viewing pleasure. Australia, however, will be looking to learn from this experience.
The weather in Japan will not always be great. To experience such conditions before the knockout stages will only help Australia's cause.
The Wallabies have to capitalize on their opportunities
Australia might have won 27-8 and scored a bonus point but did not look convincing today.
They dominated possession (76% to Georgia's 24%) and territory (80% to Georgia's 20%) but had to resort to scoring scrappy tries.
This makes for some worrying reading for Cheika's men.
Yes, the combination of bad weather and solid Georgian defense made it hard for Australia.
That being said, Australia will not be dominating proceedings, like they did today, in the knockout stage.
Cheika and his cohorts have to make more of the opportunities they get to improve their chances in the knockout stages.
Cover image credits: Fox Sports