Return of the Bundesliga: Safety protocols behind the restart
Finally, the Bundesliga is back and it is a huge sigh of relief for football fans across the world. The game is an integral part of people's lives and culture, and for the last two months the absence has had a huge effect on player, clubs and the football circle as a whole.
As the glorious game slowly returns to closed stadiums sans fans and spectators, there has been rigorous enforcement of the safety protocols for players, staff, referees and TV production crews relating to hygiene to ensure that the league is played out to an end.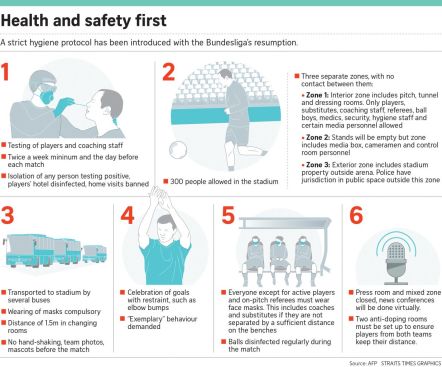 HYGIENE
The league has resumed, following strict hygiene and medical rules before and during the return of Team training, resuming match day operations and TV production. These include three key areas of high risk management.
1. Domestic environment of staff, players and referees
All the personnel involved in the match day are mandated to follow a strict isolation protocol, even at their homes. This is included isolation from family members and rigorous personal hygiene protocol. Referees, players, staff are all subject to continuous monitoring and regular tests for Covid-19. All the press conferences (pre-match and post-match) are now conducted virtually.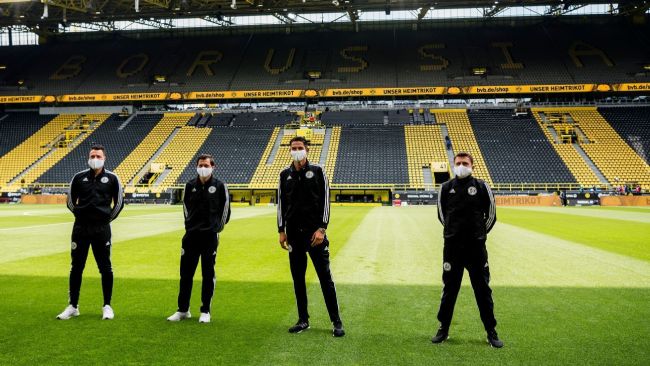 2. Team Training protocols
Even before the Bundesliga teams resumed their training schedule, all of them were asked to complete a mandatory 7-day training camp quarantine. Training routines have been changed. Players and staff of clubs are subject to continuous and regular testing for Covid-19. Players of the teams and important players especially are staying in quarantine hotels. 
The dressing rooms are regularly disinfected by workers taking full precautions and wearing hazmat suits. In the shower rooms, the number of players allowed at a single time is strictly regulated. Lockers and showers are separated so as to ensure there is enough space between players. Disinfectants are also placed at important places throughout their changing rooms. 
If a player or staff is found with any symptoms, health authorities are informed and strict procedures are followed. Any decisions regarding the case is made solely by the health authorities.
3. Protocols during the games in the stadium
The match ball is regularly disinfected. In case a local outbreak makes it impossible to stage a match, short-term venue changes will be permitted.
FANS
All the games are strictly played behind closed stadium, which mean there will be no spectators. No fans are allowed to gather outside the stadium too. If fans gather, the matches will be abandoned.
WORKING PERSONNEL
The number of people allowed inside the stadium has been reduced drastically. Stadiums are divided into 3 parts:
Interior (Ground area) maximum of 100 people
Stand section (People seating area) maximum of 117 people
Exterior (outside parts) maximum of 111 people
All of these personnel are subject to dynamic shifts to ensure that many people do not work simultaneously in the same area. 
PLAYERS & COACHES
All personnel are told to wear masks in the stadium. Only the manager and the playing 11 are allowed to remove their masks.
Players are not allowed to celebrate goals together. Social distancing needs to be followed by players when they celebrate.
In team dugouts, the substitutes and staff should have significant distance of minimum 2 or 3 seats between them and masks are mandatory in the dugout.
There is no pre-match line up or handshake prior to the kickoff, warm-ups are staggered and each team will take separate tunnels to enter and exit the pitch.
All clubs have been told to use multiple buses and dressing rooms to reduce the number of people in a confined space.
TV PRODUCTION AND JOURNALISTS
The number of people in television crews have also been drastically reduced. It is mandatory for them to wear masks and follow hygiene protocols before, during and after the match. All the mics are covered with cling films before the players speak in post-match interviews.
All press conferences are virtual, and the number of journalists allowed has been significantly lessened. Apart from this, Flexiglas is used to ensure there is no transmission of disease from journalists to players or vice versa. 
Featured Image credits: Bundesliga YouTube Channel