"It was not a red card", Mourinho miffed with referee's decision on Son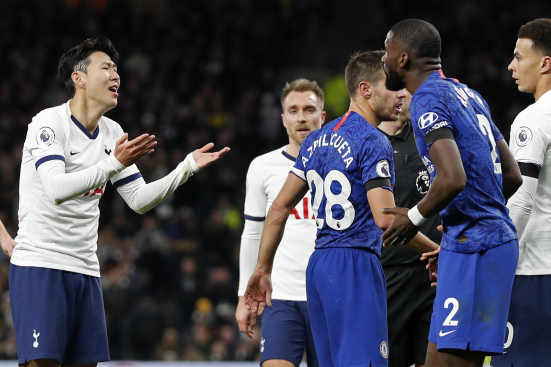 Jose Mourinho doesn't think Son Heung-min should have been shown a red card for violent conduct in the London derby played between Tottenham and Chelsea on Sunday.
The 27-year old South Korea international was sent off in the second half of the game after he studded his boots into Rudiger. Son was trying to move the ball into Chelsea's box when Rudiger got him down on the ground with a tackle, that could possibly have gotten him a yellow card.
But, before the referee could do anything about Rudiger's tackle, Son studded his boots into the Blues' defender and although, he did it in a harmless manner, the referee referred it to the VAR for a possible red card.
The VAR (video assistant referee) decided that Son intentionally tried to hurt the opposition player and hence, it was a red card. But, Mourinho thinks it's not the purpose of the VAR to make such calls. The VAR has been put in place to make the unanimous decisions and not the 50-50 decisions.
According to Mourinho, it was not a clear red card. Some people including himself would be of the view that it was not violent.
Whereas, some others would have a different view and they would say it was intentional and was a red card. But, the VAR has not been implemented for the situations where the opinions are divided.
VAR is for the situations, where the opinion is unanimous like the penalty that was given against Tottenham towards the end of the first half. Everybody saw the replay and was in agreement that it was a penalty and it was rightly given by the VAR.
"My opinion is that the VAR is for 'clear and obvious' mistakes and not for situations where some people say it is and some people say it isn't. The reality of the VAR is the penalty, 60,000 people in the stadium, all of them would say, 'Clear penalty.' Mourinho was quoted saying in the post-match press conference.
Featured Image Credits: Football365