Observations from the Milan Derby as Zlatan is the hero again
AC Milan met Inter Milan for the first Milan Derby for the 2010-21 season.  
The match was an enthralling one, ending in a competitive 2-1 score for the 'I Rossoneri.'  
Zlatan Ibhrahimovic scored early in the match, 13th and 16th minute, before being answered back once by Romelu Lukau in the 28th minute. 
These happened to be the last goals scored in the match. The win for AC Milan was their first time since 2016, when they last won against the home rivals.
Observations from the Match
Inter without the clinical touch
Antonio Conte's side produced a dozen of good chances through the match but found the net only once. 
Many of the chances produced by I Nerazzurri were either shot out wide or were too timid to really challenge Donnarumma. 
The wide player in Conte's 3-5-2 formation simply could not get in break Milan's defence and most of the play was a straight- forward approach. 
Inter looked too haphazard in their press to win the ball back once they lost it, and clearly lacked the needed vision to convert the chances. 
The Serie A looks a very competitive one this season and such poor conversions could prove very costly for the' Blues and Blacks' in the course of the tournament.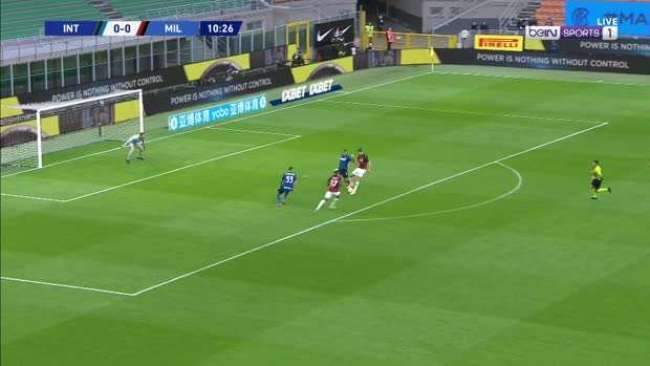 Zlatan continues to be beating heart
Zlatan Ibhrahimovic had a wonderful night against his former club. He scored early into the match first from a rebound of a penalty that was saved by Samir Handonovic and the second 3 minutes later from a prefect cross from Raphael Leao. 
He proved to an anchor for AC Milan once again. Every time the Milan's attack looked unorganised and confused, he used his incredible presence to bring his side back into the game.
Zlatan was simply the leader for the relatively young side. His monumental mentality and approach for the game will be key for the team as they begin their European adventure next week in the Europa League.
Defensive disorganisation remains for AC Milan
Stephano Pioli's 4-2-3-1 formation might have been a grand success for the attackers, the full back have still not been able to get cushioned in the formation. 
Young defender Theo Hernandez had a mixed game as his attacking game provided the side an extra cutting edge, but he failed defensively.
Also there was very less defensive yielding from the forwards as they spend most of the time high up the pitch, leaving a gap between the midfielders and attackers, something that Inter used to their benefit.
Stephano Pioli must look forward to solve his side's defensive vulnerabilities as soon as possible. 
Milan looked completely stunned during counter attacks, which were eventually thwarted by reckless challenges leading to yellow cards. This is no long term policy, as soon the Italian coach could find most of his player suspended.