Wimbledon 2021: Round 2: Five Reasons why Kevin Anderson can trounce Novak Djokovic
Top seed Novak Djokovic sets up an intriguing second-round clash against the experienced Kevin Anderson in Wimbledon 2021.  
What happened in the Djokovic vs Jack Draper match?
The World number 1 struggled in the slippery conditions and lost the first set 6-4 to the wildcard Draper. The Serb failed to convert 7 breakpoints. However, Novak Djokovic stepped up a gear taking the next 3 sets 6-1 6-2 6-2. The top seed got easy points with his strong first serve (25 aces). 
Jack Draper could not control the long rallies and eventually ran out of ideas against Djokovic's rock-solid defense. The defending champion would have been pleased after finishing the match in just 2 hours against a tricky opponent.  
When was the last time Djokovic lost the first set in the first round of Wimbledon?
Djokovic lost the first set by a similar scoreline of 6-4 to Belgian Olivier Rochus in the first round of Wimbledon 2010. The Serb bounced back to win in five sets 4-6 6-2 3-6 6-4 6-2. 
How Kevin Anderson outlasted Marcelo Barrios Vera in 4 sets?
Anderson pounded 41 aces in a tight 6-7(4) 6-4 6-4 7-6(4) victory against qualifier Marcelo Tomas of Chile. The South African won a solid 87% of points on his first serve. The former Wimbledon finalist also took an impressive 62% of points at the net (33/53).  
How many times has Anderson hit 40+ aces in a singles match at Wimbledon? 
Anderson fired 49 aces in a five-set victory against John Isner in the semifinals of Wimbledon 2018. The 35-year-old also smashed 40 aces in a five-set loss to Djokovic in the pre-quarterfinals of Wimbledon 2015. Overall, he has hit 40 or more aces 3 times in his career (all at Wimbledon). 
Novak Djokovic vs Kevin Anderson: Head-to-Head Record
Djokovic has a comfortable 9-2 win-loss record against Anderson. The Serb has won his last 3 matches against Kevin in straight sets each. The World number 1 also leads a perfect 3-0 on grass against the South African. Their last meeting on grass was in the Wimbledon 2018 finals which Novak Djokovic won 6-2 6-2 7-6(3).
Trivia: Djokovic has beaten Anderson thrice in Wimbledon and went on to win the title
| | | |
| --- | --- | --- |
| Year | Wimbledon Result vs Anderson | Tournament Result |
| 2011 | Djokovic won 6-3 6-4 6-2 in the second round | Novak beat Nadal in the finals in four sets |
| 2015 | Djokovic clinched a thriller 6-7(6) 6-7(6) 6-1 6-4 7-5 in the round of 16 | Djokovic defeated Federer in the finals in 4 sets |
| 2018 | Djokovic outplayed Anderson 6-2 6-2 7-6(3) in the finals  | Djokovic won his 4th Wimbledon title after a 2 year-drought |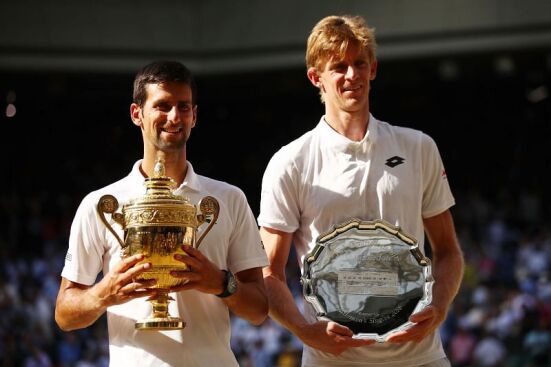 What are the 7 weapons that Anderson possesses to outwit Djokovic?
1) Kevin Anderson can hit more winners than Novak 
The South African hit 67 winners in 4 sets against Marcelo Tomas in the first round. In particular, his backhand volleys helped finish off the rallies quickly. In comparison, Djokovic struck 47 winners in his 4-set victory against Jack Draper. The Serb's lethal forehand and the two-handed backhand reaped rewards in the fast conditions.
Could this be the turning point?
Anderson struck 69% of winners from his forehand against Tomas Barrios and will depend on that to outsmart Novak Djokovic. Standing at an imposing height of 6'8", Kevin can also finish off points with razor-sharp volleys at the net. 
2) Anderson covers less distance every point than Djokovic
Kevin Anderson ran 21.2 metres every point against Marcelo which is less than the 23.5 metres per point covered by Djokovic versus Draper. The South African will use this advantage to tire out Novak as the match progresses. The Serb will be under pressure to keep points short by hitting more aces as he did against Jack Draper.  
3) Anderson can play marathon matches better than Djokovic
Kevin Anderson is no stranger to long matches in Wimbledon. He played two back-to-back five-setters (a 4 hours 14-minute victory against Federer in the quarters in 2018 followed by a 6 hours 36-minute win versus Isner in the semis).
Novak Djokovic is also capable of standing strong in tiring encounters. The Serb played two epic matches (5 hours 15-minute victory versus Nadal in the semis in 2018) and another (4 hours 57-minute triumph against Federer in the finals in 2019). 
However, his strategy of playing first-strike tennis (0 to 5 shot rallies) may prove to be a disadvantage if the match goes 4 or 5 sets. Djokovic can also lose the momentum if there are any mid-match wobbles.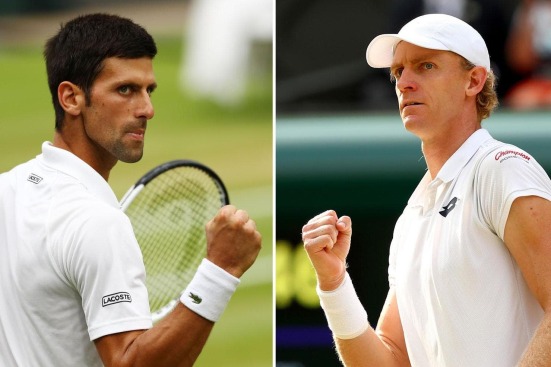 4) Anderson has won more first-serve points on grass than Djokovic in the last 1 year
Interestingly, both Kevin Anderson and Novak Djokovic won 87% of their first serve points each in their respective first round matches. However, the South African has clinched more first-serve points in the past 52 weeks on grass (85.4%) more than Nole's (78%). 
With both right-handed players winning a majority of their points with their robust first-serves, Anderson could pip Djokovic if he hits the right spots. The battle between two-handed backhand returns would be another treat to watch.
5) Anderson saved more breakpoints on grass than Djokovic in the past 1 year
Kevin Anderson will have noticed how Novak Djokovic hardly conceded any points off his serve against Draper. The Serb's games rarely went to deuce in the first round. But, Anderson will be confident having saved more breakpoints (75%) than Djokovic (64.9%) in the last 52 weeks on grass.
Similarly, Anderson's serve is the toughest to break on grass as he has narrowly edged in taking more service games (89.7%) than the World number 1's (89.6%). Hence, the World number 102 is better in protecting his service games than the defending champion. 
So, dear fans, do you think Kevin Anderson can pull off an upset against the World number 1, Djokovic? Do let us know by sharing your comments below!
Featured Image Credits - Getty Images