Crypto High Rollers: Exploring the Lives of Bitcoin Gambling Superstars
Winning big at a casino can turn out to be a life-changing experience. Imagine what that feels like. It's like your regular day turning into the best day ever in just a second. Think about it: one lucky spin or the perfect card, and suddenly, you dream of a new home.
Big wins on the reels can create room for extra fun time with your family. It can even allow you to say goodbye to your job early. And, oh, a shiny new Lambo could be on the cards for those who desire luxury items.
Now, let's talk about Bitcoin gambling sites. They are like regular casinos but with a twist. Since the value of Bitcoin can go up and down, if you win today, your prize might be worth even more tomorrow. So, not only do you get the joy of winning, but you might also get the bonus of your win growing in value. Sounds like a double win, right? It can turn out that way under the right circumstances.
How about this? There are times when there are better options than going big. History has shown that even placing a tiny bet can lead to giant rewards. It's like finding a treasure chest in your backyard when you were just planting a flower. 
Our guide details successful gamblers who, with some luck, turn small bets into massive payouts. Follow along as we reveal some of the biggest wins in the crypto gambling industry.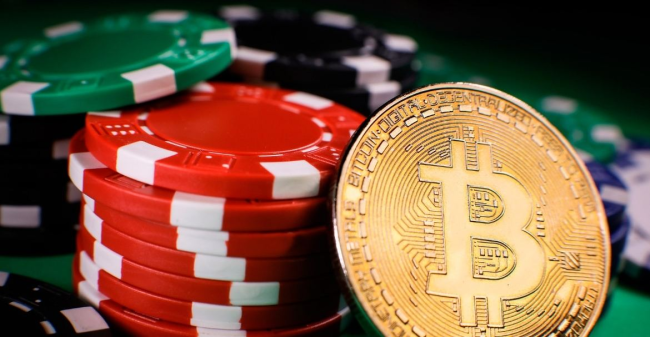 Biggest Wins in the Bitcoin Casino Industry
Let's jump into the spotlight and recount some of the most epic crypto casino victories. First up, a memorable event from 2013, a time when Bitcoin was just warming up:
1) The Original Mega Win with Bitcoin
Back in September 2013, a player named Nakowa had quite the weekend. He decided to try his luck on dice games, and boy, did it pay off. He walked away with an incredible 11,000 BTC at the end of his gambling spree. If we peek at today's rates, that's a jaw-dropping $102 million. Nakowa sure knows how to play.
2) The Unexpected Jackpot Moment:
2017 was kind to a crypto casino enthusiast with ID number #28ea0d38e1. In February 2017, this individual took a leap of faith with a bet of merely 0.1BTC on a Bitcoin Video Casino game. And the universe responded. The outcome? A massive jackpot reward of 259.74 BTC. And get this - by the end of 2017, with the crypto value skyrocketing, this win could've been multiplied by 20 times. Talk about timing.
3) Big Win with "Troll Hunters" Slot
In 2017, a mystery player tried their luck with the "Troll Hunters" slot by Play 'n Go. The player secured this win by placing a bet worth only 0.16 BTC. However, that is not the exciting part of the story. With a 0.16 BTC bet, the player won a whopping 216 BTC from that one try. With the current price of Bitcoin, the value of this win is already double its initial value.
4) Lightning Roulette's Big Winner: A Whopping 87 BTC
A fortunate gamer recently hit it big, bagging 87 BTC in one go on the ever-loved Lightning Roulette. They placed a daring bet, which paid off spectacularly with 500:1 odds, earning them 49.22 BTC from that spin alone. 
However, it did not end there; the roulette player won more. During their entire game session, they racked up an impressive 87 BTC. The gamer's win ranks high among the top crypto Casino victories.
5) Lucky Coin Slot's 23BTC Prize
An anonymous gambler tried their luck on a "Lucky Coin" slot by Amatic Games and walked away with 15 BTC. To paint a picture, in November 2017, a single BTC was valued close to $20,000. Yet, their luck didn't stop there. Riding the wave, the player snatched another 8 BTC, bringing their total to an enviable 23 BTC.
6) Rookie Strikes Gold with 55 BTC
In 2013, a newcomer named Nickelj smartly played his Welcome Bonus on a Betsoft slot, "True Sheriff." Just as the bonus round neared its end, he scored a free spin. Seizing the moment, he opted for a Max Bet. It turned out to be the right call. With that free spin, he won 55 BTC. 
At the time, the value of BTC was not much; however, when writing this article, the total prize money would be worth over $200 thousand. This jackpot is quite massive based on the current valuation of BTC.
7) 53 BTC Victory on Live Roulette
Another big win story from September 2018: A player took home a hefty 53 BTC, equivalent to $340,000 then. Thanks to Live Roulette's generous betting limits, dreams became a reality.
8) Beginner's Luck: 29 BTC Jackpot
In May 2020, a casino newbie experienced the thrill of a lifetime. They tested their luck on online slots and, without much waiting, snagged a jackpot of 29 BTC, or $250,000 in regular money. Talk about a warm welcome!
9) Monster Win of 354 BTC in Solomon Go.
Adding to our list of extraordinary wins is a whopping 354.24 BTC, translating to $1.35 million. This came from the action-packed game Solomon Go, reminiscent of the 2017 global phenomenon, Pokemon Go. Solomon Go is all about monster hunting, and this player surely caught the biggest monster of them all.
Conclusion
Regarding Bitcoin gambling sites, every spin and bet carries a story of ambition, chance, and timing. From Nakowa's legendary dice game spree to the heart-pounding jackpot of a newbie, crypto gambling is no less than a roller coaster of emotions. 
It's a world where a mere fraction of Bitcoin can transform into a fortune, and stories unfold in the blink of an eye. These tales of victory echo the larger narrative of the cryptoitself - unpredictable, thrilling, and filled with potential. 
So, the next time you place a bet in the digital realm, remember, you're not just gambling; you're becoming a part of an ever-growing chronicle of crypto high rollers. Who knows? Your story might just be the next to inspire awe. 
Cover Credits: Pexels.com