Michael Phelps: Player Profile| Records| Honors and Awards
Michael Fred Phelps II is the most decorated Olympian in the world of all time, With a total of 28 Olympic medals which includes 23 Gold medals which he has won over four Olympic Games. Known as the 'Baltimore Bullet', his great swimming ability is a combination of skill, physical ability, and hard work. At the age of 31, the American swimmer retired from the sport as the greatest of all time, just days after finishing his fifth Olympics with five golds and a silver medal.
Born on June 30, 1985, in Baltimore, Maryland, Michael Phelps was the youngest of three children which included two elder sisters. His father Fred, an all-around athlete, was a state trooper who played football in school and college and his mom Debbie was a middle school principal. Phelps began swimming when his older sisters Whitney and Hilary joined a local swim team. At the age of 7, The Olympian was scared to put his head underwater as a result the coaches allowed him to float on his back.
So not surprisingly, the first stroke he mastered was the backstroke. He started his swimming career at the Loyola High School Pool. He met coach Bob Bowman when he started training at the North Baltimore Aquatic Club at the Meadowbrook Aquatic and Fitness Center. The coach instantly recognized Phelps's talents and passion for competition. Beginning an intense training regime together, by 1999, Phelps had made the U.S. National B Team.
Michael Phelps is widely recognized for his formidable butterfly though he also specializes in medleys and 100 and 200-meter freestyle. He swims a number of events and a variety of strokes. Although he did not win any medals in the first Olympics he participated in Sydney, Australia. In 2008 he won medals in the freestyle 200m and butterfly 100m and 200m individual and relay events. He's also medaled in the medley events which require all four strokes.
Though Phelps struggled in school and was diagnosed with Attention Deficit Hyperactivity Disorder, he focused mostly when it came to swimming. In 2000, At age 15 making his debut in the 2000 summer Olympic Games, he was the youngest male Olympian the United States had presented in nearly 70 years. Though he did not win a medal at the meet, he competed in the finals against Tom Malchow, finishing fifth.
Winning his first Gold in the 2001 World Championships in the 200m butterfly, there was no stopping the Olympic swimmer thereafter. He then went on to win 65 gold, 14 silver, and 3 bronze participating in four Olympic Games, Eight World Championships, and four Pan pacific swimming championships over the course of fifteen years. He then retired from the game after taking part in his last and final race at the 2015 summer Olympic games in Brazil.
Training
It's no secret that Phelps trained hard as he wanted to be the greatest swimmer in the world!. During the peak of his training, He swam about 80,000 meters a week which is almost 50 miles. He would train swimming twice a day, and sometimes more if he trained at a high altitude. A lot of his training concentrated on drills, underwater kicking, vertical kicking, and sculling. He made sure to hit the gym and lift weights at least 3 times per week. In general, he trained for 5 to 6 hours a day, 6 days a week.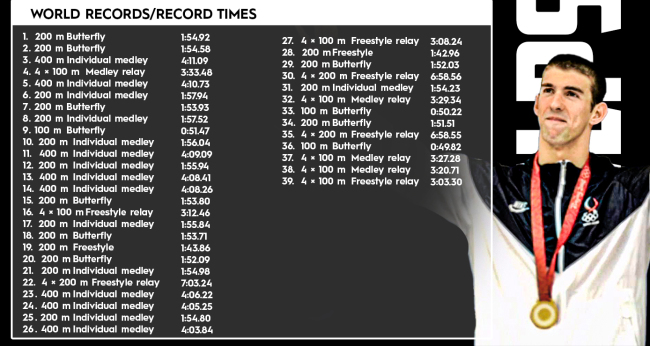 Records
Phelps has set 39 world records that is for 29 individual and 10 relay events, which is more records than any other swimmer that is recognized by FINA swimming, surpassing Mark Spitz's previous record of 33 world records. Phelps also holds 21 Guinness World Records which consists of accumulative records for all the accomplishments and victories in the sport like most medals, consecutive number of medals, most medals within one tournament, most records in swimming, etc.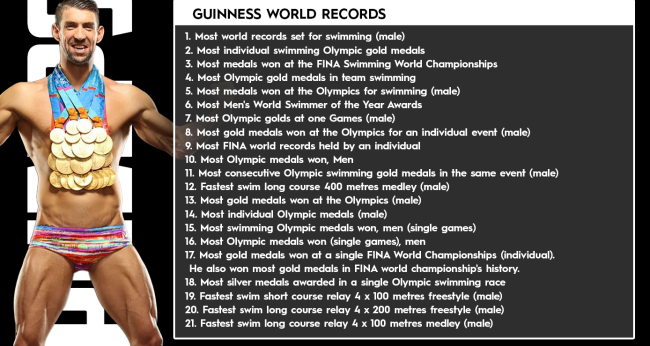 Honors and Awards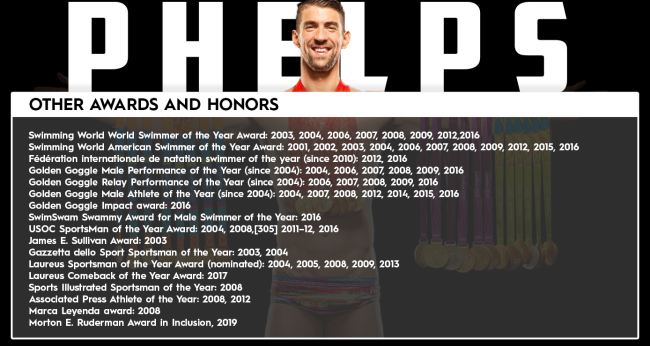 Michael Phelps has won numerous awards and honors over the years for his accomplishments in the sport over the years. In 2004, a street in his hometown of Baltimore was renamed the Michael Phelps way. He was also invited to appear before the Maryland House of Delegates and the Maryland Senate, to be honored for his achievements in 2009. In 2019 his advocacy for people with disabilities and his own journey with mental health was recognized with the Morton E Ruderman Award.
Cover Credits: Olympics.com