FIFA WC 2022: All you need to know about the Al Rihla ball
The Al Rihla ball, the official match ball for the World Cup 2022, is the first-ever edition in the tournament's history to be held in winter. Al Rihla is the 14th consecutive ball created by the German manufacturers Adidas.
Adidas has taken the inspiration for the panel shape in the ball from Qatar's flag from all the little triangles. But they have also looked at the sails or dhow's which are a type of boat specifically the characteristics of triangular sails used on them, emblematic of the Gulf state's sea fairing history. 
The name of the ball 'Al Rihla' means in Arabic 'the journey or the travelogue that documents it. It's a cool name for the ball suggesting the ball itself will be part of many participating teams' journeys throughout the tournament. The Al Rihla is highly inspired by Qatar's culture, architecture, iconic boats, and flag of Qatar.
Adidas has researched a lot and put efforts to upgrade and update in terms of making the ball. With the new outer layer, the surface, and rubber bladder consists of quality materials, for better rebound, and consistency.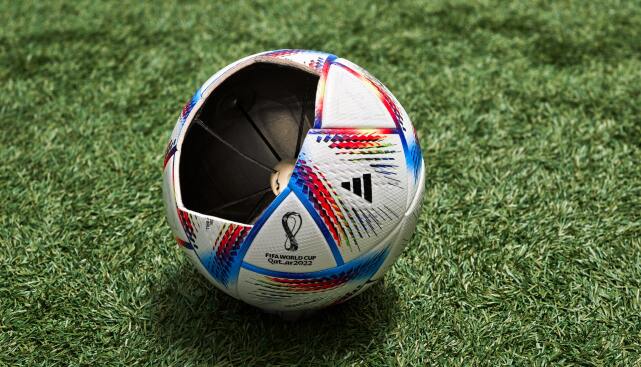 Also, there is a new panel design name speed shell one of the main innovations of the ball, it's basically 20 pieces of diamond-shaped panels on the ball which is inspired by Qatar's many sand dunes. The long edges of the panels and the surface give more grip and stability on the ball and it travels faster in flight as Al Rihla is not as smooth as the 2006's Teamgeist and 2010's Jabulani, to compare with. It aims to increase the speed and rotation of the ball, resulting in achieving aerodynamics and a perfect shot.
"The game is getting faster and, as it speeds up, accuracy and flight stability become critically important," says Franziska Löffelmann, the Design Director – of Football Graphics & Hardwear at Adidas. 
Also, the ball is also more sustainable than the previous World cup balls as it is made out of water-based inks and glues. It's the first of its kind in the World Cup, as sustainability was assigned as a key element behind this latest edition. Moreover, the ball has passed significant series of official tests, under the most demanding conditions as the ball bears the FIFA Quality Pro mark.
With the World Cup, kick-off on November 20, at the Al Bayt Stadium, the Al Rihla will start rolling to trigger the excitement for the biggest sporting festival around the globe.