Bournemouth defender Steve Cook sent off for bizarre handball
In one of the most bizarre incidents on a Football pitch ever, Bournemouth defender Steve Cook decided to take up the goalkeeping duties and tried to hand the ball over the bar to deny Norwich City a certain goal at the Carrow Road.
As Teemu Pukki approached the penalty area, the Bournemouth shot-stopper Aaron Ramsdale came out of his position to collect the ball before Pukki could get anywhere close to the six yard box.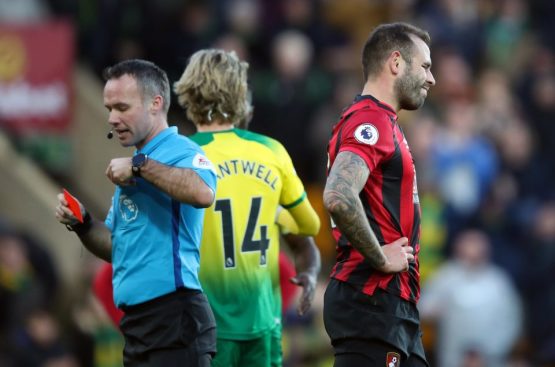 It was certainly turning into a dangerous move and could have resulted in a Norwich goal. So, the goalie was probably right in his decision to remove the danger early, but he failed in his attempt as he couldn't collect the ball cleanly.
The rebound fell in the way of Ondrej Duda who put proper curl on the ball and sent it on its way of hitting the back of the net.
Cook who was behind the goalie, all of a sudden, decided to take the matter in his own hands and absolutely flew in the air to handle the ball.
It was so evident that the red card was out of the referee's pocket straightaway. Although for some reason, the decision was then referred to the VAR, who also ruled the decision against the player.
Pukki converted the penalty, which was awarded to Norwich and it proved to be the winner eventually as Bournemouth failed to level the scores thereafter, playing with 10 men.
The Bournemouth boss Eddie Howe refused to be harsh on Cook saying it was just "instinctive" from the player.
"I didn't know that Steve had handled the ball. I actually thought it was Aaron (Ramsdale) who saved it initially. Pure instinct from him, without seeing it again, I can only assume he's chucked his arm at the ball in a moment." Howe told the reporters in the post match press conference. 
Featured Image Credits: The Times