SportCo's 2019-20 La Liga Team of the Season
In what was surely an unusual La Liga season, Real Madrid silenced their doubters as they went from strength to strength to capture the league title.
The 2019-2020 La Liga season was defined by the coronavirus induced break and it was Real Madrid's consistency post-lockdown that helped them to capture their 34th La Liga title and prevent FC Barcelona from completing another hat-trick of league titles.
We at SportCo went through season highlights, crunched numbers and debated long and hard to form our 2019-20 La Liga Team of the Season.
Consistency in performances as well as overall impact were key while making this XI. While the champions do dominate our XI, you'll see players from Sevilla, Villarreal and Real Sociedad as well.
I decided to go with a 4-3-3 formation to accommodate star performers as well as provide a semblance of balance in the side.
Goalkeeper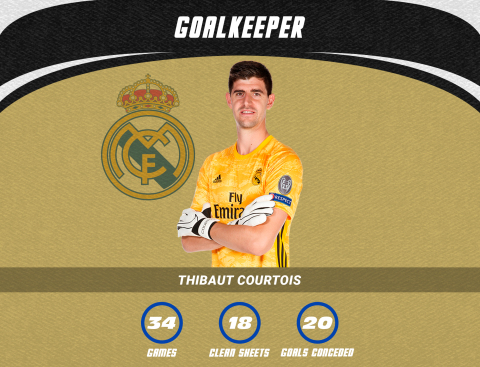 Thibaut Courtois' maiden season at Estadio Santiago Bernabeu was far from what was expected.
His resurgence this season, however, was a sight to see.
The Belgian regained his confidence at the back and dispelled all naysayers who considered Real Madrid's decision to send Keylor Navas to PSG a bad one.
Real Madrid's defensive unit was the star of this victorious campaign and Courtois was its silent leader. He produced great saves, rarely committed errors and became a reliable man between the sticks as los Blancos ended up conceding the least amount of goals in the season.
From that fateful night in Brugge where he had to be subbed off at half-time to amassing six clean sheets in 11 games post-lockdown, Courtois stepped up big time. He rightfully won the Zamora trophy and the league, but most importantly, got his mojo back.
There simply was no other choice at this position in our La Liga Team of the Season.
Defense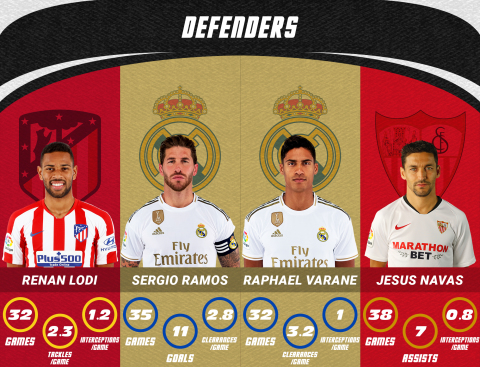 With only 25 goals conceded in the season, it is no surprise that our center-back pairing is that of Sergio Ramos and Raphael Varane from Real Madrid.
Both defenders were like an impenetrable shield in front of Courtois, dealing with attackers with ease. Ramos' aggression and Varane's discipline proved to be the best defensive combination in the league. 
The former added to that with a whopping 11 goals, the most by a defender in a season in the 21st century. In addition to scoring from the spot, he also showed his set-piece skills with a beautiful free-kick goal against RCD Mallorca. 
Varane's composure at the back was overlooked due to Ramos' heroic performances but the Frenchman was the glue in that impeccable defense. The 2018 World Cup winner put in an impressive shift day in and day out posting impressive defensive numbers, especially in the clearance department. He was the bedrock of Real Madrid's title charge this season.
Injury issues plagued Atletico Madrid this season but their defensive record (27 goals conceded) is testament to Diego Simeone's excellence as a manager.
Renan Lodi was the only permanent fixture in an injury-struck defensive line and the Brazilian proved to be a solid player for 'El Cholo'. Whether it was intercepting opposition passes or stopping their movement into dangerous areas, Lodi stepped up. 
His hard-work also showed up on the offensive end as he provided two assists and scored a goal. I also considered Sevilla's Sergio Reguilon for the left-back spot but went with Lodi for his defensive acumen.
Rounding up the defensive line for our La Liga Team of the Season is Jesus Navas. The Spaniard had a blast functioning as a right wing-back in Julen Lopetegui's full-back dependent system, providing seven assists in the season – 10th most in the league.
Navas did not shirk his defensive duties, averaging 1.6 clearances per game in addition to 0.8 interceptions per game and 0.7 tackles per game. Impressive numbers for a player who is 34.
Midfield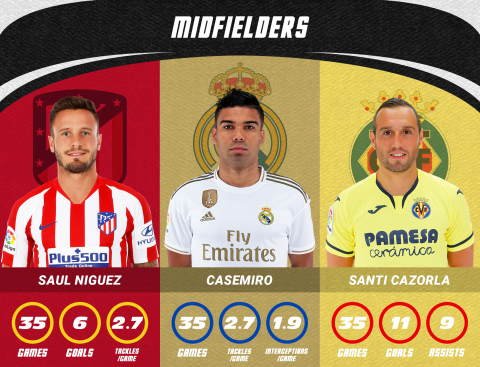 Real Madrid's new master of the dark arts, Casemiro, staked his claim to being the world's best defensive midfielder in this season. The hard-tackling Brazilian was able to shut off nearly every side's midfield this season with his displays. His performance in both editions of El Clasico this season was key to Real Madrid getting the better of their Catalan rivals.
Casemiro also propped up on the offensive end, scoring four goals and providing four assists this season.
Partnering the Brazilian is the Spanish duo of Saul Niguez and Santi Cazorla.
Los Rojiblancos went through a transition season and Saul was their top performer. He excelled in the role of a box-to-box midfielder and put up solid defensive and offensive numbers. His never-ending energy was a major reason why Atletico Madrid were able to overcome inconsistent form and finish in third place.
Santi Cazorla showed that he still possessed superb quality despite being 35. The former Arsenal man's career nearly ended with a brutal achilles tendon injury but he recovered and blessed Villarreal faithful with his magic touch.
Cazorla and Gerard Moreno were the driving force behind an impressive Villarreal side. The latter benefited from Cazorla's creativity, scoring 18 goals. Cazorla of course, mesmerized fans with his slick passing, providing 11 assists and scoring nine goals.
Attack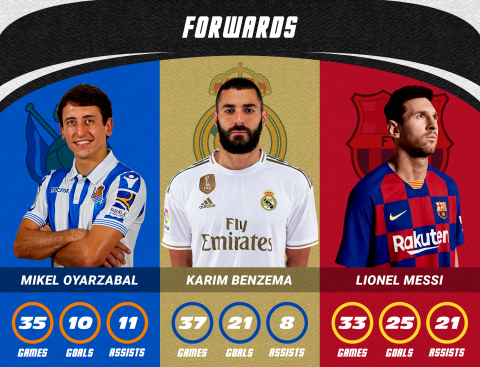 They say a declining Lionel Messi is still better than any other player on the planet. La Pulga carrying FC Barcelona on his back this season proves that statement. Despite not winning the league, he was the first name in our La Liga Team of the Season.
The Argentine legend endured a decline in goalscoring but was still the league's top scorer. He made up for that decline by setting a new single-season assist record in La Liga. His levels are unlikely to be matched, forget surpassed, in coming future. Had FC Barcelona's off-field issues not crept up on the on-field product, the Catalans could have held on to top spot and staved off Real Madrid.
Mikel Oyarzabal was the only player other than Messi to hit double figures in both goals and assists. The Spaniard slots in as a left-winger in our La Liga Team of the Season. Oyarzabal and Martin Odegaard were the stars for Real Sociedad and after the latter faced injury issues, the former took charge and helped La Real attain a Europa League spot.
Leading our La Liga Team of the Season's attacking line is none other than Karim Benzema – the best player in the best team of the 2019-20 season.
The Frenchman filled the goal-scoring vacuum left by Cristiano Ronaldo and did it in style. Who can forget his sublime finish against Valencia.
The former Lyon frontman was the most consistent player for Los Blancos both pre and post-lockdown. When he was not scoring, he was creating opportunities for his teammates, as seen by his eight assists. A surefire selection in our La Liga Team of the Season.
Honorable Mentions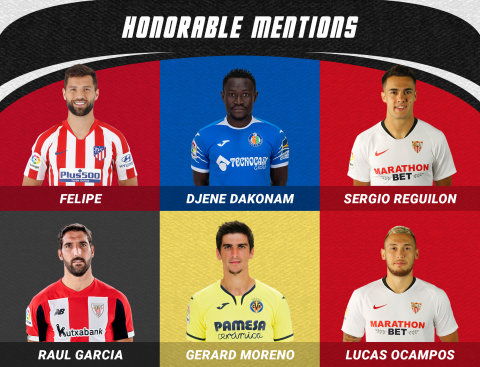 The Team