A memorable 2019 for Rohit Sharma
There is often a certain year in an athlete's life which defines his/her career. He/she feels good about the game, understands their own flaws and strengths much better and basically whatever they touch turns to gold. 2019 was one such breakthrough year for Rohit Sharma.
First, let's just look at some plain facts, he scored seven ODI hundreds this year – all seven against different opponents and five of which were at the world cup. He won the IPL with Mumbai Indians as a captain for a record 4th time. He cracked three hundreds including a startling double as a test opener. If the preceding years had established Rohit as a specialist ODI player, 2019 declared him as a behemoth.
An in-form Rohit Sharma is a treat to watch for cricket fans – the lazy elegance, the ease with which he lofts the ball down the ground, the delightful but sometimes disdainful pulls, and the sweet sweet timing which caresses the ball to the boundary – all provide for entertaining viewing. This year, he treated his fans to this entertainment, more consistently than his earlier years.
Let's take a look at some Hitman highlights from this year. In his very first international appearance on the cricket field, he hit a sublime 133 off just 129 balls in an ODI at Sydney vs Australia. Was it a sign of things to come? In hindsight, yes – absolutely yes.
Throughout the match, he kept setting up partnerships with Indian batsmen who struggled to time the ball. That no other Indian batsman in the top 7 had a strike rate of above 60 in this match speaks a lot of Rohit's timing. Although the match is much remembered for Jhye Richardson's 4 wicket haul, the 16 boundaries (6 sixes and 10 fours) that Rohit hit in that innings hit really stood out.
Next up on the highlight reel was the glamorous baby of Indian cricket – the 12th edition of the IPL. In between Sharma had hit 4 fifties in ODI cricket – 2 in New Zealand and 2 on Australia's tour of India. Coming back to the IPL, a season tally of 405 runs at an average of about 29 and a strike rate of 128.5 was not head-turning as such.
But what stood out was his smart captaincy – be it backing the young Rahul Chahar, benching the talismanic but out of form Yuvraj, using the Suryakumar and the Pandya brothers or handling Malinga, Rohit always came across as a proactive captain.
The crème de la crème of his captaincy was giving the last over in the finals to Malinga. Malinga had gone for a hefty 42 off his first 3 overs, but with CSK needing 9 runs off the last over for the championship, Rohit backed Mali (as the MI team fondly calls him) to redeem himself and redeem he did. A peach of a yorker saw Mumbai Indians scrape through by a solitary run and Rohit earned the prestigious title as the only captain (and the only team) with 4 IPL titles.
Then came the most sought-after tournament that the entire cricketing fraternity was waiting for – the ODI World Cup. In my opinion, when Rohit Sharma hangs up his boots and reminisces about his career, he will remember the 2019 world cup with some extra fondness.
India opened their world cup campaign against South Africa, were chasing a relatively modest total of 228, Rohit Sharma stamped his authority with an unbeaten 122. The pitch in Southampton was doing a bit and it can also be argued that Rohit was a bit fortunate against Rabada. But what was good about this innings was that Rohit was ready to fight out the difficult part and then cash in in the middle overs.
Next up India took on Australia and Rohit was up to the task again with a compact 57. He struck a 127 run opening partnership with Dhawan and that formed the base of a mammoth first innings score of 352. Then came the India Pakistan clash – a contest that has more value attached to it than the mere statistics it generates. Rohit stuck a dominating 140 off 113 deliveries in this match.
His trademark front foot pulls over midwicket were on full display here and they were a delight to watch. His next hundred of the tournament came in another important clash – against the formidable hosts, England. India were unable to chase down the target of 338 that England had set for them but Rohit Sharma was already building a skyscraper of runs at this world cup. A hundred each against Bangladesh and Sri Lanka added more floors to an already high institution.
Overall, he finished the tournament with 648 runs from 9 innings at an average of 81. But what stood out was his strike rate – 98.3 as an opener against a new ball (2 in fact) was a remarkably praiseworthy performance.
Then he hit upon a relatively dull period in the West Indies (call it a law of averages catching up with him). But the charm of the year 2019 wasn't done with him. There were more surprises in store. India had opened with KL Rahul & Mayank Agarwal in tests. Prithvi Shaw was kept as a reserved opener and is still looked upon as a promising prodigy.
But Rahul's indifferent form in tests and Shaw's temporary ban for consuming a banned element threw a lifeline at Rohit Sharma's test career. He was propositioned to open a test innings on South Africa's tour to India. Sharma was in the middle of a real purple patch in white-ball cricket. But opening in tests was going to be unchartered territory.
And this territory came with an asterisk mark – a failure here could have well and truly shut the doors on Rohit's test career. So Rohit was keen to make it count. And count he did! He scored emphatic hundreds in both the innings of the first test – 176 & 127 – making over 300 runs in the test match to announce himself as a test opener. In the third test, he did even better – notched up his maiden test double hundred. An innings of 212 at a strike rate of 83, that too in a test match – priceless.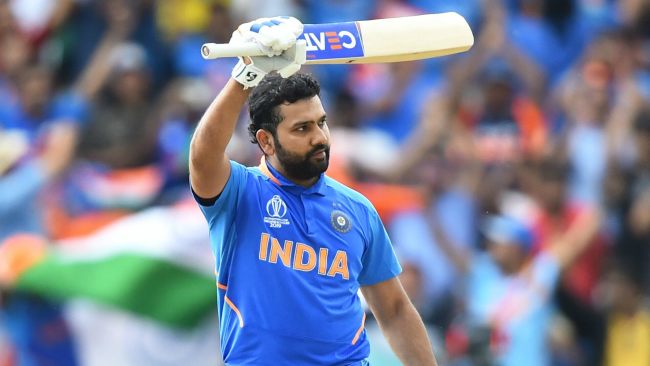 In the previous years, Indian test captains have often been ridiculed for giving Rohit a long rope in test matches. The usual response (or rather, excuse) that the captains gave was that "Rohit has the ability to change the status of the test in a session." The test series against South Africa was a true vindication of this statement.
Across the 3 tests, Rohit had amassed a sensational 529 runs in just 4 appearances at the crease. And these runs had come at a strike rate of 77. Whenever a spinner flighted a ball, he was not afraid of taking an aerial route, short balls from fast bowlers continued to go to the square leg fence.
Next up were Bangladesh on their tour to India. With Virat Kohli deciding to take a rest, Rohit was handed the captaincy for the T20 series. India pocketed the series 2-1 and the second match of the series was a do or die situation for India. Rohit Sharma came to the party in this match with a sublime 85 off just 43 balls.
One highlight of this match was Rohit hitting 3 consecutive sixes to Mosaddek Hossain. So dominant had Rohit been in this innings that the 85 looked as if an assured hundred had slipped out of his hands.
The West Indies came to India for a 3 match T20I & 3 match ODI series. Every series of the year so far had had a Rohit Sharma special in them. In the T20 series, this special came up in the 3rd T20I. Rohit cracked an attacking 71 off just 34 balls to help India post a mammoth and ultimately match-winning 240.
In the ODI series that followed, he cracked his 7th ODI ton of the year – a gigantic 159 – as if to make his form in 2019 count further. It was his 8th score of 150+ in ODIs, the next best being the great Tendulkar with 6 150+ scores in ODIs.
Every time Rohit Sharma crosses 150, Indian cricket fans start hoping for a double hundred. Such is his elegance and class that once he is set, he is one of the most dangerous batsman to bowl to.
Overall in this calendar year, Rohit Sharma hammered (a) 2,442 international runs, (b) 1,490 of them in ODIs, (c) scored 10 centuries across formats, (d) clobbered 78 sixes, and (e) won 9 man of the match awards.
Cover image credits: The National