Manchester United better on the night even as Barca escape with a win
Luis Suarez came back to haunt Manchester United and forced the opener at Old Trafford as Barcelona won 1-0 in the opening leg of their UEFA Champions League quarter-final clash on Wednesday. The last touch for the opening goal came off Luke Shaw after Lionel Messi and Suarez combined in the 12th minute, but Barca were frustrated in their attempts to add a second.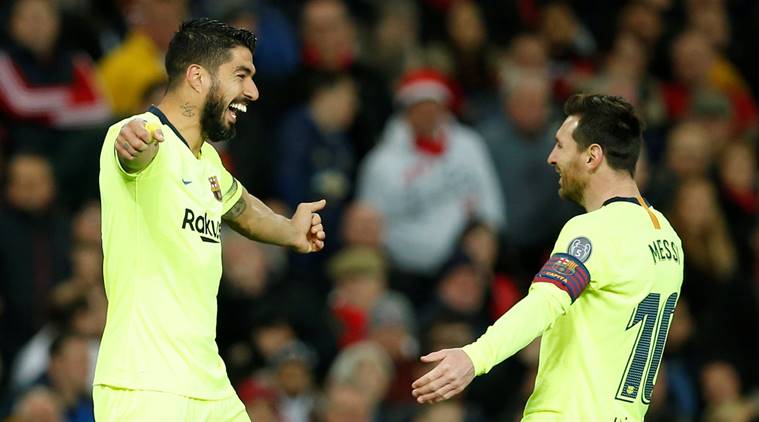 They left Old Trafford with the narrowest victory and will seek to guard their advantage at the Camp Nou on Tuesday. The victory marked Barca's maiden victory at the Theatre of Dreams on their fifth attempt, with a treble still in sight for Ernesto Valverde's side this season.
The dynamic appeared to change in the second half as Solskjaer appeared to position Pogba closer to Busquets, who is ever a key orchestrator for the Catalan giants. Fred and Scott McTominay were elected to start in the middle on Wednesday, but perhaps a lack of trust in those two to hold the core against such revered opposition played its role.
While Barca will be pleased with a winning result away from home, the two-legged affair is far from over as both teams showed hints this clash could change all too easily. Sergio Busquets was booked after 17 minutes and arguably could have been shown his first caution even earlier than that. Gerard Pique also had his share of wobbly moments at the back and showed signs that Marcus Rashford's turn of pace could cause him problems.
There was also a challenge from Pique on McTominay in the first period that, while slight, looked as though it should have resulted in a penalty.
United failed to find the target in 90 minutes at home but had more attempts on goal and were determined to break enemy lines at least, even if Marc-Andre ter Stegen's net remained intact. Full-backs Jordi Alba and Nelson Semedo were both impressive, but there were moments when their positions were exposed down the flanks and could be again. Anthony Martial looked a bother for the visitors after he came onto the pitch on Wednesday, and Frenchman could make more of a mark if he started at the Camp Nou next week.
Keeping the deficit down to one goal ended up being a consolation of its own and is a shorter distance than the two-goal advantage PSG took from Old Trafford following their visit. It is ominous that Barca have kept back-to-back clean sheets against Espanyol and Atletico Madrid in their past two home games, but a spirited United have shown they can give a closer run for their money.
The two teams will meet at the Camp Nou on Tuesday for their second leg. Prior to that, both teams will return to the field on Saturday as United host West Ham in the Premier League and Barca travel to La Liga's bottom outfit, Huesca.
Meanwhile, in the other match, Ajax held favourites Juventus to a 1-1 draw as Cristiano Ronaldo registered his 125th UEFA Champions League goal with a thumping header.