The UEFA Champions League last-eight preview
The Champions League returns this Tuesday and Wednesday at the Quarter Finals stage, which is where things really took off last season. The stage is set once again. Let us take a glance at the four ties.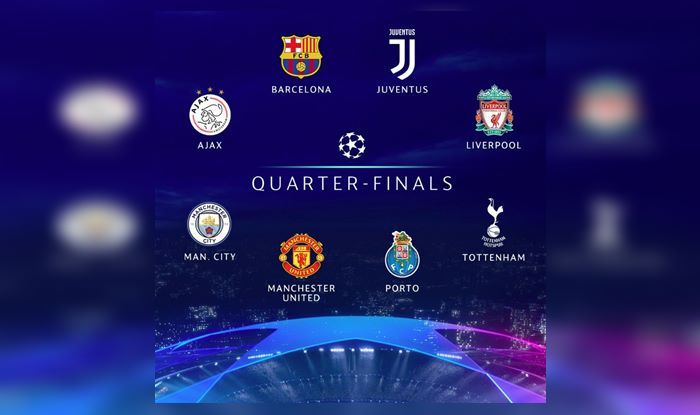 Liverpool vs. Porto
Liverpool reached the final last year, where they lost to Real Madrid, and they have reloaded in goal with keeper Alisson and in midfield, with the likes of Fabinho, Xherdan Shaqiri and Naby Keita to give the side more defensive grit to go with their free-flowing attack. Liverpool are involved in an energy-sapping title chase with Manchester City in the Premier League, but the European Cup, a trophy they've won five times, remains special at Anfield.
Porto are also embroiled in a tight title race domestically, too, but sailed through the group stages and came from behind to knockout AS Roma in the Round of 16. Sergio Conceicao's team is incredibly disciplined and rarely makes mistakes. Plus, they're not lacking in motivation after being beaten 5-0 at home by Liverpool a year ago.
Tottenham Hotspur vs. Manchester City
Tottenham threatened to make the Premier League a three-horse title race for much of the season, grinding out results even during a rash of injuries. Yet they've dropped off in the past month. This is a team micromanaged by Mauricio Pochettino and built in his image. Both Real Madrid and Manchester United were heavily linked with the manager, but he's going nowhere: he has unfinished business at Tottenham.
Pep Guardiola has already won the European Cup twice at Barcelona, but has been knocked out in the semifinals on all four occasions he's reached that stage (once with Barca, three times with Bayern) since winning the trophy in 2010-11. On paper, City are the most formidable side in the competition, and this is the one trophy that's missing since the Abu Dhabi takeover in 2009. The fact that Spurs will be playing at their brand-new stadium means we're in uncharted territory: will the crowd still be getting comfortable or is this their chance to turn their ground into a fortress? City, meanwhile, can either out-possess you or go for the jugular with blisteringly quick runs from out wide and rapid build-up through the middle. 
Manchester United vs. Barcelona
Ole Gunnar Solskjaer, who replaced Jose Mourinho as manager in December, was meant to be an interim boss who would buy Manchester United enough time to find a viable long-term replacement. Except the Norwegian has lifted the team to the point that he became the long-term replacement, getting appointed on a permanent basis in late March. Top of his to-do list is getting United back in the Champions League next year - put simply, that will require a top-four finish in the Premier League or winning this year's competition - and ready for the inevitable rebuild.
Barcelona are on track for a Treble, but in many ways it feels like an understated season. There is more solidity to this side, but relative to previous campaigns, there's more of a dependence on Lionel Messi than ever as coach Ernesto Valverde is struggling to wean the team off its best player. Manchester United have plenty of pace up front and Barcelona have to be careful not to get caught out. On the flipside, except for Paul Pogba, United don't have much in the way of creativity in midfield. And there is the perennial problem of dealing with Messi, which United's back four don't appear well equipped to do.
Ajax vs. Juventus
After losing the final twice in the past four years, Juventus went all-in over the summer, signing Cristiano Ronaldo from Real Madrid for a whopping package over four years, but the five-time Ballon d'Or winner is a doubt for the first leg.
Ajax have a glorious past in that they've been European champions four times, but haven't advanced this far in the competition since 2002-03. With a heady mix of youth and experience, they're the romantic choice, having already knocked out defending champion Real Madrid in the last round. Juventus are shape-shifters who can either take the game to the opposition or grind it out and hit you on the counter. We could expect the latter in this game against Ajax's tidy pass-and-move approach.