Rising Star: Aaron Gordon's NBA Playoff Impact
Aaron Gordan Unsung Hero Of NBA Playoffs
The player which we can't overlook in NBA Playoffs was the Denver Nuggets star, Aaron Gordan,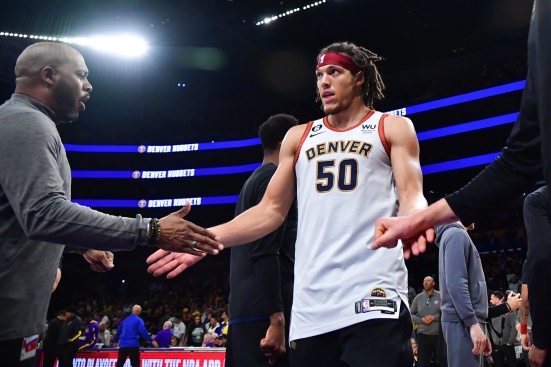 We should call him the missing piece of the Denver Nuggets. After yet another dominant performance by Denver Nuggets a 3-1 lead over the Miami Heat in the 2003 NBA Finals and help them to win the first-ever NBA championship.
Since the acquisition  of Aaron Gordon when the Denver Nuggets traded Gary Harris, RJ Hampton, and a 2025 first-round pick to the Magic in exchange for Aaron Gordon, which was a better fit for the Denver Nuggets
"I love Gary Harris, I love RJ Hampton " Denver Nuggets head coach Michael Malone told after the trade that it was a necessary move.
It took years to find the necessary pieces to fill the squad, Injuries have always been a concern for Denver Nuggets first Jamal Murray and then Michale Porter Junior, where Jokic was the only Superstar who was fighting alone and missing his star players.
27 years old Aaron Gordan on Friday against Miami Heat had an outstanding game playoff career-high 27 points on 11-15 shooting, seven rebounds, six assists, and 1 steal. Whereas in game 5 he had 4 Points 7 Rebounds and 1 assist.
His defensive presence has always helped Denver Nuggets by guarding the best players in NBA first Kevin Durant then Kawhi Leonard in the second round and Lebron James in the third round.
Jamal Murray said" He is a dog, he is strong he is physically tough, He brings everybody together off the court, he is a selfless player. He has a character that says he always wants to win
Miami Heat had no answer for the Aaron Gordan problem, Miami was prepared for Nikola Jokic and Jamal Murray but Aaron Gordan came out of the syllabus for them, When Miami has tried to switch on screen in these NBA Finals, it has been easy for Gordan to find smaller opponents like Gabe Vincents and take him to the paint.
Aaron Gordan put up more points in Game 4 than any of Nikola Jokic and Murray's teammates have in any other game of this playoffs to date.
Denver has lost only a single game in the last calendar month because of a player like Gordan. There is no way to pin down a team that has a creative mindset that can rampage through mismatches for lyups and dunks.
An emotional Gordan finally became a champion after 9 years of his NBA Season. He must have felt short in Slam Dunk Contest back in 2016, but more importantly, he has finally become an NBA Champion.