Top 5 greatest American men's tennis players
United States of America has produced some of the greatest tennis players to have graced the game. Let's take a look at five of the greatest tennis players to have come out of USA:
No. 5: John McEnroe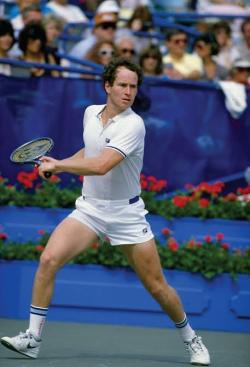 John McEnroe was a star from the moment he emerged onto the professional ranks.
He would end his career with seven Grand Slam titles, and would have moved up higher in the ranks of America's greatest had he held onto his lead in the 1984 French Open final.
The fact that McEnroe played during the era of greats Bjorn Borg and Jimmy Connors only reinforces how amazing it was that he was able to hold so many Grand Slam trophies. 
Perhaps because of this, Sports Illustrated declared him as the ninth-best men's tennis player of all time.
No. 4: Jimmy Connors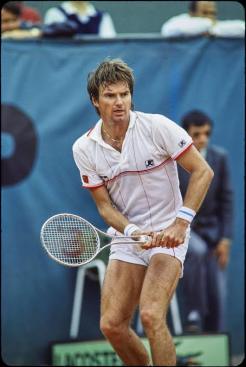 If sheer emotional value attached to a player's name and matches were the determining factor in this list, Connors may very well have been at the top.
His determination  to win, every time he stepped on the court, resulted in an amazing 109 tournament victories. Eight of those were Slam titles, only missing out on the French Open, like McEnroe. 
Sadly for Connors, though, he wasn't allowed to play in Paris during his best year of 1974. He just may have won the calendar-year Grand Slam.
However, what is especially notable is that Connors is the only player to have won the U.S. Open on all three of its surfaces, grass, clay and hard.
In addition to all this, he was the world's top-ranked player for five straight years, from 1974-1978.
No. 3: Don Budge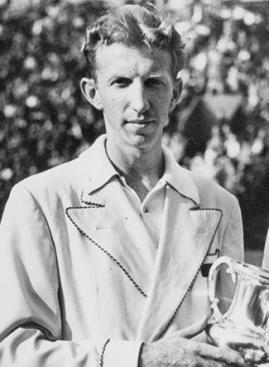 Fans of Agassi may point out that Don Budge won fewer Grand Slam titles than him, but there is something very special about Budge's achievement.
In 1938, he won all four major championships, completing the calendar-year Slam.
In addition to this, all of his Slam victories came in a two-year period. He absolutely dominated world tennis—not just American tennis—during that time. It is easy to make the argument that Budge could be the best American men's tennis player of all time.
It would have been even easier to believe that, had Budge played longer. His short career was absolutely stellar, and it is not difficult to assume that he would have won many, many more Grand Slam titles.
No. 2: Andre Agassi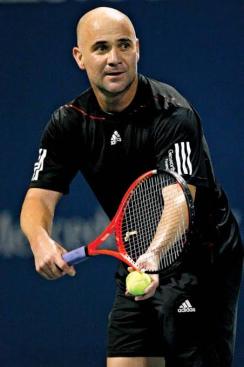 Like Connors, Andre Agassi won eight Slam titles. Unlike Connors, Agassi managed to win all four of the majors at least once.
The career Grand Slam is more than enough to take him way up on this list. In fact, Matt Wilansky of ESPN once postulated that this accomplishment may just rival—or overcome—Pete Sampras' mark of 14 Slam titles.
Then add to that an Olympic gold medal and 101 weeks spent as the world's No. 1 player.
The list seems to go on and on. It is no underestimation to claim that Agassi is "one of the greatest athletes of the sport," as the International Tennis Hall of Fame's website states.
No. 1: Pete Sampras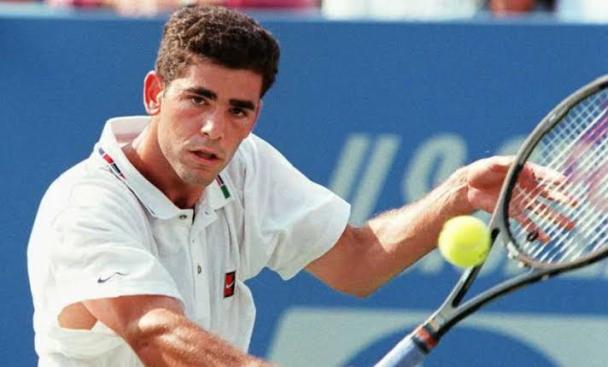 The image of Pete Sampras standing before American flags with the U.S. Open trophy in his hands is iconic—and telling.
He is the greatest American men's tennis player there ever was.
His 14 Grand Slam titles are as many as Don Budge and Andre Agassi won put together. Therefore, it trumps even Budge's calendar-year Slam. 
While never winning the French Open, the sheer volume of success at the highest levels of tennis must be acknowledged.
Sampras also spent six consecutive years at the pinnacle of world tennis as the No. 1 player. What could possibly add to all of this?
He departed on a high note, winning his very last match. It was his fifth U.S. Open title and, according to Jim Courier, "a perfect punctuation point on his career."
Cover image credits:Tennis365.com