Baazigr11: World's first Inverse Reward Fantasy Game: Jeeto Haarke
Fantasy cricket is the next big thing in the world of sports. Everyone is a cricket expert in its own right in our cricket-mad nation.
The inspiration behind the idea
There are a lot of Fantasy Cricket apps in the market. However, it is observed that only 10-15% of the users won most of the prizes. 
So, the need to create an app where even common people could win was vastly felt. Baazigr is the world's first inverse fantasy cricket app. 
In an interesting turn of events, contrary to how other fantasy platforms work, in Baazigr11 you earn money if your team performs badly.  
Fantasy Cricket should not be limited only to people who follow sports religiously. So there was a need for a fantasy platform where anybody can earn by creating a team that they feel will not perform well in a cricket match. The goal of Baazigr11 is to make fantasy cricket available to the common public.  
How does it work?
Baazigr has several contests (entry fee range 40rs to 1150 rs) 
The user creates his/her losing team and joins a contest (after paying the entry fee) 
The user is allowed to make unlimited changes to the team before the match starts 
After the match starts the user can see the rivals team (so that the user is assured that we don't cheat) 
After the match ends the winners are declared 
The winning amount can be withdrawn after the user completes the KYC process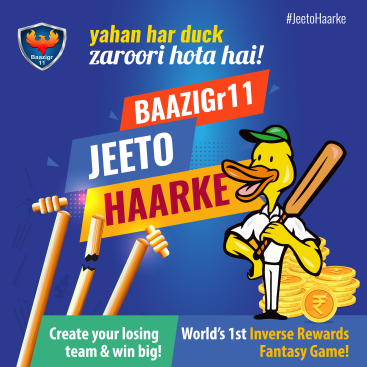 Baazigr11 offers the opportunity to play the sports you love with your family and friends, as well as other sports fans across India, and eventually around the world. 
The idea of naming this app Baazigr came in the mind of the company's founder Shwetank Shrimal. "Haar ke Jeetne wale ko Baazigr Kehte hai" is a famous movie dialog, which means "The person who wins after facing defeat is called Baazigr". 
The logo of Baazigr has a Pheonix, which rises from the ashes, this again resonates with the inverse version of fantasy cricket. 
Founder 
https://www.linkedin.com/in/shwetankshrimal 
Download the app from the website: https://baazigr11.com/