FC Barcelona vs Bayern Munich: Champions League Preview and Prediction
The best player in the world will be on the pitch as FC Barcelona take on Bayern Munich in the Champions League quarterfinal at the Estadio da Luz in Lisbon. And no, his name is not Lionel Messi.
Robert Lewandowski's blistering form in front of goal, combined with stellar team football, has helped Bayern Munich win the Bundesliga and DFB Pokal. Hans-Dieter Flick can lead Die Roten to the club's second continental treble.
FC Barcelona, meanwhile, have faced the brunt of boardroom politics, uninspired players and overall poor quality of football. If not for Messi, the Catalan side would have been further below the second place they achieved in La Liga.
A year ago, FC Barcelona would have been the favorites in this tie. This time out, it's Bayern Munich who are everyone's pick to progress to the semifinals.
Had it been a traditional two-legged quarterfinal, Bayern Munich would have stood a better chance. In a one-legged quarterfinal, there is a lot of uncertainty and having Messi in your lineup definitely helps. The same can be said for Lewandowski too.
Recent Form
A Messi masterclass helped the blaugrana overcome Napoli in the second leg of the Champions League Round of 16.
Both sides were tied 1-1 after the first leg in Naples but La Pulga produced a brilliant display to help the Catalan side to a 3-1 win. Messi scored a breathtaking goal in the 23rd minute, weaving past five Napoli defenders before curling the ball in the net. He also won a penalty that was duly converted by Luis Suarez at the stroke of half-time.
Bayern Munich already had a commanding 3-0 lead against Chelsea from the first leg at Stamford Bridge. In Munich, Die Roten were their usual ruthless self, scoring four and conceding one.
Lewandowski was the standout performer in a great team showing. The Pole scored two and assisted two as Bayern Munich blasted Chelsea out of the water.
The German champions' aggregate score against London clubs in their last three Champions League ties is a mind-blowing 27-6.
Head to Head
Bayern Munich, under Jupp Heynckes, famously demolished Pep Guardiola's FC Barcelona side en route to winning their first treble in the 2012-13 season. 
The Bavarians scored seven past the Catalans while Messi and co. could not breach Bayern's defense.
In the pair's last Champions League meeting, the Catalans emerged victorious. Barca, under Luis Enrique, defeated Guardiola's Bayern Munich by an aggregate score of 5-3 to advance to the finals and ultimately win the club's second continental treble.
That tie, however, was more competitive than the 2012-13 one with Barcelona winning 3-0 at the Camp Nou and then losing 2-3 in Munich. The first leg is also famous for Messi's audacious solo goal where he put Jerome Boateng on skates before chipping the ball over Manuel Neuer.
Neymar was the hero in the second leg as his brace prevented Bayern Munich from mounting a comeback.
Team News
Samuel Umtiti and Ousmane Dembele are concerns for Quique Setien's side and both are unlikely to feature in this quarterfinal.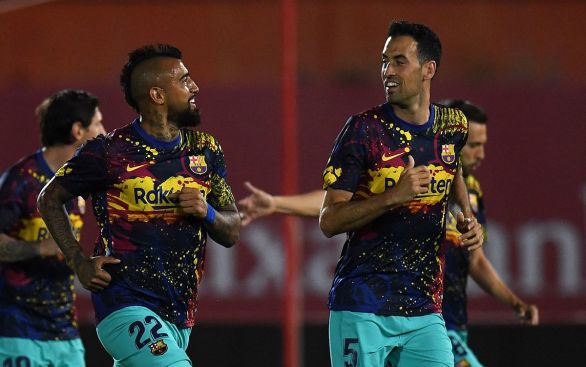 FC Barcelona will be buoyed by the return of Sergio Busquets and Arturo Vidal from suspension.
In the German camp, Benjamin Pavard is out with a metatarsal ligament injury. Joshua Kimmich will shift to right-back and Flick will go with a midfield pairing of Leon Goretzka and Thiago Alcantara, like he did in the win over Chelsea.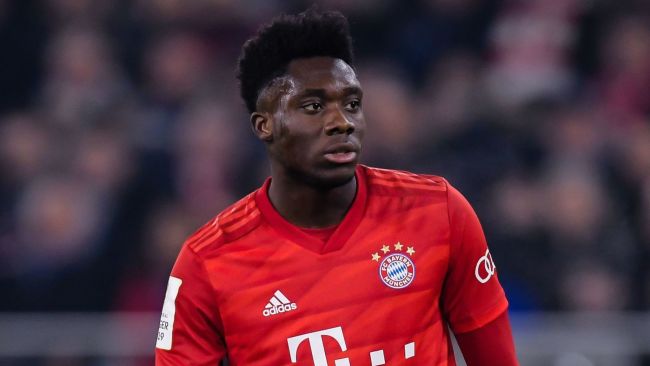 A bigger concern, however, will be over Alphonso Davies' fitness. The Canadian left-back sat out Bayern Munich's training session as a precautionary measure over an adductor issue. He has been one of the club's top performers this season and they would definitely want him to start.
Kingsley Coman's status is also in doubt so Ivan Perisic is likely to feature on the left wing.
Key Battles
Clement Lenglet vs Robert Lewandowski
It is borderline criminal that the Ballon d'Or was cancelled this year because Lewandowski had his best chance to win that award.
It will not be an exaggeration to call the Pole the best traditional number nine of the last decade. He has plundered in goals at a consistently high rate and took it up a notch this season.
Lewandowski, however, is more than just a goalscorer. His link-up play with the wingers and midfielders is superb and his decision making is exceptional as well.
Another underrated aspect of his game is how he draws out defenders with dummy runs to create space for the likes of Serge Gnabry and Thomas Muller.
Clement Lenglet will have to be wary of the multiple tools in Lewan'goal'ski's arsenal in addition to reducing space for the striker to take a shot.
Lenglet and Pique will have to work very closely in mapping Lewandowski when he drifts close to the box. Losing the Pole for even a second can prove to be very costly for FC Barcelona's defense.
Lionel Messi vs David Alaba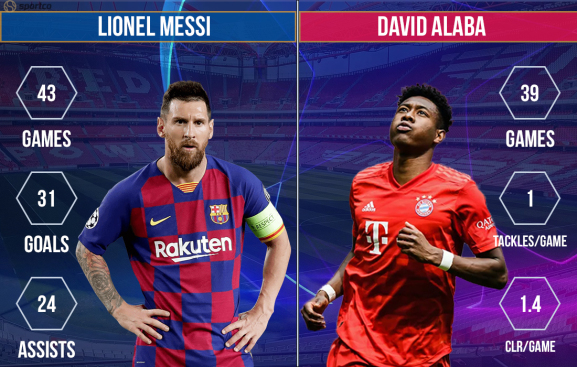 Going up against Messi is a nightmare for any defender on the planet. Alaba only needs to look at Boateng for proof.
Trying to stop him is also a fruitless task. The Argentine is too skilled to be bogged down by scores of defenders. The goal against Napoli is just one of the umpteen times he has made opposing players look silly.
What can work, however, is trying to isolate him on the wing. Apart from Messi (and Suarez to an extent), FC Barcelona's other players have been bang average this season.
Alaba and Davies can reduce Messi's effectiveness by forcing him into non-threatening spaces and covering dribbling lanes. It'll be harder to stifle Messi's creativity but looking at the lack of in-form scoring options, Bayern Munich can get away with it.
This task, in all fairness, is easier said than done.
Sergio Busquets vs Thomas Muller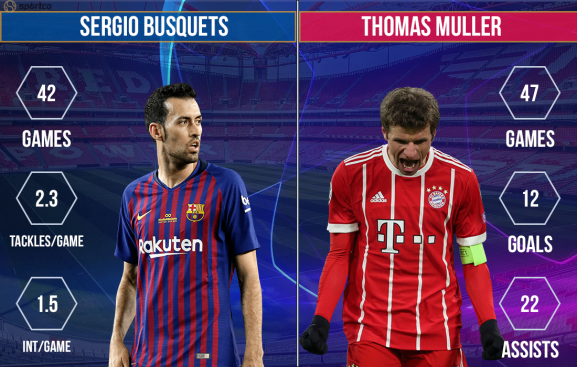 Muller is not the fearsome poacher he once was but credit to the German for reinventing himself as a creative withdrawn forward.
The German set a new Bundesliga record this season by providing 21 assists. He surpassed Kevin de Bruyne's haul of 20 assists while playing for VfL Wolfsburg in the 2014-15 season. 
Interestingly, Messi matched Muller's record this season itself as he led La Liga in both scoring and assist charts.
Busquets' return will be very vital for Setien to contain Muller. The Spanish defensive midfielder is not the force he once was but remains an intelligent midfielder whose reading of the game is unparalleled.
Busquets' strong tackling and defensive awareness will be useful in preventing Muller from working in tandem with Lewandowski. Still, Barca will have to be aware of Bayern's pacy wingers who can serve as outlets for Muller's forward passes.
Prediction
As I mentioned earlier, calling a one-legged quarterfinal is hard. A wicked deflection, a lucky strike or a suspension can alter the outcome in one go.
Had this tie been spread across two legs, I would have given a higher chance to Bayern Munich.
That being said, I still expect Bayern Munich to overcome FC Barcelona in this game. The Catalans do not have as strong and energetic a side as Bayern Munich's and this will prove to be a major difference maker.
Having Messi in their ranks should result in Barca finding the net, but it will not be enough.
Bayern Munich are better in all departments and even if they go down, they'll be able to come back. Hansi Flick's men know when to dictate proceedings and when to go for a direct approach and with Lewandowski up front, goals are guaranteed.
Predicted scoreline: FC Barcelona 1-3 Bayern Munich