El Clasico - Barcelona vs Real Madrid: Preview and Prediction
The wait is finally over as the most anticipated match of this season is here. Barcelona is all set to host Real Madrid in the last El Clasico of the decade at Camp Nou, tonight. Will Los Blancos succeed in winning it?
Well, looking at the past El Clasico's results, it looks quite tough for the visitors to win it. This game, however, has a lot of weightage as both sides are on the same points in La Liga and it's just the goal difference that separates them.
A win in tonight's fixture will most probably determine, which side will end on top of La Liga table at the end of the decade. The Blaugrana, however, have been a dominating side in the league this decade, winning La Liga on seven occasions while Los Blancos clinched it two times.
In the last 19 El Clasicos, Barcelona have won the majority of 11 in the last decade while Madrid have managed to win only four. The rest four El Clasico battles ended with both sides being on the same page.
Things are quite evenly-poised before getting into the El Clasico. The two sides have lost just one out of their last 17 fixtures in all competitions. In the last week's fixture, Barcelona played a 2-2 draw against Real Sociedad while Madrid played 1-1 draw against Valencia, all thanks to the 95th strike from Karim Benzema.
Injury Update
Ousmane Dembélé and Arthur are not going to participate in this fixture from Barcelona's side due to injury.
As for Real Madrid, Marco Asensio, Lucas Vazquez, Eden Hazard and Marcelo are sidelined due to injury issues.
Key Battles: 
Lionel Messi vs Sergio Ramos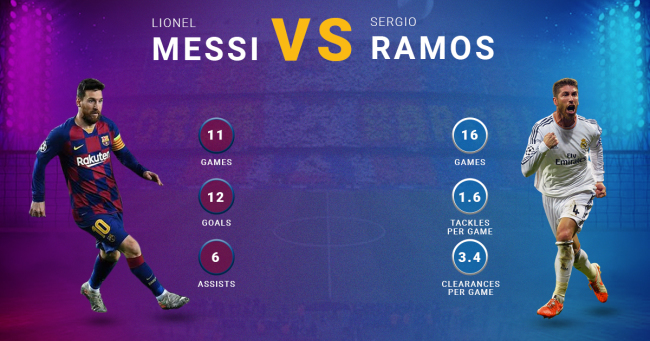 This is going to be an interesting battle as two former rivals once again will be up against each other. Most of the times Lionel Messi dominated the battle against Sergio Ramos. From the first El Clasico to date Messi has always troubled Ramos.
The Spaniard, on the other hand, never stayed quiet. He always used to give it back to the Barcelona striker in the form of tackle or bad foul. This rivalry gets nasty at times. So, brace yourselves for another thrilling battle.
The Barcelona talisman is in phenomenal form as he is the leader in both goals and assists in La Liga this season. Messi has scored 12 goals and provided six assists in his 11 La Liga appearances so far.
While Ramos has made 1.6 tackles per game and 3.4 clearances per game in his 16 La Liga appearances this season. Real Madrid have conceded only 12 goals, which is second-best in the league while their city rivals being the best.
Gerard Pique vs Karim Benzema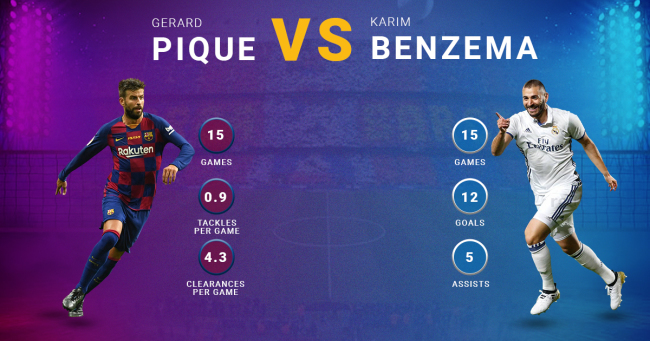 Here is another scintillating encounter as both the players are quite aware of the strengths and weaknesses of each other. Karim Benzema, however, has the upper hand here as he's been the savior of Madrid in the ongoing La Liga season.
The Madrid striker is the leading goal scorer along with Messi in La Liga this season. Benzema has scored 12 goals and provided five assists in his 15 league appearances so far. These stats prove how good the Frenchman has been and he is the one who has taken responsibility for scoring after Cristiano Ronaldo's departure.
Gerard Pique, on the other hand, is averaging 0.9 tackles per game and 4.3 clearances per game in his 15 league appearances this season. Barcelona's defensive line hasn't been intact, they have already conceded 20 goals and we have just reached mid-season.
The Barcelona defender has to step up and lead the defensive line tonight if he wants to stop Madrid from finding the back of the net. The Spaniard will face issues as the attacking players of Los Blancos are quick and can score from out of the box as well.
Prediction
Barcelona are undefeated in their last 30 home games and have won 26 of them since November 2018. So, it is not going to be easy for Los Blancos. Also, Madrid hasn't been at the top of their game, they are still trying to balance their attack and side.
The Blaugrana's attack has been solidified with the addition of Antoine Griezmann and the front three will surely create a lot of trouble for Los Blanco's defenders.
Moreover, with Messi in form, it is quite difficult to defeat Barcelona and home support will be immense as many people will use this opportunity to raise their voice for Catalonia protest.
So, keeping everything under mind, I believe that Barcelona will score two goals and Messi will be one of the scorers. Also, the home side will concede a goal as their defensive line has struggled throughout this season.
Predicted score: Barcelona 2 – 1 Real Madrid