Bayern Munich vs Borussia Dortmund: Match Preview & Prediction
It's derby time in Germany as Bayern Munich host Borussia Dortmund in what promises to be a cracking der Klassiker.
Bayern currently sit fifth in the Bundesliga with 18 points. Dortmund are third with 19 points. Both have the same number of wins (five) in ten league games. Bayern (W5, D3, L2), however, have lost one more than Dortmund (W5, D4, L1).
Kovac's departure to weigh heavily on Bayern?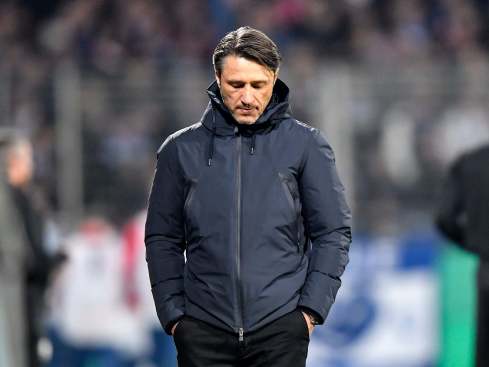 The most interesting storyline to follow for today's game is Bayern Munich's management upheaval.
Niko Kovac was relieved from his duties as Bayern Munich head coach after a 1-5 loss to Eintracht Frankfurt. Hans Dieter-Flick has taken charge of the club as an interim manager.
Bayern defeated Olympiacos, 2-0, in Flick's first game as manager but Dortmund will prove to be a tougher nut to crack. Will Flick be able to stabilize what is, considering the departure of club legend Arjen Robben and Franck Ribery, a squad in transition?
The Allianz Arena factor and club form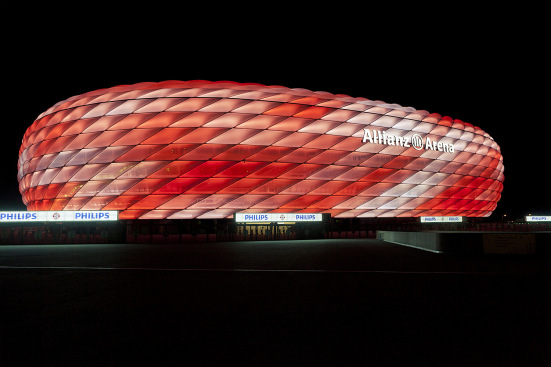 Munich has not been a happy hunting ground for die Borussen. They've lost five of their last five Bundesliga games at the Allianz Arena, having conceded at least three goals in every game. Last season, Dortmund were hammered 0-5 by Bayern Munich at the latter's home with Robert Lewandowski bagging a brace.
Talking about the clubs' current forms, Bayern have had been marginally better than Borussia Dortmund. The Bavarian giants have won four and lost one in their last five games across all competitions. Dortmund, meanwhile, has won three, drawn one and lost one in their last five games across all competitions.
In midweek Champions League action, Bayern racked up a routine 2-0 win over Olympiacos and Dortmund scripted a phenomenal comeback to defeat Internazionale, 3-2, at the Westfalenstadion.
Key Battles
Robert Lewandowski vs Mats Hummels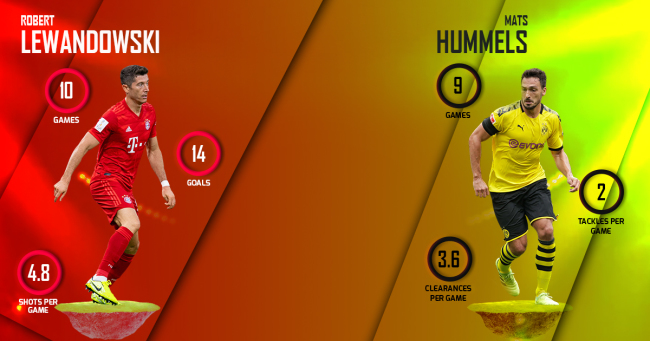 Is there a more in-form player than Robert Lewandowski in the European leagues?
The Polish forward has already plundered 24 goals in 18 games. Unsurprisingly, he's also leading the European Golden Shoe charts.
Lewandowski been terrorizing Bundesliga defenses for nearly a decade now. In the current season, he's continuing in the same vein, having scored 14 in ten games. The Pole has scored in all the Bundesliga and Champions League games he has played so far in this season. This statistic, quite simply, is mind-blowing.
The downside to Lewandowski's scintillating form is that Bayern, more often than not, have been willed to victory by the Pole, despite not impressing as a collective.
For Mats Hummels, Lewandowski's rival-turned-teammate-turned-rival, the instructions will be simple. Stop the Pole and you stop Bayern.
The experienced German campaigner will have to be alert throughout the 90 mins to stop the red-hot striker. Most importantly, Hummels' positioning will have to be excellent so as to not even give Lewandowski a sniff of the goal.
Joshua Kimmich vs Julian Brandt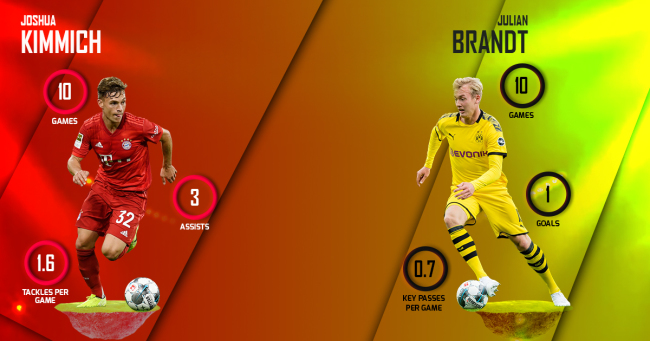 Summer 2019 signing Julian Brandt was one of the key protagonists for Dortmund in the Champions League win over Internazionale. 
After a poor first half, Brandt and the club sprung to life in the second half to erase the two-goal deficit and win 3-2. Brandt scored the winner after Achraf Hakimi scored twice to level the scores. The former Bayer Leverkusen man troubled Antonio Conte's side with his dribbling and movement as Dortmund upstaged the Nerazzurri.
Lucien Favre will be hoping for more of the same today but Joshua Kimmich will be a hard opponent to get past. Kimmich, while originally a right-back, has been competent in the heart of midfield. His defensive awareness and passing range have heaped rewards for die Roten in the middle of the park.
Brandt can expect to be pressed furiously by Kimmich and thus, have lesser time on the ball. The Dortmund attacking midfielder might have to press a lot himself in order to curtail Kimmich's accurate long passing.
Alphonso Davies vs Achraf Hakimi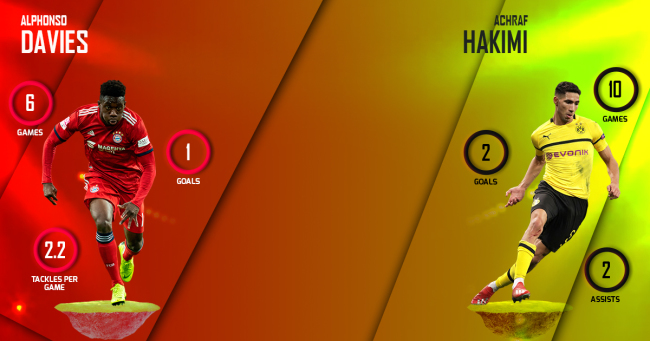 Jerome Boateng's suspension in the loss to Frankfurt might result in David Alaba playing centrally. As a result, Alphonso Davies will slot in on the left. Unfortunately for the Canadian, he'll be directly up against Hakimi who's become one of Dortmund's most important players.
The Moroccan has been a revelation in a more advanced role on the wing, as shown by his stats. With Jadon Sancho likely to not play due to injury concerns, Hakimi is expected to play as a winger instead of a wing-back in this game.
To Favre's and Dortmund fans' delight, Hakimi scored twice when shifted to the wing in the game against Internazionale.
Davies is a bright prospect but will he be able to contend with the ever-improving Hakimi? Also, the Canadian himself is an attack-minded player. This makes Bayern susceptible to Hakimi's pace down the stretch during counter-attacks.
Prediction
The two primary factors to consider in this game are Bayern's transitionary phase and Dortmund's woeful record at the Allianz Arena. When it comes to form, both clubs have had their ups and downs.
Bayern's dependency on Lewandowski is a cause for concern, especially if he has an off-day in front of goal. For Favre and Dortmund, the absence of Marco Reus and Sancho will be a drawback that has to be overcome by rest of the team.
Looking at all of that, I expect Bayern to edge this der Klassiker by a single goal. Lewandowski's impressive form and the slightly higher player quality will be the trump cards for the home side.
Predicted score: Bayern Munich 2-1 Borussia Dortmund