Pro Kabaddi League 2019: Bengaluru Bulls beat UP Yodhas in the first eliminator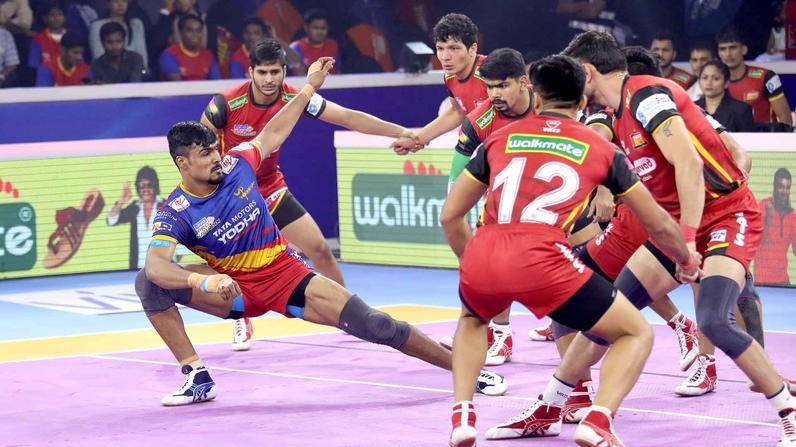 The defending Champions Bengaluru Bulls defeated UP Yodhas in the first eliminator of 2019 Pro Kabaddi League at EAK Transtadia Arena, Ahmedabad. 
It was a great start for UP Yodhas in initial minutes of the first half as both raiders and defenders did a superb job. Pawan Sehrwat got the first point for Bengaluru Bulls by getting Sumit out. 
UP Yodhas all out Bengaluru Bulls in the 7th minute as Sumit tackled Amit Sheroan to give them a 11-4 lead. In the 12th minute, Pawan Sehrawat brought Bulls back into the match by getting a bonus point and got Sumit, Amit and Ashu Singh to reduce the gap to 9-15. 
Yodhas continued to increase their lead. In the last two minutes, Pawan got Nitesh and Narender to all out UP Yodhas. At half-time UP Yodhas led 20-17. 
The second half saw more exciting action as UP Yodhas continued to get Bulls main raider Pawan out. With only 2 people remaining, Monu Goyat tackled Pawan and increased their lead to 28-24. 
UP Yodhas raiders continued to put pressure on the Bulls team. With four minutes remaining, Pawan did the job again by getting Rishank Devadiga and Surender Gill to bring back the score line to 33-34. 
The match shifted from one side to another. In the last raid, Surender Gill dismissed Ankit to level the scores at 36-36 and take the game into extra time. 
Rishank Devadiga got Pawan and Saurabh Nandal out in the first period of extra time to give UP Yodhas a two point lead. Bulls took one point each with a raid and tackle to reduce the gap to 38-39. UP Yodhas had a slender 39-38 lead at the end of the first period of extra time. 
Mahender Singh produced a magical tackle to get Surender Gill. Pawan then produced a magical 4-point raid which shifted the match into Bulls favour. With two minutes remaining, Pawan got UP Yodhas all out and helped Bulls win the match by 48-45. 
Bulls scored 29 raid points as compared to 28 points by UP Yodhas. UP Yodhas had 14 tackle points as compared to nine points by Bengaluru Bulls. Bulls had all out UP three times as compared to one by UP Yodhas. 
Bengaluru Bulls will take on Dabang Delhi in the first semi-finals to be played on 16th October. 
Pawan Sehrwat was the top scorer for Bengaluru Bulls with 18 raid and 2 bonus points. Rishank Devadiga got 6 raid and 5 tackle points in the match for UP Yodhas.
Cover image credits: PKL