Bundesliga drama resumes: RB Leipzig stutter against SC Freiburg
The return of the Bundesliga was marked is something the whole football world has been waiting for. The opening day post the suspension due to the pandemic was marked by a dramatic and thrilling game between RB Leipzig and SC Freiburg  
RB Leipzig's title race suffered yet another setback. Their relentless onslaught of attacks were certainly formidable to watch, but wasn't nearly enough to break the one-goal lead that Freiburg secured before the half time. 
However, all wasn't lost as Yusuf Poulsen headed the equalizer, ensuring that they did not lose the whole three points. However, this is the fourth game they have drawn, setting their title chances back by a long way.  
RB Leipzig hosted SC Freiburg amidst empty seats and the lack of the spectacular roar that would usually envelop the stadium, as the Bundesliga continued after the break that was enforced due to the outbreak of a global pandemic. The home team, which won only two of their last six games, ending the other four in a draw, were desperately looking to restart the hiatus on a high.  
The Red-Bull arena was eerily quiet as the hosts missed two golden chances in the first half an hour. Close to the 37-minute mark, SC Freiburg took home the lead in an all too surprising manner, as a low corner was diverted into the goal by a deflection off center-back Manual Gulde.  
However it was the many acrobatic saves produced by their goalkeeper Alexander Scholow that truly kept them in the running. Shot after shot, the keeper kept them in the game. Leipzig attempted a total of 19 shots out of which nine were on target. In contrast, Freiburg, who attempted only four shots, put two on target and scored one.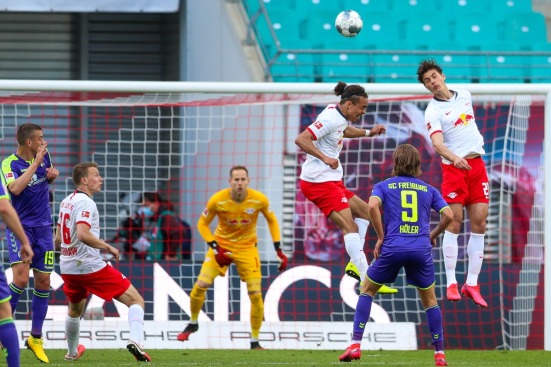 Leipzig gave themselves a fresh ray of hope as Poulsen carved out a powerful header to finally beat Scholow. They further pushed for a win as Marcel Sabitzer and Patrick Schick joined the attackers to look for a goal to take them through. However, that was not to be after they squandered yet another opportunity in front of goal.
There was yet another twist in the tail. Freiburg's late dramatic injury time close range goal by Koch was disallowed following a VAR review. 
Featured Image: Wion