Five incidents when players reacted aggressively towards fans
Following Tottenham's FA Cup penalty shoot-out defeat to Norwich, Eric Dier reacted to abuse directed at himself and his brother by taking things into his own hands. 
The Spurs player, who successfully converted his spot-kick leaped over the advertising hoardings and clambered over the seat after seat to confront the supporter.
Players have had bitter relations with fans in the past too. The altercations are not uncommon but who was Dier inspired by before he took the decision to react that way? 
Here is a list of five players, who had a clash with fans.
1.  Eric Cantona (1995)
Manchester United faced Crystal Palace in January 1995 and Eric did not take too kindly to Palace fan Matthew Simmons running down to the front of the stand and shouting cuss words aimed at the Frenchman. 
In response, Cantona kung fu kicked Simmons and landed himself in a nine-month ban, 120 hours of community service and £20,000 fine.
The French forward won seven league titles but when asked about his personal career highlight, he said, "I have a lot of good moments but the one I prefer is when I kicked the hooligan."
2. Patrice Evra (2017)
After being insulted by Marseille fans while warming up before the Ligue 1 outfit's Europa clash with Vitoria, Evra reacted by kicking a supporter. 
Evra's kick was less spectacular than Cantona's as it was more of a sweetly struck volley than a kung fu kick. However, Evra was still banned for seven games, fined £10,000 and had his contract with Marseille terminated.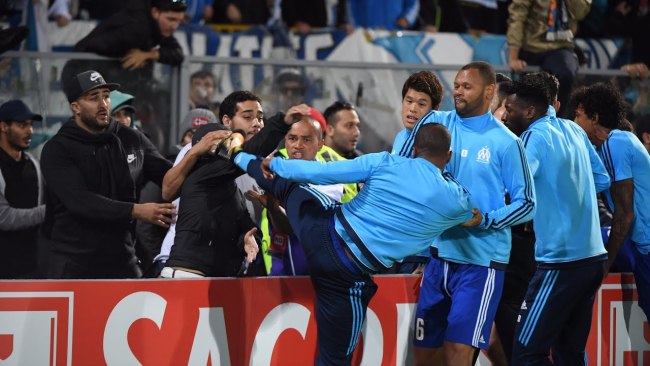 3. Craig Bellamy (2009)
Michael Owen's last goal famously won the thrilling 2009 Manchester derby for United, as the former England man popped up in the 96th minute to secure a 4-3 victory. 
One United supporter, Jake Clarke, charged onto the pitch in celebration but then he was quickly rugby tackled and restrained by the stewards. However, that didn't help to stop City's Craig Bellamy to give Clarke a quick slap around the face.
Bellamy faced no action while the supporter was banned for three years.
4. Jamie Carragher (2002)
Arsenal versus Liverpool in the fourth round of the 2001/02 FA Cup was a fierce encounter. Dennis Bergkamp saw red after a hefty challenge on Carragher, resulting in one Arsenal fan angrily throwing a £1 coin at the Liverpool defender.
In anger, Carragher threw the coin back towards the Arsenal fans and received a £40,000 fine and a three-match ban.
5. Memphis Depay (2019)
Lyon drew 2-2 with RB Leipzig to book their place in the Champions League last 16, but this did not stop Lyon fans unfurling a banner at full-time, branding defender Marcelo a donkey and telling him to "get lost".
Depay sprinted the length of the pitch to attempt to snatch the banner away from the fan, and his team-mates soon joined to back him up.
Featured Image Courtesy: Daily Mirror