Are CGI (Computer Generated Imaginary) fans close to the real thing?
The current pandemic has pushed Sporting bodies to make use of technology to maintain the atmosphere inside the stadiums in the absense of fans.
In today's scenario as lockdown is being eased out stadiums, malls, theatres, auditorium are reopening again. Businesses are trying to get back on track, but there is lingering fear in people's mind for crowd gathering. Government have made protocol about the league matches and the measures to be taken by sports federations, clubs and sports facilites to avoid the spread of virus.
As this year there are major sporting eventslike Major League Baseball, Premier League, Indian Premier League etc. which have made use of this technology in their respective leagues. Associations decided to utilize CGI technology to create virtual crowds, making it possible for sports players to look little less alone in stadium. As there is no comparison between the original and CGI fans but still the idea is to protect the integrity and experience of the game by turning the attention away from the empty stadium and as close to reality as possible. 
The concept of CGI crowd was innovated back in 80's in the form of behavioral animation; no one thought that fans and players will go through this kind of augmented reality. The leagues played from reopening till date had given not exact bit nearby experience for fans at home, even players felt alone while performing in the stadium.
Cristiano Ronaldo said in an interview that it is like to go to a circus without clowns, this tells that how the players are too been affected by empty stadiums.  Production houses and broadcasters are trying their best to bring a similar outcome from making CGI fans a thing of reality for the fans at home. 
Use of artificial sounds/pre-recorded sounds have gained prominence during the COVID-19 pandemic, due to requirements for sporting events to be played without spectators, in order to preserve a degree of normalcy for an event's viewers. In these cases, pre-recorded audio is synchronized manually or automatically with game action.
This would be seen as a temporary arrangement taking into account the current pandemic. However, such virus breakout at a global scale could occur more often in the future as claimed by the World Health Organisation (WHO). Hence, Sports entities should continue the use of technology to enhance the crowd experience & safety standards wherein we could see a fan of a particular team watching his favorite side without being physically present at the stadium in a virtual reality.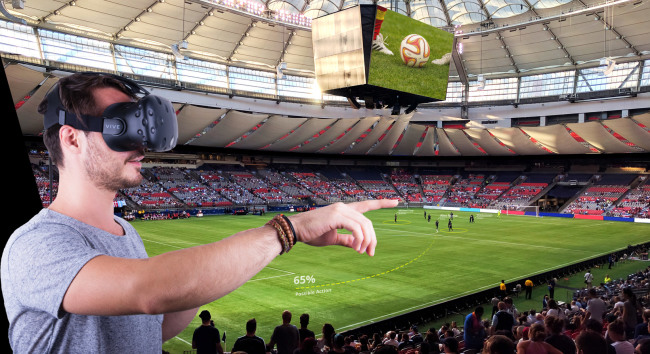 (Featured image Credits: bbc.co.uk)