Chelsea vs Wolves: Premier League Preview and Prediction
Frank Lampard's Chelsea and Nuno Espirito Santo's Wolves go head-to-head on the final day of the Premier League as both fight for a chance to confirm their presence in European competitions next season. 
The Blues are aiming for a place in the Champions League while Wolves are sixth and will be hoping to be a part of the Europa League next season.
Chelsea have had a mixed season under the new boss Lampard, while Eden Hazard's departure is almost forgotten since 'Captain America' Christian Pulisic has stepped up.
A victory against Wolves would take the Blues to 66 points and Champions League but will still be six lesser than what Maurizio Sarri managed to achieve with the club last season. However, Wolves will be looking to become the latest side that exploits Chelsea's inconsistent backline.
Head to Head
Chelsea are dominant with six wins, losing two and drawing one from the last nine games. Chelsea are unbeaten in all their last five home games against Wolves. Their last defeat against Wolves came at Stamford Bridge in 1979.
When finishing the season at home, Chelsea have not lost their final Premier League game since 2001-02, losing 1-3 to Aston Villa, winning seven and drawing three. On the contrary, Wolves have lost four of their last five final games of the season, managing their only win against Sunderland in 2009-10.
Recent Form
Lampard will be expecting a fightback from his team after a disheartening loss against Liverpool. Chelsea can lose and still qualify for the Champions League if Manchester United defeat Brendan Rodgers' Leicester City. 
The Blues have lost two of their last three games in the Premier League. That is the same amount they managed to lose in their previous 11 outings.
Consecutive defeats against Arsenal and Sheffield United crushed Wolves' hopes of playing in the Champions League but since then they have beaten the Toffees and Crystal Palace but only managed a point against Burnley. 
Wolves will also be affected by other games played on the weekend. They will be looking at the results of Tottenham's game as Spurs are only point behind Wolves.
Chelsea have won three and lost three in their last six Premier League games and have lost only twice in their last six games in all competitions, winning the rest. Wolves have won three, lost two and drawn one in their last six games in the league.
Team News
Chelsea will be without the services of N'Golo Kante, Fikayo Tomori and Billy Gilmour.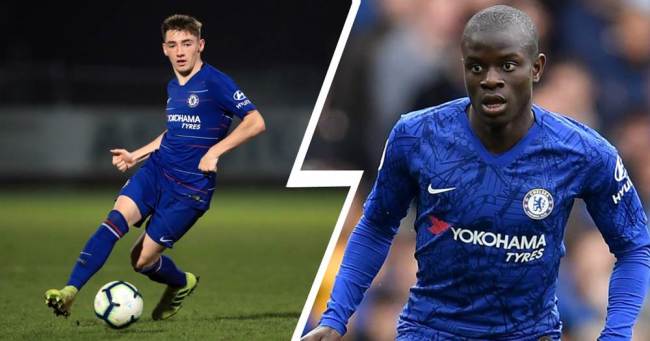 Jorginho has done well since his return to the starting XI and is expected to start. Reece James and Cesar Azpilicueta are also expected to start. Christian 
Pulisic was the only positive for the Blues at Anfield and hence is expected to feature alongside Olivier Giroud and Willian, who have now managed to cement their places in the starting XI.
For Wolves, injuries and suspension both will not be an issue. With Romain Saiss expected to return to the starting squad, Daniel Podence may be in Nuno's plan. Raul Jimenez is expected to start too which means Nuno will have to pick between Adama Traore and Diogo Jota for the final spot in the front three.
Key Battles
Olivier Giroud vs Conor Coady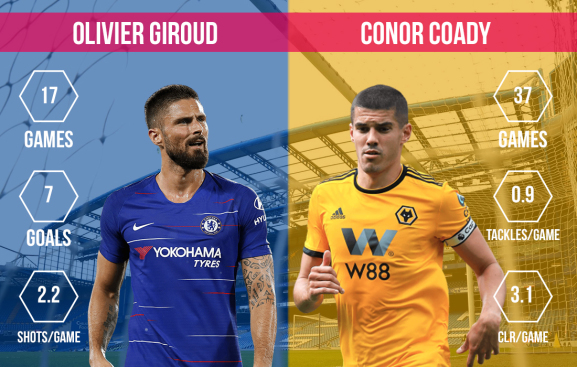 Giroud has revived his career under Frank Lampard and his recent form has been spectacular. The Frenchman has scored in each of his last five starts and has successfully replaced Tammy Abraham who was the first-choice striker for Chelsea this season. 
Giroud has been helping Chelsea in providing important breakthroughs, especially when the team has looked to struggle in the second half of the season. The former Arsenal forward may have only seven goals in the league this season but his ability of making room for the wingers to score by dropping behind has worked wonders for the club. 
For Wolves, Conor Coady has been like a pillar in the three-man backline. He has started all the games in the league this season and this shows how much Espirito Santo trusts him. 
In the final game of the season, with both the teams looking for a win, it will be a very good head-to-head battle to count on. Giroud being solid in the air may cause problems for Coady but the latter's chemistry with the other two center-backs will cause Chelsea headaches in the attacking department.
Reece James vs Jonny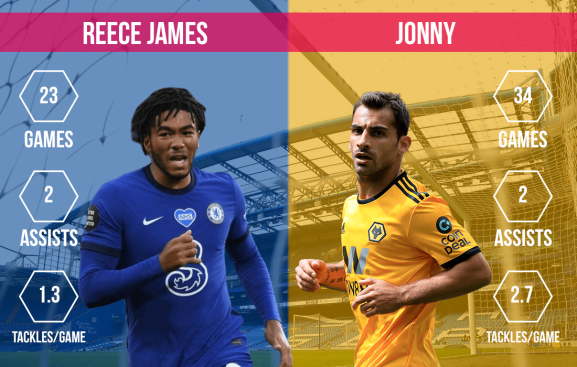 20-year-old Reece James has done a brilliant job in most of the games this season. A typical modern-day full-back, strong with the ball, good pace and his tackling are some of the things he's managed to do with consistency this season. 
Lampard's way of making him play as a wing-back has helped him even more as there's less defensive duties and he has to the freedom to move forward. 
On the other end, there's Jonny who has been doing the same job for Wolves from day one of the season. The Spaniard has two goals and two assists to his name in comparison with James' two assists and has been very influential for Wolves this season.  
A clash between two forward minded players on the last day of the season will be an interesting one. However, the venue being Stamford Bridge, Chelsea are expected to attack more, thus pushing Wolves backwards. 
Wolves have been impressive in playing counter-attack football this season and will be looking forward to punish Chelsea for every error they make.
Prediction
Chelsea's confident performance against Manchester United in the FA Cup semi-finals and their courage to fight till the end against Liverpool until the Reds scored their fifth will be in Lampard's mind and he will do everything to keep his side motivated. Wolves have been brilliant against the top six this season and will hope to keep the impression going.
The match will be an entertaining one and among the top-picks from the rest of the games this weekend.
Predicted scoreline: Chelsea 1-2 Wolves