Divergence in Tennis: Analyzing the Incumbency of the Big 3 & the financial pyramid in Tennis
As Barbora Krejcikova held aloft the French Open trophy having just won her first-ever Grand Slam title (that's a singles comment, she already has 5 doubles trophies) my mind wandered to an odd statistic. 
Since 2017, 8 players have won a solitary slam, out of the 17 that have been played. Some of the winners are still young and may go on to win another and this number will then drop. 
However, it speaks to a period when there has been a lot of churn at the top of women's tennis. With the exception of Osaka (who has won 4 out of the last 10 tournaments), the rest have not been able to establish themselves in a solid manner.
Even stranger is the dichotomy with Men's tennis. In Men's tennis in the same period, there is one single slam winner in Dominic Thiem. 
He won his first major at the 2020 US Open when the established stars did not play or were eliminated rather strangely, in the case of Djokovic. 
Men's tennis is experiencing an extremely long period of elite dominance, unprecedented in the Open era and unprecedented in almost any individual sport.
The 'Big Three', Federer, Nadal, and Djokovic have won 57 of the last 68 majors. Another two, Murray and Wawrinka, share six titles equally. 
There have been only five other players who have managed to hold aloft a Grand slam trophy in 17 years!!! We wait in eager anticipation to see whether Tsitsipas can finally dethrone a Big 3 member in a final and become the sixth player outside the elite to win a major. The last time a Big 3 member was beaten in a final was in 2009!!!!
This is not how things have been in the game before. Back in the early 1980s, it seemed like every Women's final was between Chris Evert and Martina Navratilova if they both chose to play. 
Many male pros like Connors and McEnroe volubly pouted about the lack of depth in the women's game – compared to the men, where they felt that anyone in the top 10 and even beyond had a fair crack at any championship.
To just highlight how different things have been – to find the previous eight women who are single slam winners, starting from 2016, we would need to work all the way back to 1997 when Iva Majoli won her solitary major at the French. Literally, what just happened in 4 years took 20 before this! On the men's side however if we go back from 2004 another 17 years, 27 different people won a major as opposed to 10 in the last 17 years.
What could be the reasons driving these completely opposite trends? Why is the men's game so stable while the women's is exactly the opposite? Let's look at some possible reasons
1. INCUMBENCY
First off, Men's tennis is living in an unprecedented era. To have three players playing at the same time who have smashed every previous record till they each stand alone at the pinnacle, is unique. 
When all three can each justify a claim to having been the Greatest Player of All Time – that is not something that has ever been seen before. 
What Federer, Nadal, and Djokovic have achieved is stupendous. And the level they have raised their tennis to, is also something unique. Their game has gotten better with time and they have constantly pushed the envelope. 
Watching Federer in 2017 Australian Open Final and then going back to watch a replay of him winning the same title in 2006 (when he was 24 years old and starting a year in which, he would hold an incredible win-loss record of 92-5), it struck me that he was actually playing better at 35 than he was in his mid-twenties. 
Both Djokovic and Nadal also seem to just get better with age. The last time Nadal was pushed to five sets at the French Open was in 2011!!
We have been lucky to be able to enjoy watching three greats play at the same time. 
However, not only did the big 3 wins almost all the grand slams that were on offer, but in their heyday, they also won almost all the other big titles on offer. 
In the period from 2005 (when Nadal joined Federer at the top of the ATP rankings) till 2016, over 12 years, the Big three and Murray won 92 out of 108 Masters'1000 titles. 
They won 10 out of the 12, year-end championships. Virtually no one else won anything. Since 2017 it has slightly started to even out as a new crop of players has finally emerged and the Big 4 lost Murray to injury and the remaining three have not always played every tournament. Even then the Big 3 have won 18 of the 34 Masters 1000s. 
The question to ask is, did this dominance then mean the other players never managed to win enough to believe they could break the phalanx at the top? Did they just give up? 
Many talented players – Thomas Berdych, Jo Wilfred Tsonga, Gael Monfils, Nikolai Davydenko, Marin Cilic, Fernando Gonzalez as well as the injury-plagued Juan Martin del Potro, to name a few, won just the odd title here or there but all were potentially good enough to have become a top player and win multiple titles. 
The interesting thing with these players is that they were good enough to frequent the Top 10 but could never really win enough to become a serious threat. 
Maybe it became just too much. If you played a good enough match to beat one of the Big 4, another waited for you in the next round, ready with a good dossier on what your strengths and weaknesses were. It was perhaps too much of a tall order, and in the end these players never felt they could win titles.
What then is the difference on the women's side. We have a champion like Serena Williams with a similar dominance like the Big 3 – difference being she is only one. 
And while she has spent a lot of time at #1, she does not play in every tournament and there is no fortress at the top for other players to need to breach. Also strangely, instead of now saying that there is more depth in the women's game, the narrative is about how the women's game is not producing rock-solid stars!!
From 1975 when rankings first started for the WTA, 16 individuals had held the World ranking till mid-year of 2008 – a period of over 22 years. 
In the next 13 years, 11 players have ascended to #1 of which four were slamless #1s. Contrast this to 4 for the men and those 4 have also held the Top 4 ranking for 90% of that time. 
Clearly, the incumbency factor has had no impact on women's tennis. However, this does not explain why other multi-slam champions did not join Serena at the apex of the game.
2. MONEY
It requires a lot of monetary resources to become a top-level tennis player. Coaches, fitness trainers, other staff, hitting partners all need to be paid for. A player must also pay for their travel and accommodation besides their own. 
These are pro luxuries, before one can afford them one has to make one's way through a bizarrely underpaid system of ITF tournaments. In a team sport, the team typically takes care of logistics, training, venue management, and so on. 
Pretty much all you need to do is land up for the bus. In an individual sport you have to do everything by yourself. You need to make arrangements, travel, plan, execute all on your own. Most tennis players need a family member or a paid manager to keep this going.
Obviously, all this is worthwhile if one makes a lot of money. However, tennis revenues are fairly pedestrian. According to Bloomberg (https://www.bloomberg.com/news/features/2021-03-24/novak-djokovic-other-tennis-players-seek-to-reform-economics-of-the-sport) before the pandemic, the sport generated $2.3 billion of which 60% came form the 4 Grand slams. Compare this with some of the other major sports franchises as shown below
| | | |
| --- | --- | --- |
| Sports League | Teams | Revenue (USD Billion) |
| National Football League, USA | 32 | 13.8 |
| Major League Baseball, USA | 30 | 11.8 |
| National Basketball Association, USA | 30 | 9.3 |
| Premier League, England & Wales | 20 | 7.1 |
| FIA, Formula I Championship | 10 | 2.4 |
So $2.6B from a sport played WW with fairly high popularity is probably an undersell. The big other issue is that, in tennis, the pyramid is extremely steep. While the Grand Slams have a lot of money it falls off precipitously as one goes down the order of tournaments.
| | |
| --- | --- |
| Tournament Level | Total Prize Money |
| Grand Slams | $46M - $71M |
| ATP Tour | $400K - $6M |
| ATP Challenger Tour | $30K - $168K |
| ITF Tour  | $15K - $25 K |
Bianca Andreescu had a meteoritic rise up the rankings in 2019 culminating in her winning the US Open and taking away a cheque for close to $4 Million. 
Exactly a year before, she was playing the challenger tour, ranked within the Top 200 in the world and took home less than $10,000 for her efforts towards the end of the year.
While there is a lot of money at the very top, that falls off pretty quickly. Roger Federer last year became the top paid athlete in the world (thanks to pandemic pay cuts for some football stars) and made more than $100 million mostly in endorsements during the year. 
Ilya Ivashka, a Belarussian player ranked 90th in the world and on the tour for 8 years has earned a total career prize money of $1.15 Million. While I cannot find records of his endorsement earnings it is unlikely his career earnings are more than $2 Million. 
Not bad for 8 years if you are comparing to an office job somewhere. But he would have had significant expenses during this period. 
Winnings are taxed usually at 30% flat in the country hosting the tournament, and you may have to pay again in your home country. It is not really that lucrative. And to be in this position you have to be one of the TOP 100 in the world!! Where many tens of millions play the sport!!
The money in tennis is not attractive and there are considerable deterrents when one is young to continue in the sport. This may be crowding out talent. It may be the reason that the US has not produced any top players since Andy Roddick – the last American male to win a slam way back in 2003. 
The US traditionally always was the powerhouse of the sport and even now trains a lot of top players but can't seem to produce any top male players while still producing some key women's players. Why the shift in tennis's centre of gravity to Europe can be the subject of another piece. 
However, it is worthwhile to note that the money in the game is particularly bad for US men who have many other sports options or even other options within an economy that is large and fast-growing.
Why should money lead to opposite results for the men and the women on tour? This is not something we have been able to find an answer for, but one does believe that a lot of talented youngsters are dropping out of the game because it is simply unaffordable. 
This means that the ones who come through are only those who can afford it or have such unquestionable world-beating talent that they shine through anyway.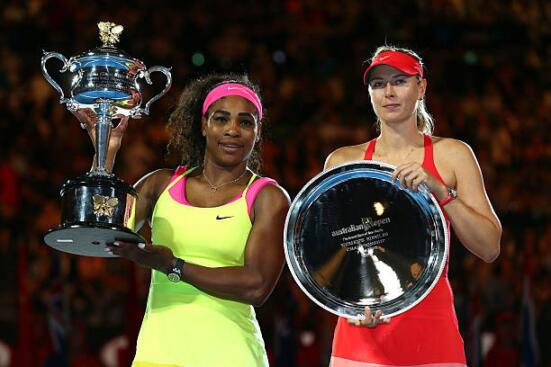 Maybe as a result of this a generation of players was lost. The last women's players who could win multiple grand slams besides the Williams sisters were Justine Henin, Kim Clijsters and Maria Sharapova. Serena Williams was born in 1981, Henin in 1982, Clijsters in 1983, Sharapova in 1987. 
Similarly, on the men's side Federer was born in 1981, Wawrinka in 1985, Nadal in 1986, Djokovic and Murray in 1987. 
While there are single slammers in between, the next multiple slammers on the men's side are likely to be from the crop of Zverev, Tsitsipas, Shapovalov, Auger-Aliassime, Sinner, Musetti, Rublev - all born 1997 or later. On the women's side similarly, Osaka (born in 1997) already has four majors and the other big prospects Andreescu, Swiatek, Coco Gauff, Leylah Fernandez, Kostyuk all are younger. 
So maybe the short answer is this – a whole generation of players born in a 10 year period were essentially lost to tennis. 
Of the generation which came just before, there just happened to be three men who were damn good – once in a lifetime talents, and they completely occupied the top, leading to an era of unprecedented continuity. 
On the women's side, only one of that generation survived and when the others departed the scene, it left a vacuum at the top which led to multiple iterations and many players who came though won a few and then dropped down the ranks.
Not a satisfying conclusion but that is all one could get hold of for now. More later 😊
Featured Image Credits - cnbc.com