Donny van de Beek: "My time is definitely coming."
Donny Van de Beek has been in the headlines from the day he was linked to Manchester United. That's the life of every United player, isn't it? 
However, this added attention sometimes causes a lot of concerns for the club too. The world knows about Paul Pogba and how he has been United's most talked player in the media. 
Here though, the focus is the Dutch rising star.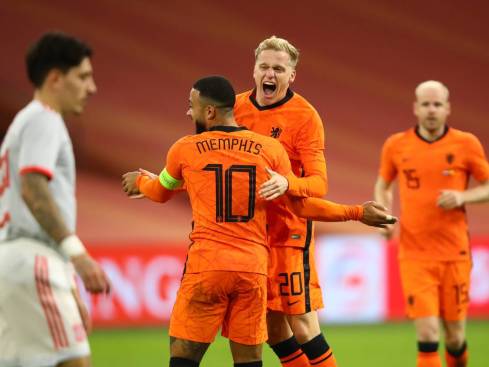 He spoke about how things have been at Old Trafford until now following a hard-earned draw against Spain on Wednesday. Van de Beek struck minutes into the second half to cancel out Sergio Caneles' fizzing strike in what was a pulsating friendly. 
Van de Beek is yet to start a game for the Red Devils since his arrival from the Eredivisie and already, several media outlets have called the transfer a failed one. 
For a 23-year-old, that is a lot to deal with on a daily basis but Donny's move went through particularly because of the character he possesses. That's what boss his club and country boss feel about him. 
The ex-Ajax player has spent only 75 minutes on the field in the English top-flight, scoring once while he has started twice in the Champions League and EFL Cup for the club.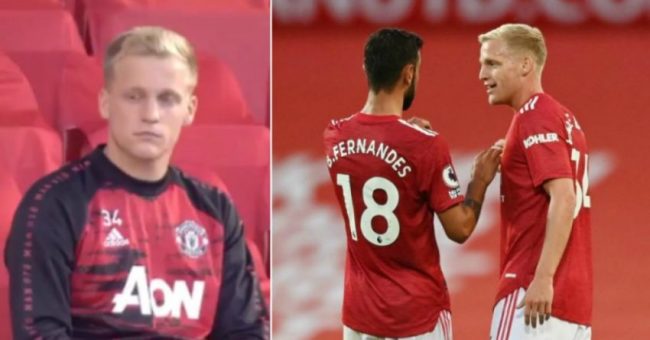 When asked about his thoughts just after the friendly draw against Spain, he told NOS, "It sounds cliché for me to say this, because of course, I would have liked to play more, but I really enjoy being in a nice team. I am simply received very well and helped by everyone. I'm a patient person but of course, you go there to play as much as possible. I also think that in the minutes I have made, in the times I have come in, I have shown that I can add something to the team." 
In the limited minutes' Van de Beek has afforded, he has a passing accuracy of 83.33%, better than Paul Pogba and Bruno Fernandes. Also, in the UCL the 23-year-old brags a 92% passing accuracy, better than Matic, Pogba, and Fred (89.4%, 85.5%, 84.1%) respectively. 
"What does Solskajer say to me? That I have to be patient, but also I just have to continue with what I am doing. And that he's seen that I have a good impact when I come into the field. My time is definitely coming. And when those opportunities come, I have to be there." 
featured image credits- metro.co.uk