Young footballers come out in support of the "Black Lives Matter" campaign
After Jadon Sancho paid tribute on Sunday, Manchester United star Marcus Rashford showed his support for the Black Lives Matter campaign. Rashford spoke out in support of the Black Lives Matter campaign, as protest continues in the United States following the death of George Floyd.
Mr. Floyd died while being in police custody in Minnesota last week, sparking a large scale protest and subsequent riots in many cities across the U.S. On Sunday, Dortmund star Sancho celebrated the first goal of his maiden hat-trick in Bundesliga by revealing a t-shirt with the message "Justice for George Floyd."
Rashford took charge off the field and used twitter to show his backing for the Black Lives Matter campaign. 
"I know you guys haven't heard from me in a few days. I've been trying to process what is going on in the world. At a time where I've been asking people to come together, work together and be united, we appear to be more divided than ever. People are hurting and we need answers. Black lives matter. Black culture matters. Black communities matter. We matter."
Achraf Hakimi also revealed a similar message like Sancho. The latter's tribute followed on from Marcus Thuram taking a knee after scoring for Borussia Monchengladbach against Union Berlin, while Schalke's United States international McKennie also wore a "justice for George Floyd" armband.
Gladbach coach Marco Rose praised his player for his celebration and he insisted that the Frenchman had "set an example against racism." However, according to DFB regulations, such statements are prohibited and the DFB control committee chairman Anton Nachreiner also confirmed that the authorized body will take the necessary action after analyzing the circumstances of the case."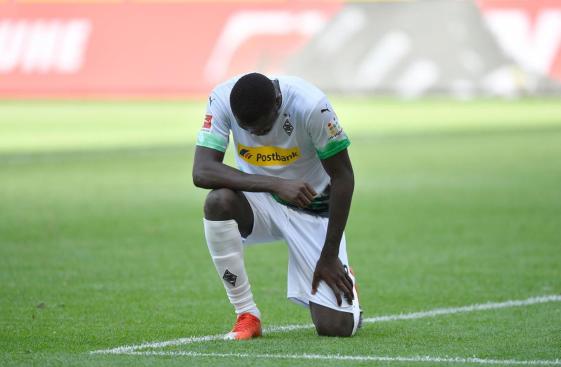 Manchester United star midfielder Paul Pogba has also spoken up about this incident via his instagram account. The outspoken French midfielder, in an image with his hand raised high, articulated his thoughts on the impact of racism and how it should not be tolerated in any form whatsoever.
This incident has had a huge impact all over the world and people from all corners of the world have risen up against it. All social media platforms have been flooded with both celebrities and their fans condemning this brutal behavior.
featured image credits- goal.com