Sportco 2018 FIFA World Cup Final Flashback: France 4-2 Croatia
Sportco relives the key moments of the FIFA 2018 World Cup Final between France and Croatia. 
France's run in this tournament was highly impressive as they saw off many big teams before reaching this grand stage. 
Very few anticipated Croatia to reach the World Cup finals, and the tournament underdogs certainly astounded us with their incredible journey.
As players come out of the tunnel, we take a lot at their starting line-up of France and Croatia for the 2018 World Cup Final.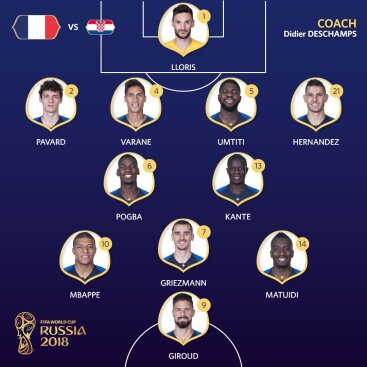 France (4-3-3): Hugo Lloris (capt); Benjamin Pavard, Raphael Varane, Samuel Umtiti, Lucas Hernandez; Paul Pogba, N'Golo Kante; Kylian Mbappe, Antoine Griezmann, Blaise Matuidi; Olivier Giroud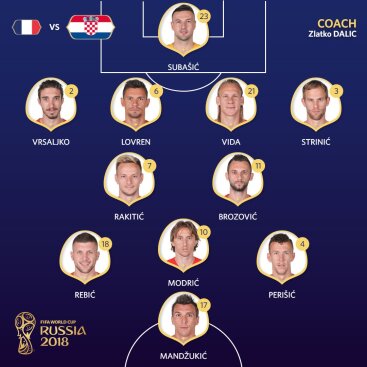 Croatia (4-3-3): Danijel Subasic; Sime Vrsaljko, Dejan Lovren, Domagoj Vida, Ivan Strinic; Luka Modric (capt), Marcelo Brozovic, Ivan Rakitic; Ante Rebic, Mario Mandzukic, Ivan Perisic.
MATCH KICKS OFF:
1 min: And here we are, the whistle has been blown, and the game begins; both nations will give their hearts and souls to take home the biggest football prize today. Brace yourself!
15 min: An excellent pass by Rakitic to Perisic, who takes a shot but gets blocked by Tottenham's goalkeeper. 
17 min: Freekick for France after Marcelo Brozovic with a rough tackle on Antoine Griezmann. 
18 min: GOAL! France 1-0 Croatia
What just happened? France are ahead. Griezmann with a delightful cross and Mandzukic in the wrong place who turned his effort into his own net. Embarrassment for the Croatian striker.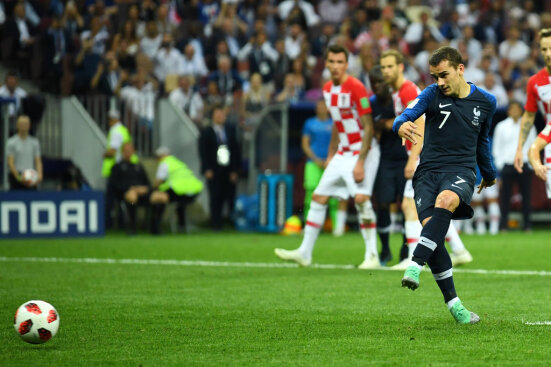 27 min: N'Golo Kant receives a yellow card and freekick for the Croats. 
28 min: EQUALIZER! France 1-1 Croatia 
CROATIA took just 10 mins to give a heavy punch on France's face. Ivan Perisic gets his team on track with a low effort in the bottom corner. 
38 min: GOAL!! France 2-1 Croatia 
Well, well, well! France have been awarded a penalty, and it was Croatia's goal-scorer, Perisic who handed the ball in the box as the referee decided to give a penalty after reviewing the VAR.
Antoine Griezmann simply sends the ball in the lowest left corner to score his fourth goal of the competition.
2018 WC FINAL HALF-TIME: France 2-1 Croatia
55 min: Steven Nzonzi replaces N'Golo Kante
59 min: GOAL!!! France 3-1 Croatia 
What a curling strike from the Manchester United Midfielder. It looks like the other half of the stadium has been muted. Pogba's first strike, which rebounded off a defender, but his second one was too far away from the Croatian keeper as it went past him. 
Pogba has made Croatia's life difficult now, and it looks unlikely they have any response to this. 
65 min: GOAL! France 4-1 Croatia
And with that, the game is over. Without a doubt, the 19-year-old has aided France win the World Cup. Croatia won't be able to score three goals in the space of 20 minutes.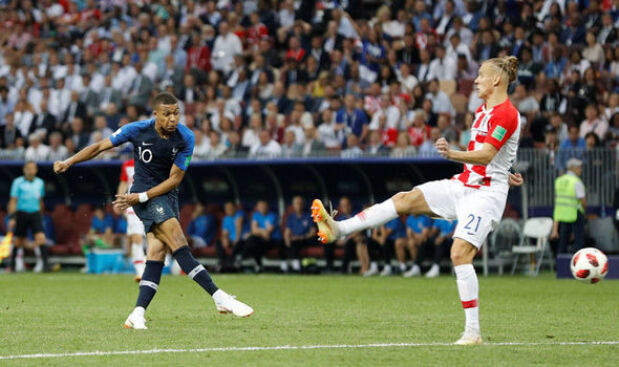 69 min: What an embarrassment for Hugo Lloris! France 4-2
Croatia are just two goals away from a historic comeback, as they pull one back after Lloris howler in front of goal, and Mandzukic pounces on the mistake with his quick feet. 
80 min: Croatia are doing everything to reduce the lead to one goal, but Les Bleus' defense is too stubborn. 
95 min: The referee points his hands towards the dugout and blows the final whistle. With tears in their eyes, France's bench sprints towards their players on pitch, and celebration scenes are all around for the men in blue.
2018 WC FINAL SCORE: France 4-2 Croatia