Steven Gerrard wants to be ready before accepting Liverpool job
Liverpool legend Steven Gerrard is doing a fantastic job at Rangers and he has signed a contract until 2024 with the club. Recently Liverpool manager Jurgen Klopp also signed a contract until 2024.
This has led to a speculations that Gerrard might be Klopp's successor at the club. Even the German manager suggested that the former midfielder can be the right candidate to take over from him.
Gerrard spoke to his long-time team-mate Jamie Carragher on the Greatest Game podcast. He admitted that he was flattered by the praise of Klopp, but refused to accept that he is a natural successor. The Liverpool legend had a few reasons to back his thinking.
"Just by Jurgen saying it, it's very flattering because of who he is, and there is a lot of people out there that naturally think that if Jurgen goes in a year or two years, I am next. I don't and there's a couple of reasons behind it." Gerrard said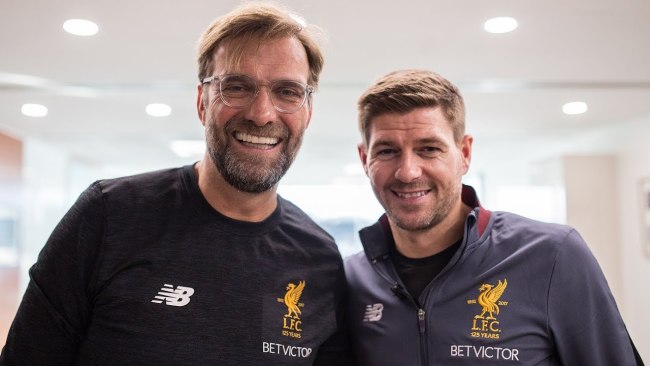 The former midfielder claimed that he is very happy at Rangers, and does not have any problem in staying at the club for a long time. Gerrard feels quite content with the job he is doing and added that it would be brilliant, if Klopp stays for a long time.
"If I stay at Rangers for another two, three or four years I am OK - it means I am doing something right and happy. I am in no rush to try and jump, I am not looking over the fence at anything. I am a proper content. If Jurgen stays at Liverpool for another four or five years, brilliant." Klopp further added
The 39-year-old admitted that he wants to manage in the Premier League soon because he doesn't want to be a manager for a long time. He said that Liverpool would be a perfect job for him, but it won't be smart to expect to get the job because of being a former player.
"I won't manage for 20-30 years. I want to experience managing at the top in the Premier League at some point. The perfect situation would be for my team, for Liverpool, but I'm not daft enough to think I'm going to get it just because I was a good player for Liverpool Football Club." He said
Cover Image Credits: Sky Sports