Is it the right call to appoint Thiago Silva as the captain of Brazil?
The first-ever World Cup is to be held in the middle east as the 22nd edition of the tournament is ready to take center stage. 
In the recently announced Brazil International squad, coach Tite has named his final 26-member team. Five times World Champions Brazil's 26-names feature some of the World's best and most famous names, of which 23 out of the 26 represent clubs outside Brazil.
Coach Tite's 26-man-squad consists of three goalkeepers, eight defenders, six midfielders, and nine attackers, as they arrive in Qatar as a ruthless South American force and tournament favorites.
Brazil's World Cup squad has a couple of surprise additions and omissions, as for the third World Cup campaign in a row veteran Thiago Silva has been named captain of the side
Will Brazil's gamble on captain Thiago Silva pay off?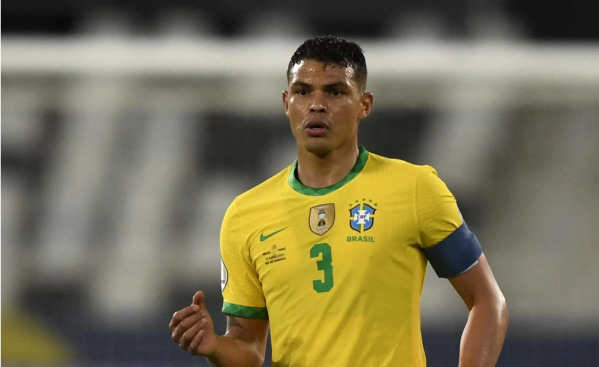 Thiago Silva's defensive record has been excellent in recent years, moreover, Brazil doesn't look like a side that concedes goals. Thiago Silva after playing his last World Cup in 2018, many wouldn't have thought he would be part of Brazil for the 2022 World Cup, however, he forced his way into Brazil's squad for Qatar World Cup.
Also, Brazil's management is preparing Eder Militao to take over, Militao has never led Tite down, given his excellent partnership alongside Marquinhos in the qualifiers, as the pair didn't concede a single goal. However, Thiago Silva's form and fitness continue to be impressive and his ability to sprint back at high speed during the games amazes Tite. Brazil's National Team management highly regards stats and analytics and has indeed believed in the 38-year-old center-back, as he is the captain of the Selecao side for the mega event. 
Previously, when coach Dunga was in charge of Brazil's side, he preferred Miranda and young Marquinhos as a center-back pairing. Moreover, this was the pairing that Tite inherited upon his appointment, however, just before the 2018 World Cup in Russia, he understood the importance of Thiago's presence in the backline, as Silva and Miranda formed the pair in the back four. However, that meant Marquinhos was left on the bench, which ultimately haunts them as it asked for trouble to drop their fastest defender, as Belgium shocked Tite's men to knock Brazil out of the tournament.
Later, Tite admitted his mistake, and since then the PSG defender has never been left out, and certainly, the former PSG center-back pairing of Silva and Marquinhos is to be seen in the starting eleven this time.
Silva, who again has been appointed the captain of the Selecao side for the upcoming mega event, has previously led the side in the previous two World Cups. An undeniable class defender, Silva's presence will likely benefit Brazil, however, it brings to question as to, will Silva be as efficient as Chelsea's back three to Tite's 4-3-3.
It will be a big test for the Chelsea defender to marshall his backline, especially in the knockout stages. 
Moreover, previously in mega tournaments, Silva has experienced uninspiring moments as the pack's leader. In the humiliating loss to Germany in the semi-finals in front of the home crowd, he missed the game due to an unnecessary yellow card he picked up in the game against Columbia in the quarterfinals. Moreover, in 2015 Copa America Brazil lost to Paraguay on penalties in the quarterfinals, as the match finished 1-1 and Paraguay's goal came from a penalty, conceded by Silva's peculiar handball. 
However, he has come a long way, as the former AC Milan defender's ability to read games and position himself in the right places to neutral threats, makes him Tite's one of the first names on the list. 
Silva will be captaining his side for the third World Cup and will hope his side can go all the way and do better than they did in Brazil and  Russia in 2014 and 2018 respectively.