The Never- Ending match on Court-18
The Isner–Mahut match at the 2010 Wimbledon Championships is the longest tennis match in history. It was a first-round Men's Singles match, in which the American 23rd seed John Isner played French qualifier Nicolas Mahut. The match began at 6:13 pm on Tuesday, 22 June 2010, on Court 18 at Wimbledon. At 9:07 pm, due to fading light, play was suspended before the start of the fifth set. After resuming on Wednesday, 23 June, at 2:05 pm, the record for longest match was broken at 5:45 pm. The light faded again, and so play was suspended at 9:09 pm, with the final set tied at 59 games all. Play resumed at 3:40 pm on Thursday, 24 June, and Isner won at 4:47 pm, the final set having lasted 8 hours, 11 minutes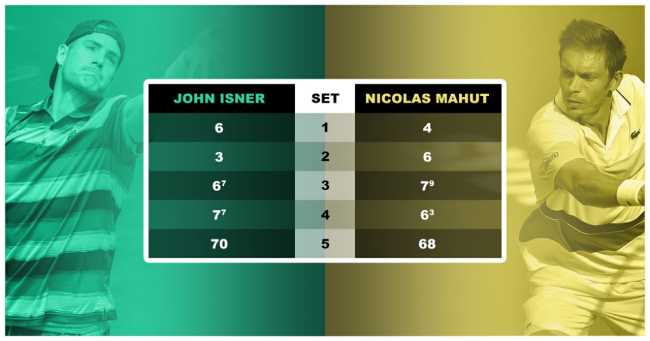 Never before had a first round match played on a minor court became an instant classic.
Until The Match…
In the 2010 Wimbledon first round, the Isner vs Mahut, apparently a match like any other first round match, beat all the records—pulverized them actually. In a match that lasted 11 hours and five minutes (the previous record was six hours and three minutes in Roland Garros) over three days, Isner eventually won 6-4, 3-6, 6-7 (7-9), 7-6 (7-3), and 70-68 (in a fifth set that lasted eight hours and 11 minutes and was alone longer than the previous longest match in history).
Various records were broken in the marathon match. The infographic gives an insight to the various records been broken. A rule change in 5th set of championships from 2019 which meant a tie-breaker was to be implemented. This would mean that the record of the longest match could never be broken unless there changes bought about again. Currently, French Open is the only Championships where the tie-breaker isnt implemented for deciding set.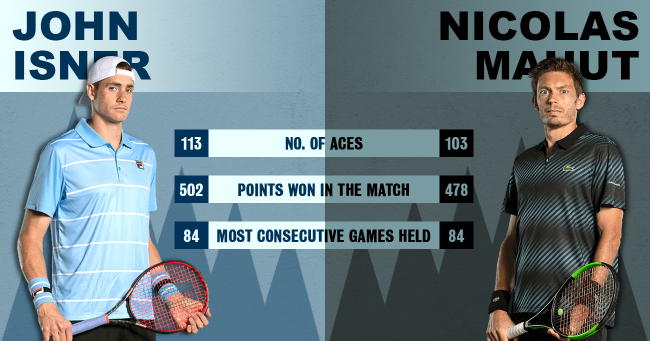 Immediately after the match, both players and the    umpire were presented with a crystal bowl and    champagne flutes by Tim Henman and Ann Haydon-Jones on behalf of the All England Club, as special recognition of the match. 
On 14 July, Isner and Mahut were jointly awarded the 2010 ESPY Award for "Best Record-Breaking Performance", beating fellow nominees Roger Federer and Usain Bolt. Isner accepted the award in Los Angeles on behalf of both men.In addition, the AELTC placed a plaque commemorating the match at Court 18.Time named this match one of the Top 10 Sports Moments of 2010.