Juventus vs Atletico Madrid: Champions League Preview and Prediction
Atletico Madrid are all set to travel to Allianz Stadium, where they will face Juventus in their fifth fixture of the 2019-20 UEFA Champions League.
The last time these two teams faced each other was on the opening day of the ongoing Champions League. Atletico Madrid made a thrilling comeback in that game that helped them in getting one point. 
As of now, Juventus are leaders of Group D with 10 points from four matches, while Atletico are in the second position with seven points from the same number of matches played. This fixture is pivotal as the result of this fixture might decide who ends as the leader of Group D.
Juventus are leaders of Serie A as well at the moment. The Old Lady have 35 points from 13 fixtures and are the only undefeated team in the league. The Rojiblancos, on the other hand, are in the fourth position in La Liga with 45 points in 14 games. 
Juventus have won their last three matches in the UCL and have at least scored two goals in their last four UCL outings. While Atletico have drawn four out of their last five away fixtures and failed to keep a clean sheet in all five games. 
Key Battles
Leonardo Bonucci vs Joao Felix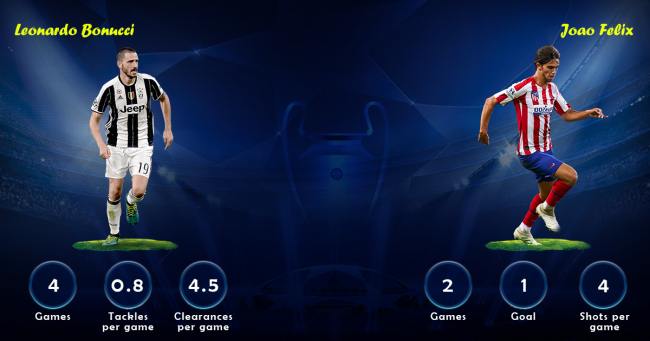 Atletico Madrid's talisman, Antoine Griezmann decided to join Barcelona, which put a lot of pressure on getting new talented strikers on Los Rojiblancos' board. This immediate change made Atletico splash money in the summer transfer window. They managed to get a young talented striker, Joao Felix, but they had to spend €126,00 million to land him to Wanda Metropolitano.
The 19-year-old striker hasn't been quite impressing in his first season. Felix has scored only one goal in four UCL fixtures and two goals with one assist in 10 La Liga outings.
The Portuguese will be put on test once again as he has to get past Leonardo Bonucci, tonight. There is going to be a lot of goal scoring pressure on Felix, but if he manages to cope with it and focus on his game, then we might see something special in this match. The forward was impressive in his last game against Juventus, but he couldn't manage to breach the Old Lady's defensive line
Bonucci has stopped many great players from scoring goals, and I don't think it will be difficult to stop the Portuguese. Also, the Italian defender, however, has to make sure that his defensive partners support him and don't create any mistake that might cost them. 
The only manner in which Felix can get better of Bonucci is with the help of his pace. The Italian defender is aging, which might be beneficial for the Portuguese.
 Cristiano Ronaldo vs Mario Hermoso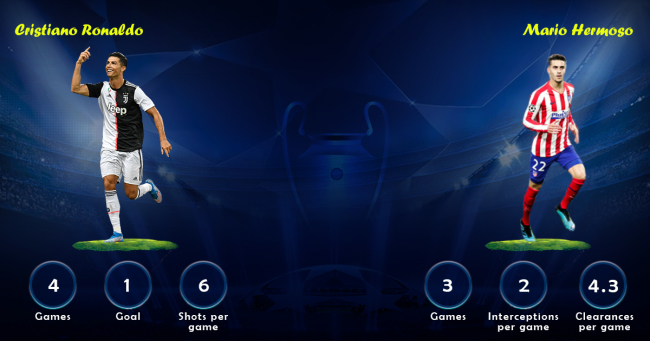 Mario Hermoso is going to handle the responsibility of stopping one of the greatest footballers, Cristiano Ronaldo from scoring, tonight. The defender has replaced Stefan Savic who is sidelined due to injury. 
The Atletico defender has been decent at the back in the UCL this season. Hermoso has made two interceptions per game and 4.3 clearances per game in his three appearances so far. Are these stats enough to put a pause on CR7? Well, I don't think so.
The Juventus winger has incredible goal scoring record against Los Rojiblancos. CR7 has scored 25 goals in 33 games against the Spanish side, seven of these goals have been scored in the Champions League.
This phenomenal record of Ronaldo does put a lot of pressure on Hermoso and his side, however, he is returning from injury and we don't know whether he is going to be 100% fit to perform, tonight. 
The Atletico defender will require help from his backline because stopping Ronaldo alone is going to be a huge task for Hermoso. The Juventus winger will use his dribbling and shooting skills to get past the solid defensive line of Atletico.
Prediction
This is going to be a difficult fixture for Atletico Madrid s they both haven't been consistent this season and their two defensive pillars, Jose Gimenez and Savic are not going to enter the field. 
Juventus are playing at home and that is going to be a huge advantage. The Old Lady haven't lost a single home game in any competition this season.
The only threat for Los Rojiblancos is Ronaldo as he has a fantastic goal scoring record against them. If Atletico manages to keep CR7 silent, then this fixture might end with both sides sharing a point each. Nevertheless, I believe that Juventus are in a better position right now in terms of players and a winning record. This makes them a better side of the two and I believe that they will register a comfortable victory, tonight.
Score prediction: Juventus 2 – 1 Atletico Madrid