Juventus vs Napoli: SERIE A Preview and Prediction
The new Juventus manager, Maurizio Sarri will be up against his former club, Napoli at Allianz Stadium, tonight. Will the Italian manager get better of his former employers?
In the opening game of the new season, Juventus defeated Parma 1-0 in an away fixture, while Napoli defeated Fiorentina in a high scoring battle for three points. These two fixtures pointed out the weaknesses of the two sides.
The Old Lady's strikers failed to capitalize on their chances and need their midfielders to be a bit creative. Napoli, on the other hand, were fantastic in creating goal-scoring opportunities but their defensive line was vulnerable.
The two sides must have noticed these issues in each other's first game and will surely use the opponent's weakness to win this fixture. If these issues are eradicated before going into this fixture, then we might witness a neck to neck encounter.
Juventus are undefeated in their last 21 home games in Serie A, while Napoli have won five of their last six league matches. Moreover, the Old Lady have won five out of their last six home games against the Blues in all competitions.
Injury News
Giorgio Chiellini has suffered an ACL injury in training, which means that Mathijs de Ligt might get his debut, tonight.
Arkadiusz Milik missed the first game against Fiorentina due to an injury, however, he is back in the side and will feature on the bench against Juventus.
Battles to look out for:
Cristiano Ronaldo vs Kostas Manolas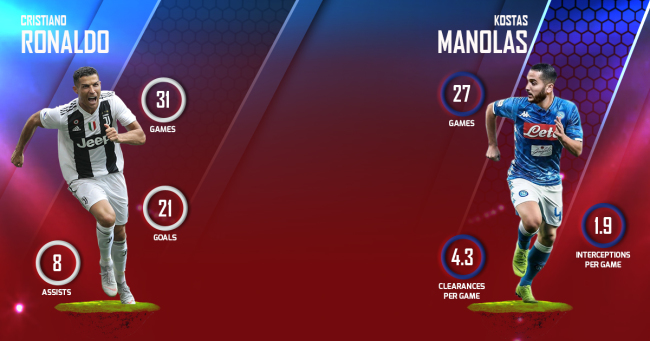 This is going to be an interesting battle as one of the greatest footballers of all time, Cristiano Ronaldo will take on the new member of Napoli, Kostas Manolas.
Cristiano Ronaldo was the highest goal scorer of Juventus in the last season. CR7 scored 21 goals and provided eight assists in his 31 league games for the Old Lady.
The Portuguese didn't have a great start to the new season as his goal was considered offside with the help of VAR. While Manolas was vulnerable as Napoli conceded three goals in the first game against Fiorentina.
The Juventus winger is one of the best in business and he never gives up. So, he will once again go for the goals and create problems for the opposition. Manolas, on the other hand, will be under a lot of pressure as he has to stop Ronaldo from sending the ball at the back of the net.
Mattia De Sciglio vs Lorenzo Insigne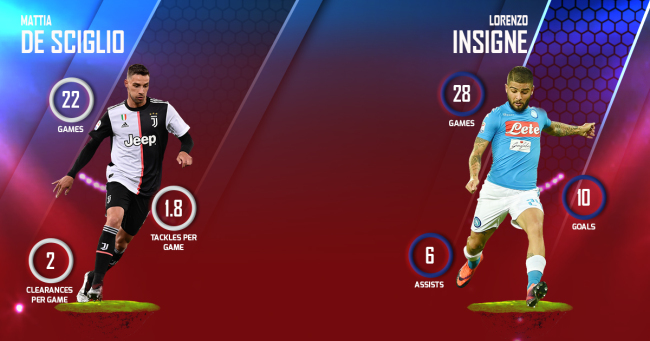 I have a lot of expectations from this battle as two talented players will try to end on the top of each other.
Lorenzo Insigne had a great start to his new season as he netted a brace against Fiorentina, which helped his side in winning the opening game. Mattia De Sciglio, on the other hand, was quite solid in his first game of the season. The Italian made three tackles along with two clearances in his opening match.
The Napoli winger will try to cut inside and create space for his other teammates. He will also create a lot of goal scoring opportunities and his position inside the box will have a lot of influence in this fixture. While De Sciglio will try to push Insigne towards the wing as it will cut his space and stop him creating passes for his teammates.
The Italian defender will try to go ahead on the wing and support his strikers. This is the time where Insigne can breach the backline of Juventus as the right-back will take time to reach his original position.
Prediction
Juventus have a great depth in their squad in comparison to Napoli. Also, the inclusion of De Ligt in the backline will solidify their defense.
Napoli, on the other hand, have a lethal frontline, however, they have a huge task lying in front of them as they have to get past the rock-solid backline of Juventus.
So, considering all the points about the two sides, I believe that Juventus will get better of Napoli, tonight, but it won't be a one-sided fixture. Moreover, I'm expecting Ronaldo to score the winning goal in this fixture.
Predicted score: Juventus 2 – 1 Napoli