Lewis Hamilton vs Max Verstappen Rivalry | Career Stats | Driving Style
The rivalry between Lewis Hamilton and Max Verstappen has been described as a god gifted rivalry; both the racers have gone wheel-to-wheel whenever they encounter each other. 
Their head-to-head duels has seen some awe-inspiring moments along with some neck-to-neck races which has been regarded one of the best to ever to grace the sport. 
The rivalry between these two top drivers has always been compared to Ayrton Senna and Alain Prost, which began in the late 1980s. 
Lewis Hamilton vs Max Verstappen: Beginning of the rivalry 
Lewis Hamilton is one of the most experienced drivers in Formula One racing and has been a world champion for a record seven times and the oldest racer in the F1. 
On the other hand, Max Verstappen is the youngest racer in F1 and he is twelve years younger than Hamilton, but has already shown his racing skills. 
When Max bursts into the scene, many of his racing rivals impressed by his performance; even Lewis Hamilton touted him as one of the four best-racing drivers on the grid in 2017.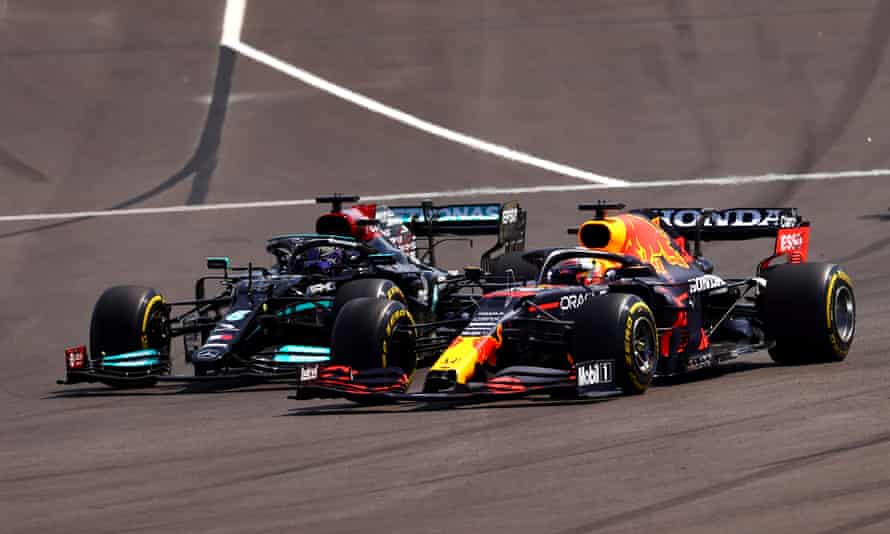 Max Verstappen has challenged Lewis Hamilton many times from the 2017 Formula one race to 2021 in Russia Grand Prix, where the English racer won the race and Verstappen came second. 
However, both the racers' rivalry unfolded when, Hamilton's chance of securing a record-breaking eighth Drivers' crown was thwarted by Verstappen at the Red Bull Ring. Verstappen won the back-to-back race, and the Brit fell 32 points off the pace.   
German racer, Nico Rosberg, who witnessed the race, said, "I think it will go down as one of those great rivalries. It reminds me of my rivalry with Lewis as well in the intensity.  

"It will go down as one of the greats because Lewis is the best of all time and Max is the star of the next generation.

"It will be a beautiful battle.

"The cool part is that you don't know who is going to win the next race or win the championship. That's why we are all going to be glued to our televisions.

"It is going to be so intense, especially after what happened at Silverstone. The intensity is ramped up."
Rosberg is the second driver after Max Verstappen to have ever beaten Lewis Hamilton in Formula 1. According to Rosberg, it was another fierce rivalry in the history of racing by two rivals "giving everything" out on track. 
Lewis Hamilton vs Max Verstappen: Career stats 
| | | |
| --- | --- | --- |
| Stats  | Lewis Hamilton | Max Verstappen |
| Age  | 36 | 24 |
| Seasons  | 15 | 7 |
| Events  | 281 | 134 |
| Starts  | 281 | 133 |
| Wins  | 100 | 17 |
| Podiums  | 176 | 53 |
| Pole positions  | 101  | 11 |
| Won from pole | 59 | 7 |
| Championship  | 7 | 0 |
| Points  | 4024 | 1406 |
| Laps raced  | 16834 | 7670 |
| Laps led  | 5615 | 1369 |
| Fastest laps  | 57 | 14 |
| Retirements  | 27 | 28 |
| Debut  | 2007 Australian GP | 2015 Australian GP |
Lewis Hamilton vs Max Verstappen: Driving style 
Hamilton is renowned for his aggressive driving style, excelling across a wide range of areas. He is one of the best, most complete drivers on the grid, with the great judgment of the car's limits and ability to match how the downforce is bleeding off with his modulation of the pressure so that there's no wasted grip but no locked wheels either. 
Hamilton is excellent at levels of rear instability that many drivers find intolerable; his experience with racing has seen his ability to adapt to variances in the car set-up and changing track conditions; throughout his racing career, most of the time, he utilize less fuel to balance the momentum through corners despite instability in the car. 
Similarly, Verstappen is known for his aggression and being on the limit at all times. However, Max usually adapts to his driving skills depending on the car he is using. His great execution to race well is one of the traits of the Dutch-man. In addition, his technical ability to understand the dynamics of driving helps him translate that into giving strong and precise competition on the grid. 
Verstappen is a very young racer capable of pulling a comeback when overcoming a pace deficit and pulling off overtaking moves in ending moments of the race. Christian Horner has stated, "when you see Verstappen in your mirrors it feels like a question of when rather than if he will pass you."