The joy of watching Lionel Messi will be missed once he retires
May 1, 2005: Barcelona was playing against Albacete and they were set to win the league under Frank Rijkaard after six years of disappointment. That Barcelona team was filled with universally admired players such as Ronaldinho, Deco and Carles Puyol, but that season the spotlight was on an Argentine winger named, Lionel Messi. 
He was mind-blowing for Barcelona B in the initial stages of the 2004-05 season and eventually made his senior career debut on October 16, 2004, when he came on as a substitute against Espanyol. After nearly two years of hearing tales and myths about his barely believable dribbling ability and acceleration, Barcelona fans finally got their chance to witness the Boy-Wonder in the 2004-05 season.  
He rarely got a chance to have a considerable impact, but whenever he entered the pitch, he made sure the Camp Nou faithful witnessed their future talisman in full flow. He finally scored his first goal on the 1st of May, 2005, chipping a brilliant overhead pass from Ronaldinho to the back of the net.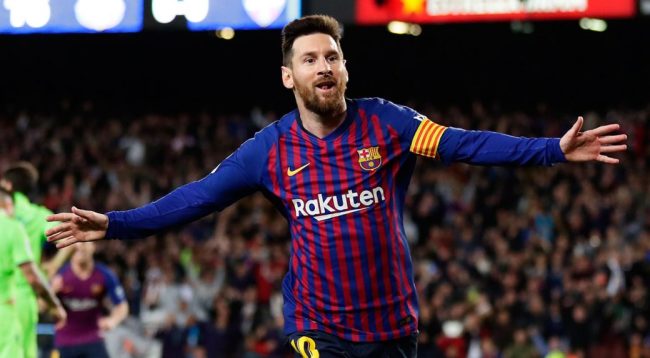 In the 2005-06 season, Lionel Messi established himself as a first-team regular and slowly started to justify all the hype with some stunning performances. But the moment that will be etched in the annals of history forever came on 18 April 2007 when Barcelona played against Getafe in the 1st leg of the Copa Del Rey semi-final.
In the 28th minute, a few meters out of the halfline, Messi received the ball in a tight space and performed a deft piece of trickery to get away from two defenders. Then, the Camp Nou crowd had their hands on their mouth as he accelerated like a maniac and left the entire Getafe team dumbfounded. 
For a few seconds, everything seemed to be happening in slow motion as he went past defender after defender and finally confounded the Goalkeeper too, to drill the ball into the net with his weaker right foot. This goal baffled football pundits and fans alike and Messi had entered the thoughts and dreams of every football lover around the world. 
One year later, Pep Guardiola took over as Barcelona manager and decided to employ a 4-3-3 formation with a Messi-Xavi-Iniesta axis that will change football forever. 
May 5, 2015: In the years that followed Pep Guardiola's departure from Barcelona, Messi's aura had dimmed a little. He endured several injuries and Barcelona did not win a major trophy for the first time in five seasons. 
In the 2014-15 season, Messi was on a mission to win the league title and the UCL. Barcelona faced Bayern Munich in the UEFA Champions League semi-final and they were previously destroyed 7-0 on aggregate by the Bavarians in 2013. Just before the first leg was about to begin, Manuel Neuer had given an interview to L'Equipe in which he promised to show Lionel Messi that he is the boss on a football pitch. 
Neuer will regret his words forever as Messi famously made Jerome Boateng roll on the pitch and then dinked the ball over a clueless Neuer. The goal was one of the most-watched sporting moments of 2015. Barcelona were back among Europe's elite as they won a continental treble and Lionel Messi clinched his fifth Ballon d'Or. 
Four years later, Messi produced yet another spellbinding performance against Real Valladolid. Anyone who watches Barcelona games every week will know he is the world's best forward by a country mile, even at 32. 
The ball still seems to be under imperious curse whenever he touches it, but in a recent interview, Messi admitted he has only 2-3 seasons left in him. So how will we remember Messi after he hangs up his boots? Will it be his goal-scoring consistency? Will it be his 256 assists for Barcelona? Will it be his ridiculous freekicks? All of the above are more records and statistics that tend to disappear over time. 
Maybe one day Kylian Mbappe or Jadon Sancho or Joao Felix might score and assist more than him, but the pure joy he brings to every spectator when he starts running with the ball towards the opposition defence can never be matched by any human being.     
Cover image credits: Forbes