Manchester United eke past Manchester City: Talking points from the derby
Manchester City might be the dominant side in the Premier League in the 2010s, but last night, Manchester was red.
Manchester United pulled off a major upset, defeating their cross-town rivals, 2-1 at the Etihad Stadium. Ole Gunnar Solskjaer's men scored twice in the first half, courtesy Marcus Rashford and Anthony Martial, and then shut shop in the second to deny City.
Manchester City were the more dominant side in the game but the Red Devils made the most of their chances and walked out with the win. Solskjaer's men were exceptionally precise in attack in the first half, making the most of their chances.
The visitors drew first blood in the 23rd minute courtesy a Rashford penalty. The Englishman was the victim of a bone-headed tackle by Bernardo Silva inside the box but referee Anthony Taylor only awarded a penalty after a VAR check. Rashford calmly placed the ball in the bottom right corner from the ensuing kick.
Six minutes later, City were punished by another sharp Manchester United counterattack. They overloaded City's left flank and Martial produced a maverick finish to give the visitors a two-goal lead.
The first half was not without controversy as City had two penalty calls rejected by VAR. Both, funnily enough, were based on contentious handball claims.
While the first one involving Victor Lindelof was clearly not a penalty, the second call will divide opinion. 
The second half saw a rejuvenated Manchester City try everything to reduce the deficit. The visitors, however, were able to hold off thanks to a strong performance from Aaron Wan-Bissaka.
Guardiola's men got their breakthrough in the 85th minute thanks to a thumping header from Nicolas Otamendi.
That, however, would be their only successful foray as the Red Devils were able to hold out.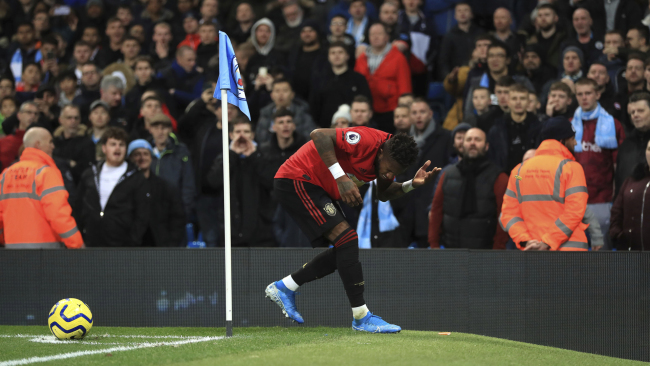 City fans, meanwhile were left frustrated and this resulted in a rather unsavory incident where Fred was hit by a projectile and was, possibly, subject to racist chants.
Solskjaer's men have beaten both Tottenham and Man City in a span of three days and are now in the top five. City sit third, 14 points behind league leaders Liverpool. Their title defense, effectively, seems to be over.
Talking points
Aaron "Wan-derwall"
If there was one player who stood head and shoulders above everyone else yesterday, it was Wan-Bissaka.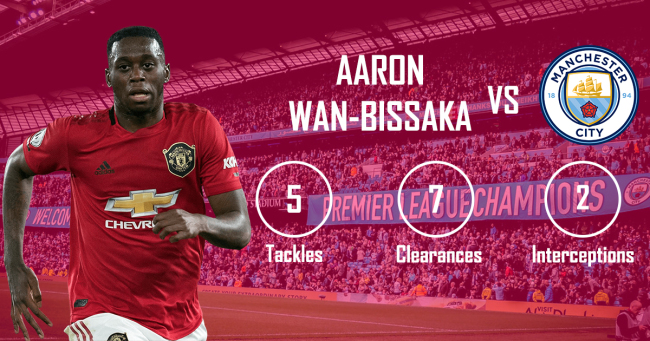 The former Crystal Palace single-handedly shut down City's attacking forays from the right. Wan-Bissaka executed five successful tackles from an attempted nine, cleared the ball a whopping seven times and also intercepted play twice.
His energy and commitment were unmatched on the pitch as he regularly helped out his defensive partners. The English full-back also helped close down the dangerous Raheem Sterling with a last-minute block to deny the Englishman being Wan-Bissaka's most memorable play.
Wan-Bissaka was the game-changer for Manchester United in the second half and this performance will surely endear him to the Old Trafford faithful.
Manchester City missed Sergio Aguero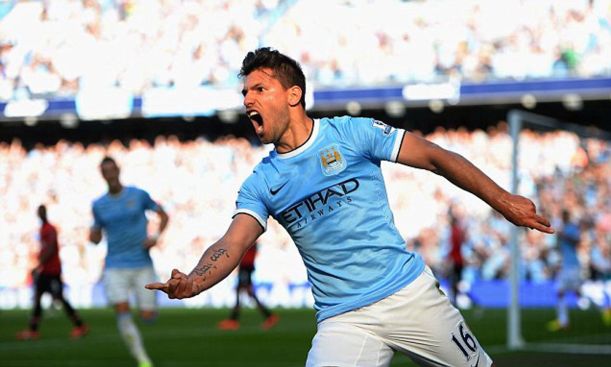 Gabriel Jesus had stepped up in Sergio Aguero's absence, scoring twice against Burnley. The Brazilian, however, time and again has proven to be notoriously inconsistent.
That was evident last night as Jesus just did not click for the Cityzens. He was unable to create space for himself or give promising runs in order to receive balls from the likes of Kevin de Bruyne and David Silva.
He also fluffed the one clear chance he had on goal with his header going wide.
Had Sergio Aguero been fit, things might have panned out differently for Guardiola's cohorts. The Argentine has eight Manchester Derby goals to his name and is a much better finisher than Jesus.
The Cityzens missed Aguero's penetrative runs and physical prowess that helps him to contend with opposing defenders. Jesus' underwhelming movement and offensive awareness also stymied David Silva and de Bruyne's production.
City definitely need their attacking talisman back soon in order to salvage this Premier League season.
VAR and Guardiola's love affair continues
If VAR has been a source of joy for league leaders Liverpool, it has been the exact opposite for Pep Guardiola.
In yet another big game, VAR influenced possible goal-scoring opportunities for Manchester City with two handball calls not going their way.
The reigning Premier League champions had a goal overturned against Tottenham. Against Liverpool, they were denied legitimate handball claims. The same thing happened last night against their city rivals.
While Victor Lindelof's handball claim was unfounded, the second one involving Fred had merit. The Brazilian extended his arm and made his body big when the ball struck his extended hand. One can, however, argue that he was too close to Kyle Walker when the latter released the ball and thus, was handball was not given.
For Manchester City, their hard luck with VAR decisions in key games has become a recurring trend. Unfortunately for them, it effectively killed their aspirations of a third successive Premier League title.
Featured image credits: The Scottish Sun