Manchester United vs Spurs: Premier League Preview and Prediction
Jose Mourinho heads to the Theatre of Dreams as Tottenham Hotspur take on Manchester United in a blockbuster clash in the Premier League. 
Following a dire start to the campaign, Spurs completed the opening month of the season with a sense of optimism following a healthy transfer window business and their increasing performance levels under Jose Mourinho. 
On the other hand, United were shocked in their very first league game of the 2020-21 season as they lost to Crystal Palace.
The drama continued as they escaped with all the three points against Brighton, in a game that was very unconvincing for the Red Devils. 
Let's see how the two teams go into this match, considering its importance in shaping the table.
Head to head Stats
The head-to-head battle between the two is a clear one. United have won 11 and lost six in the 22 games the sides have played. 
Five matches have been drawn. However, Spurs did manage to win against the Red Devils at Old Trafford in 2018, when Jose was in the other dressing room. 
This was the game that started fans and pundits questioning Mourinho's tactics as the United boss. 
Will things turn out the same with Tottenham too? Or will Jose's new signings show United the power of their board's new found backing?
Recent Form 
Despite their struggles in the league game against Brighton, it was anticipated that the Cup game against Brighton will also turn out to be a tricky one. 
However, United went on to win the game in a very convincing fashion, with the Seagulls not being able to do what they could during their league meeting.
Tottenham has been on a great run after back-to-back triumphs in the week, which advanced them to the Carabao Cup quarter-finals and Europa League group stages at the expense of Chelsea and Maccabi Haifa respectively. 
Manchester United have won three games out of their last five in all competitions, while Spurs have won four and drawn one in their last five games in all competitions.
Team News
Ole Gunnar Solskjaer has no fresh injury issues and Harry Maguire, who was a doubt for this fixture is deemed fit to feature. 
Phil Jones and Axel Tuanzebe remain sidelined. 
Heung-min Son is out with a hamstring problem while Giovani Lo Celso is a concern after picking up a knock in Thursday night's victory. Gareth Bale remains sidelined too.
Key Battles
Anthony Martial vs Eric Dier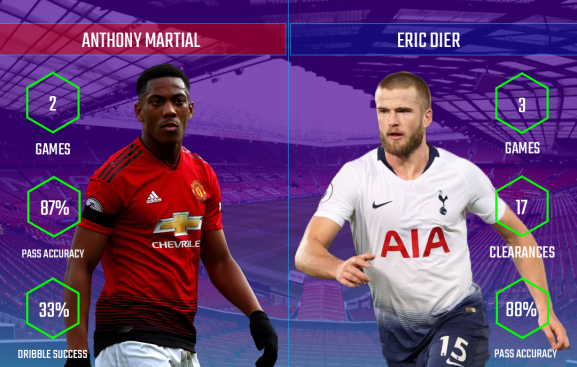 Dier made headlines this week in the Carabao Cup tie against Chelsea when he disappeared from the game midway, which was followed by Mourinho rushing back into the tunnel. 
In terms of football too, Mourinho's team were solid in the second half and the overloading pressure led to the Blues succumb to Spurs, with Eric Lamela taking charge of the attack.
Dier has been settling in his new position assigned by Mourinho well and it seems Martial may have to wait for another game to open his account in the Premier League. 
However, with Martial's potential and his growth last season, it would take just a goal to get the Frenchman back in form, competing in a healthy competition with team-mate Marcus Rashford, who has already opened his account for this season. 
For Dier too, it will be a challenge to stop Martial considering how quick he is on the ball and will also have to get through his dribbling abilities. 
The battle between the two could go either way and the team's positions in the game will say a lot about how the battle ends.
Luke Shaw vs Lucas Moura
Shaw had a decent 19/20 season defensively but failed to put up any numbers while on the offensive. 
This season too, things seem to remain the way they were. However, we see Shaw as a physically fitter player than what he was last season and it is expected that he would keep playing avoiding any injuries like last season. 
Lucas Moura on the other hand was very good last season. He's a player that has the manager's trust and has more often expressed himself more than Shaw, resulting in good goal involvements for Spurs. 
The head-to-head battle between the two will be an entertaining one as the absence of Son would shift the Spurs focus pretty much to the right flank.
Prediction 
Considering how Spurs have been performing recently, they look like the favorites. 
However, it has to be kept in mind that United play at home and despite their struggles, the team does very well against the 'so-called' top-six teams of the league.
United will look to start the game on the front foot and an early lead in the game could do very much for them later on. With Harry Kane in blistering form, it will be a good Sunday game to see how ex-Manchester United boss Mourinho plans against his ex-club. 
Score Prediction: Manchester United 2-2 Spurs