Mapping the Paul Pogba and Graeme Souness feud from scratch
Paul Pogba vs Graeme Souness has been in the headlines for a while now. 
Pogba, who returned to Manchester United in August 2016, was instantly taunted by Souness, who was also a central midfielder in his time, a very good one, probably an expert. 
Let's see how everything began.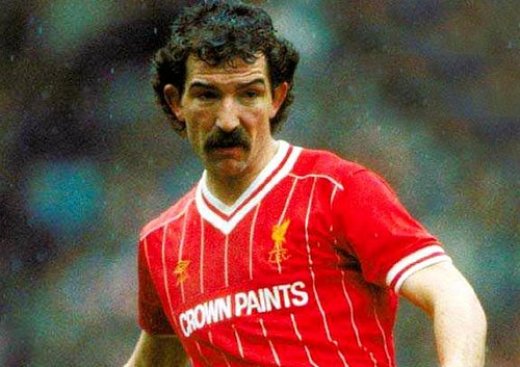 "It's not the poor lad's decision, he didn't decide how much was going to be spent on him but I think £89m is way too much," Souness' thoughts just a few days after the move was completed. 
"For that money, you're expecting to get the finished article. He's a long way off from that.
It happened again, when Zlatan Ibrahimovic arrived. 
Souness said, "I think Pogba is a statement signing, I still think £100 million for a midfielder who gets ten goals a season, is too much money. Right now Ibrahimovic will be a bigger influence for United over the next nine months because he has an attitude and a charisma about him that will drag the lesser lights along." 
Well, everyone knows this was aimed somewhere else.
In September 2016, Souness commented, "We get kidded by his athleticism. When you see him move he is an absolute Rolls Royce. Does he have a football brain? He still has to develop his football brain." Irrespective of his size, Pogba is one of the quickest midfielders the world has seen but Mr. Souness feels otherwise."
In the same month, when Pogba scored his first goal for Manchester United against Leicester City Souness appreciated the Frenchman for his physicality saying, "He'd run you into the ground if you try to match his runs."
This came just a few days after Souness called Pogba a player with barely a football brain.
October 2016, just prior to a game against Liverpool, the Scotsman said, 
"He may eventually be 100 million pounds worth but right now I don't see him anywhere near that. I see a young man who's struggling to find his best position and best form in a team that's struggling to find their best form. I see his position, he's got the technique but I don't see him having a great understanding of the game."
All this was very proportional considering the fact that he acknowledged him in a way but suddenly doubted him in the major aspects of the game.
Cut to May 2017, Manchester United were struggling to fight for a top-four spot and were considering Europa League as their best way to qualify for the Champions League. 
During that time Souness dug out on Pogba saying, "Because it's Manchester United and they have the money, in my opinion, they had their trousers taken down paying (the transfer fee of Paul Pogba). I'm yet to be convinced by that. He may be a player one day but right now as we sit here after one year in our football, I'm still waiting to be convinced."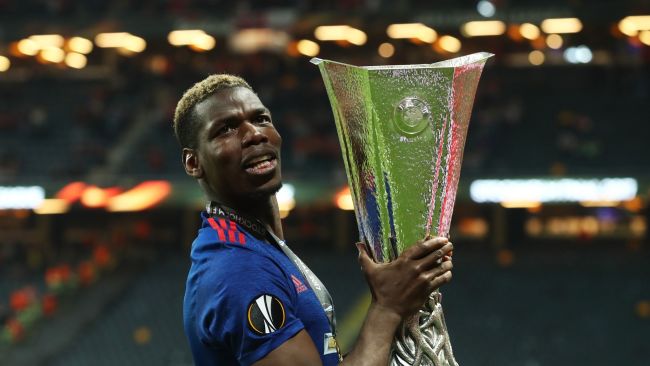 In the same month, when United were crowned as Europa League champions, courtesy of a Pogba goal too, Souness said, 
"I don't see him doing enough special things. You spend that kind of money to make a difference in the big games. I don't see him this season changing any of the big games because of the 'brilliance' he's shown."
Souness, again, firing shots on the Frenchman's understanding of the game, although, Pogba was one of the most influential players in that squad at that time too.
In December 2017, Paul Pogba was suspended due to a red card against Arsenal that led him to miss the Manchester derby, which was United's next game. Souness was back to business again and he said, "I believe that it is a bonus that Paul Pogba is suspended, because he is the most undisciplined midfielder Manchester United have."
Too harsh maybe? 
In June 2018, with the World Cup around the corner, Souness had doubts about Pogba making it to the France squad and he saw him only as an impact substitute who cannot guarantee anything. 
The Liverpool legend's exact words were, 
"You can't trust him as a central midfielder and ultimately, that's how Deschamps will see it. He could use Pogba as an impact substitute. If you're 1-0 up, you're not bringing him on to close the game down. If you're chasing the game, he might do something but still doesn't understand the midfield role properly."
After the World Cup, Souness shared his thoughts again and said, "I think he's been more of a team player in this competition. But when you're playing with Matuidi and the likes of Kante I think you'd be embarrassed if you didn't put the same shift as them." 
It is quite clear that Pogba has been living rent-free in Graeme Souness' head and almost certainly doesn't actually care and that is what makes it brilliantly tragic each time Souness hits out.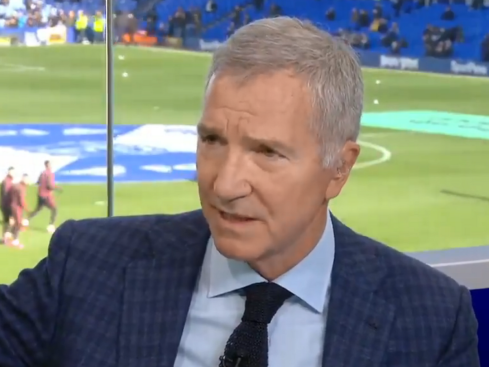 The former Liverpool player and manager stays relevant by laying into Pogba on television but since his target never really responds but recently, Pogba did explain the fact that he doesn't know who Souness is. However, he did agree that he was a great player and that fact that he is not into watching the pundits and focuses only on the matches. 
That's actually quite reasonable because Pogba, who grew up in France in the 1990s and early 2000s, doesn't know about someone who played in England, Italy and Scotland and retired two years before he was born. When Pogba moved to England in 2009, Souness was three years removed from the Premier League dugouts and was just a person talking on TV.
With Pogba not being interested in the pundits, there is no reason to know who Souness is. Just like Souness hit back at Pogba saying, "Put your medals on the table and I've got a big table. Let's see how they are when compared."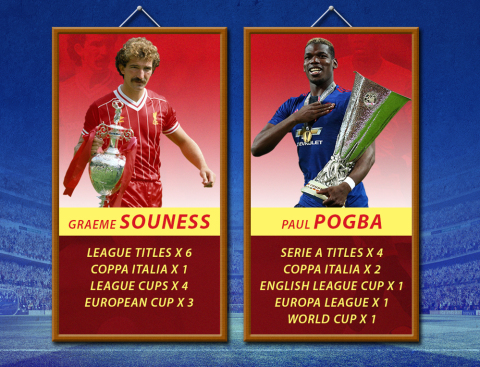 Souness has four Serie A titles while Souness has six out of which five are with Liverpool and one with Rangers in Scotland. One important fact is that Pogba is still 27 and has good years ahead of him, being just two away from Souness.
When domestic cups are considered, Souness never won the FA Cup as a player. He still has a Coppa Italia with Sampdoria but Pogba has two of those from his time with the Old Lady. Souness has four League Cups, three with Liverpool and one with Rangers. 
Pogba spent half his career to date playing in a country where there is no League Cup, although, he has won one with Manchester United.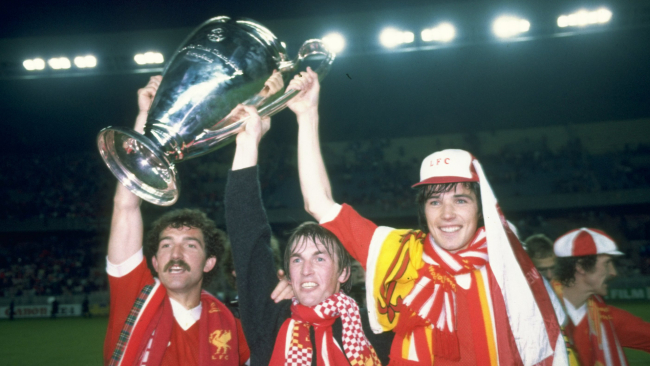 In European competitions, Souness is the clear winner with three European Cups with Liverpool, while Pogba only featured in the 2015 final for Juventus and has won the Europa League with United.
Still, Pogba has all the time in the world to match this tally as well, whether in Manchester or elsewhere.
Pogba, though, has the World Cup, which is the pinnacle of all the trophies in football and he won it when he was 25 and with the talent the French side has, he may win it again in future.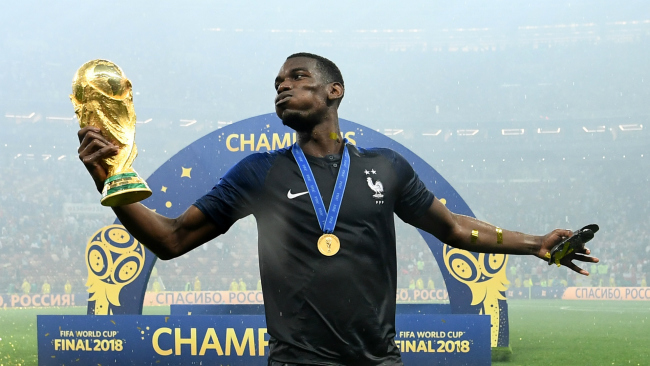 Souness went to the World Cup thrice with Scotland but never got beyond the first round. Maybe, he must have felt that individual effort is not enough to succeed at the World Cup.
Both the players have been brilliant individually with Souness being a part of the PFA Team of the Year four times in the early 80s. Pogba has already had the same amount but in two countries. He was in the Serie A Team of the Year three times and was also a part of the 2018-19 PFA Team of the Year.
Both the players never won a Ballon d'Or. As it stands, Souness is ahead in overall terms but not to forget, Pogba has enough time to prove everyone wrong in all the possible ways.
The fans, however, can definitely make do with the popcorn entertainment that these two provide with their war of words.