Formula One: Mercedes and the Method to their Madness
Mercedes-AMG Petronas Motorsport or just Mercedes has been ruling the Formula 1 circuit for the past six years. The Silver Arrows have been so dominant that their opponents are threatening to leave the circuit if some measures are not taken to level the playing field.
Mercedes has also equalled Ferrari's record of six consecutive World Constructor Championships. It's amazing for a team which only came back to the sport in 2010. They look unstoppable now.
One can argue that their dominance is killing the interest of the casual viewers and thus is not that great for the future of the sport. But, it's not true. Formula 1 circuit has always seen cycles of dominance by a particular team. Ferrari and Michael Schumacher ruled for so long in the early 2000s. Whereas, Renault was the team to beat in the beginning of this decade as well.
There has to be something they are doing that others aren't. What are they doing right? What is their method to the madness?
Top notch management
They have a top notch management ably lead by Toto Wolff. Before him, the reins were in the hands of Ross Brawn, who is one of the shrewdest minds in the circuit. 
Their management moved quickly to incorporate rule changes which were about to come much before their competitors. As the changes which were about to come in 2014 were announced in 2011, they got a head start compared to the rest of the circuit. This resulted in a better car with a better engine than the rest of the competition. With the most talented driver of his generation at the seat, there was no stopping Mercedes from swooping it all.
Lewis Hamilton at the Driving seat
Hamilton is widely considered the best driver of this generation and one of the greatest drivers in the history of the sport. 
The British driver has the second most Driver Championships to his name with five and is set for a sixth this year. In addition to this, he has the second most career victories, most career points and all-time most pole position. 
Having a driver of this calibre was always going to be the cornerstone of a team's success. Mercedes brought in Niki Lauda to their management, who was able to lure away Hamilton from his beloved McLaren and the rest is history.
Engine
Mercedes's dominance started with a 2014 rule change which replaced the 2.4 litre V8 engines to 1.6 litre V6 Hybrid turbo charged engines. 
With the new changes and tremendous work by their engineers, Mercedes had the most powerful engine at 870 hp.They took full advantage of it with Hamiton in the seat and doesn't seem like they are going to stop.
Car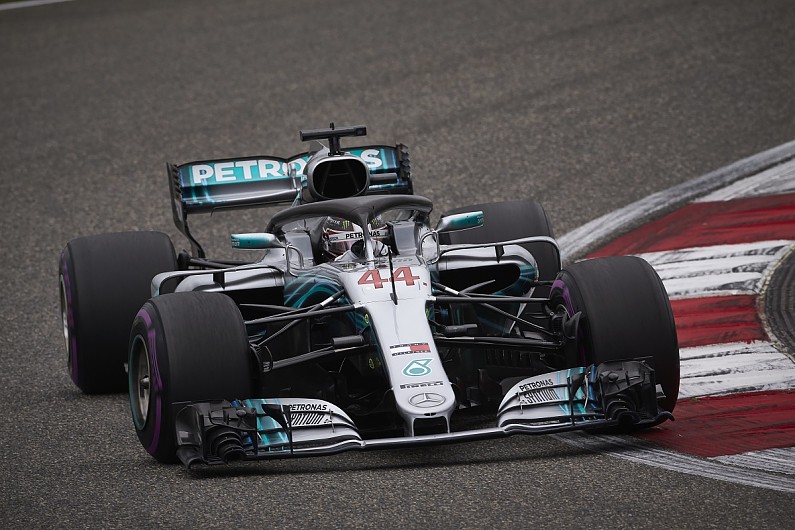 Mercedes designed and developed their cars under the direction of Aldo Costa and others to use Mercedes's new 1.6-litre V6 turbocharged engine, the PU106A Hybrid.
Their cars can't be compared to the straight-line speed, low drag, and high-speed prowess of the Ferrari. But what they do best is their ease in working the new Pirelli tires concept with its overwhelming downforce. 
Changes were also made to the car's wheelbase, rake, wishbone, wheel and innovations for a better tyre temperature. These changes provided the cars with a better centre of gravity and centre of pressure. And, we got a car who was going to extend their dominance for years to  come.
Will their Dominance subside?
In their last six years of dominance, Mercedes hasn't had much of a competition but Ferrari is coming close to their levels this season. Ferrari's cars have become faster and better and in turn are beginning to win races.
With the 2021 rule changes, we can make a case for Mercedes dominance to end. But, there is still two years left and who knows they repeat it all over again and when the new rule changes kick in, Mercedes has the most well suited car of them all.
Cover image credits: Autosport.com