Nadal beats Djokovic in straight sets to win a record 13th French Open title
Rafael Nadal dismantled top seed Novak Djokovic 6-0, 6-2, 7-5 to claim a record 13th French Open title. In the process, the Spaniard also equalled the record of his long-time rival Roger Federer of 20 Grand Slam titles. 
Nadal put in a flawless performance against the Serb, maintaining his accuracy with all kinds of shots be it groundstrokes winners, running down drop shots or pin-point fore-hands. He looked extremely focused & cool from the onset. Nadal also managed to keep his unforced errors to a bare minimum.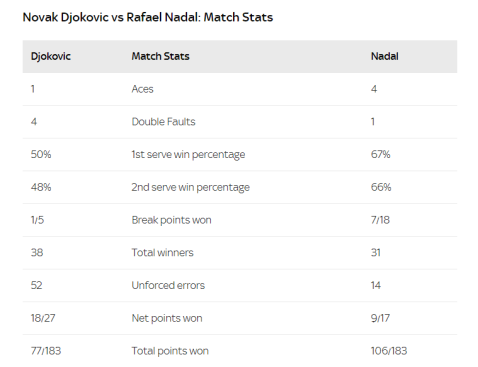 Novak Djokovic, the 2016 French Open champion is one of only two men to beat Nadal at the Roland Garros. But in today's final, Djokovic looked way off from his usual game, which was evident in his body language. He looked frustrated and his impatience was evident in his shot selection too.
Nadal breezed past the Serb with a two-set lead inside a couple of hours. The third set was a much more even contest, which is how everyone expected the entire game to be. 
Rafa was very humble in congratulating Djokovic during the presentation ceremony. Nadal said, "What you are doing in this court is unbelievable. 
Not just this court -- throughout your entire career, you've been a great champion,". Djokovic responded by saying "Today you showed why you are King of the Clay.'' 
"The love story that I have with this city, and with this court, is unforgettable,'' Nadal said."[To] win here means everything to me, no? It's not the moment, honestly ... [to] think today about the 20th,'' Nadal said. "Roland Garros means everything to me. I spent, here, the most important moments -- or most of the most important moments -- in my tennis career, no doubt about that.''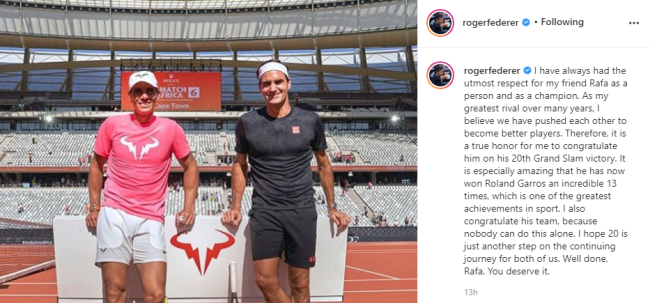 Roger Federer was quick to congratulate his arch-rival by posting on his Instagram and Twitter handle. The Swiss maestro reacted on Twitter, congratulating his "greatest rival" 
King of Tennis?
Rafael Nadal is the undisputed 'King of Clay' after lifting the Coupe Des Mousquetaries trophy for a record 13th time. The Spaniard will be looking to go one better next year when the French Open takes place in June 2021. His French Open record is intimidating even for the most seasoned players in Tennis. 
Nadal by his own admission didn't expect any Tennis to be played this year due to the coronavirus outbreak. But once the US Open and French Open dates were announced, Nadal knew that if he wanted to win a grand slam this year, the French Open was his best chance of doing so. 
Hence, he sacrificed the US Open by opting out of the tournament and focused his entire attention on winning the French Open title this year. His sacrifice just proves how much he covets this tournament and his willingness to come here in Paris each year to create new records.
Cover image credits: Independant.co.uk