Padmakar "Paddy" Shivalkar: The definition of a cult hero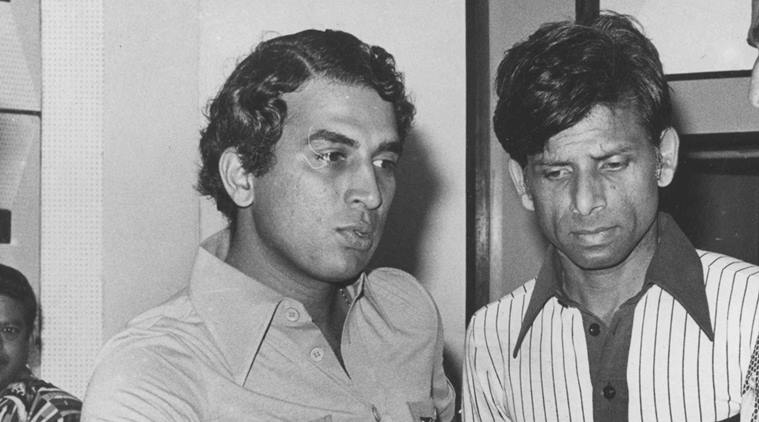 There are players, some of them great, who should have played for India. Padmakar Shivalkar, 'Paddy' to his friends, is one such great left-arm spinner, who could never wear the India cap, chiefly because the skilled Bishan Singh Bedi had cemented his spot. Plus India's world-class spinners with their consistency seldom made selectors think of other options. The closest Paddy came was playing against Sri Lanka in unofficial `Test' matches.
Of the many ifs and buts in cricket, this one suggests how good Paddy was: 'If the selectors can play Prasanna and Venkat, then why not Bedi and Paddy?' As they say, "It is all fate and chance." Sadly, neither of the two clicked for Shivalkar.
Shivalkar, after completing his schooling, was without a job, plying his trade in tennis-ball tournaments at the maidans of Bombay, with no experience of leather ball cricket. One day, his friend Dattareya Sathelkar, a club cricketer took him to Hindu Gymkhana as he suggested a job in the cricket teams of companies.
He narrated this incident in an interview. Upon reaching the Gymkhana, he saw a man in a rocking chair. The man threw a leather ball at him, asking him to bowl. When he questioned who the man was, Sathelkar whispered in his ears: Vinoo Mankad! 
The fact that he had to bowl under the scrutiny of Mankad made him nervous. As one would expect, the first two deliveries hit the side of the nets. Mankad, however, with an encouraging pat on the young player's shoulders, offered him a job at Bradbury Mills.
The job at Bradbury Mills helped the young Shivalkar grow as a cricketer. He then impressed Vijay Manjrekar and Madhav Mantri with his bowling in a local match, so much so that Manjrekar asked him to become a member of the Shivaji Park Gymkhana. Journalist G.K. Menon provided him a grace period to pay the membership fees, as he earned Rs. 140 a month.
He soon made his mark in the league cricket, and eventually, aged 22, played his first Ranji match.
With his three-hop bowling action, Shivalkar would dismantle the opposition by tight and disciplined spin bowling. His best performance came against Tamil Nadu in the 1972-73 Ranji Trophy final match at Madras. 
In reply to Bombay's first innings score of 151, Tamil Nadu were 62-2 at stumps on the first day. As soon as Day two began, they were bowled out at 80 by Shivalkar who registered his best bowling performance of 8/16. 
In the second innings, Bombay was bundled out at 113 setting a target of 185 for the hosts. Again, the left-arm spinner bagged five wickets conceding just 18 and the hosts were all out for 61. The five-day match ended in just two days.
After Bedi's retirement from Test cricket, young Dilip Doshi was picked to fill the spot and veteran Shivalkar was left out.
Shivalkar in 124 first-class matches, claimed 589 wickets at an average of 19.69, with an economy rate of 2.04. He has 42 five-wicket hauls and 13 ten-wicket hauls. He played for almost two decades and was one of the main reasons for Bombay's dominance in domestic cricket. Of the 22 Ranji Trophy victories in 20 years, he was an integral part in 18 of them.
In 1988, Dilip Vengsarkar went around Bombay to pick a left-arm spinner for the Ranji Trophy and could not find a quality spinner. Shivalkar was recalled to play at 48. He did not disappoint his skipper. Against Karnataka, he invited Gundappa Vishwanath to drive and got him caught at short cover. He also picked Roger Binny's wicket, and Bombay made it to the final.
Gavaskar, in his book Idols, wrote: "He [Shivalkar] sang a particular song composed by Shantaram Nandgaonkar, which is about how one misses an opportunity if luck is not on one's side. Paddy put his heart and soul in rendering that song. It was almost the story of his cricket career." Shivalkar — a passionate singer — has sung that song in various programmes.
In March, Shivalkar wrote his autobiography in Marathi, "Ha Chendu Daivagaticha." (Ball of Fate). He has mentored many young cricketers and continues to do so in Mumbai.
When asked in an interview, how he would sum up his life, he recited a Sahir Ludhiyanvi couplet from Hindi film Hum Dono: "jo mil gaya usi ko mukqaddar samajh liya, jo kho gaya usi ko bhulata chala gaya. mai zindagi ka saath nibhata chala gaya, har fikr ko dhuyen mein udata chala gaya." (Whatever I received, I considered it my fate, what I lost I chose to ignore; I kept pace with life, and blew the worries in smoke).
In 2017, the Board of Control for Cricket in India (BCCI) announced that Shivalkar would be awarded the Col C.K. Nayudu Lifetime Achievement Award, comprising a trophy and a cash award of Rs. 25 lakh. He must have been overwhelmed and flooded with congratulatory calls. But one call remained elusive: THE TEST MATCH CALL!
Cover image credits: The Hindu