Paul Pogba - The story of unnecessary mocking and battles
Paul Pogba and Manchester United, two names renowned as the best, but are often deemed as vain or unusual whenever taken together. 
From the day Paul Pogba returned to his boyhood club from Juventus, every section of the media has managed to find one or the other discrepancies in the Frenchman's behavior or style.
Instead of keeping his footballing ability as an aspect of judgment, it has been his private life that has come under constant scrutiny. His haircuts, his dance moves, and his agent rather than what the player is actually doing on a football pitch.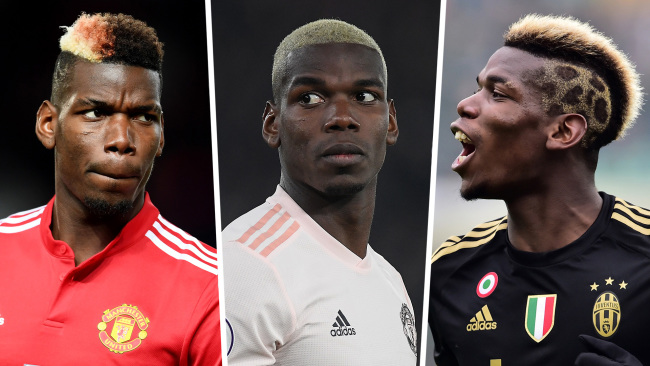 People have probably forgotten the fact that Pogba was a four-time Serie A winner, two Coppa Italia crowns, while he won the EFL Cup, the Europa League, and a FIFA World Cup with France.
Despite that, most people know that he has not been the best but there has to be a big reason to regard him as a failure in England, and his haircuts, dance moves, and social media stories do not count!
Paul Pogba's Manchester United career comeback started off well as the team won two trophies at the end of the season. However, things got bitter between Pogba and Jose Mourinho, while the world saw it as both people's frustration over each other, do you know the exact reason?
The way it would make much more sense is because of Jose Mourinho being constantly reminded of Paul Pogba, his performance, and his attitude on the pitch even though it was his 'team' that lost a game.
For Pogba, the questions used to be around the style of Manchester United such as, 'Are you content with the way your manager sets up the team?, Do you believe in Jose Mourinho's philosophy of football?' Well, if questions like these are constantly thrown at you after a disappointing performance on the pitch, there will be obvious consequences.
Consequences that we saw in the Manchester United training sessions, and as things progressed, Pogba and Mourinho were not on the same side anymore.
Who is to blame? You know it, yes! However, it was not it. Once both the parties (Mourinho and Pogba) decided not to make the team suffer because of their differences, there was yet another question rooted in the mind of a player who was constantly held responsible for stuff he did not do.
The famous question was 'Is Paul Pogba happy with his position?' A central midfielder and not an attacking position like Kevin de Bruyne. This led to a lot of problems in the United bench too as Jose Mourinho did not have enough quality midfielders to hold the game and create chances.
The likes of Herrera and Henrikh Mkhitaryan were constantly injured and inconsistent respectively, leading to everything falling on the United number six's responsibility.
The media failed to realize that Paul Pogba became a World Champions not playing as an attacking midfielder but playing alongside N'Golo Kante, forming one of the most formidable midfield partnerships a World Cup witnessed.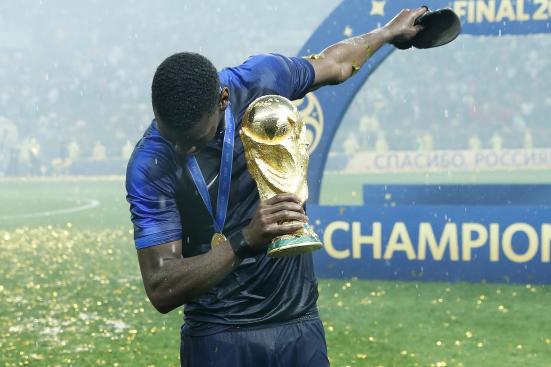 How much credit was Pogba given for it? Barely anything! After Mourinho's dismissal, Ole Gunnar Solskjaer came to United's rescue and we saw a slightly different and more enhanced version of Pogba as we saw him shooting, being more involved in the final third than trying to make interceptions on the half-line.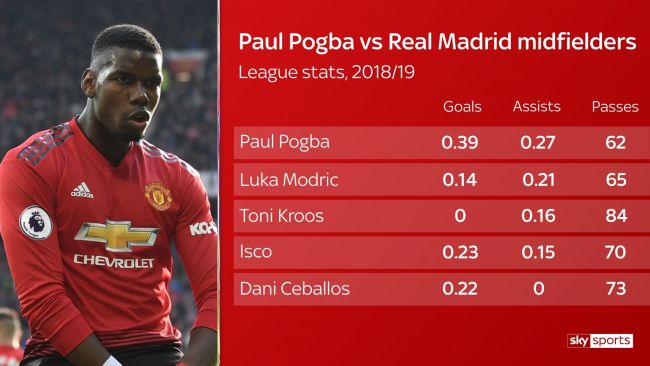 Manchester United dropped out of the top four after some disastrous performances towards the end but Paul Pogba finished the season as the club's top scorer, top assister, best tackler, and best creator.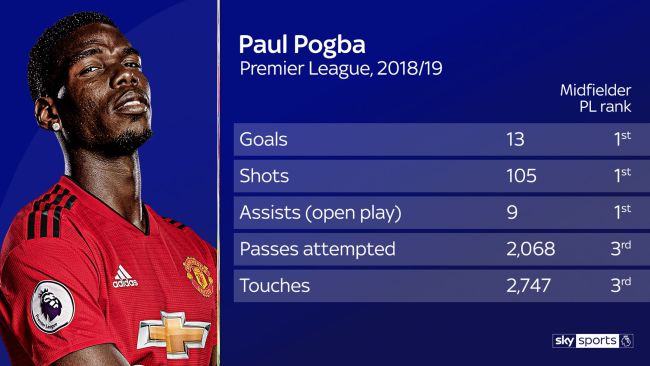 The world may have heard of this thing but how much hype did it get compared to Kevin de Bruyne equalling Thierry Henry's record for most assists in the league? Nothing! 
Intending no disrespect towards the Manchester City star, but had that man been Pogba, he would be known more for bottling the opportunity to bag 21 assists with three games in hand rather than doing a tough job of setting up 20.
One is hailed as the best midfielder in the world or the best Premier League player currently, while the other is just a 'flop.'
The 2019-20 season started wonderfully for the Frenchman as he was seen in an advanced role which was reflected in the season's kick-off game against Chelsea where Manchester United won 4-0, with Pogba bagging three assists.
However, he was unfortunate to have picked up a severe ankle injury that spoiled the majority of the season. However, there were games where he played through injury to show his commitment towards the team, only leading to exacerbating his injury.
Despite that, people count that season as a failure for Pogba counting his appearances and not his minutes. However, when people compare Kevin de Bruyne's 18/19 season which was Pogba's best season at Old Trafford, the most common argument you would hear is that KDB was injured.
Well, the reason is fair but it's the hypocrisy that has led to forming a lot of barriers between Manchester United and Paul Pogba. Talking about the most recent case, where another bizarre shot was fired towards Manchester United and Paul Pogba.
In United's most recent game against Burnley, Paul Pogba fired a phenomenal strike which turned out to be the match-winner for his side but instead of acknowledging the goal and the fact that Pogba's attitude was clearly articulating dedication and respect towards the club, there were comparisons made about how the Frenchman has scored two goals in two games in United's away jersey and has managed a poor record when wearing the home one.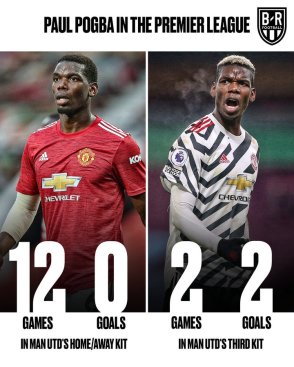 There was another meaning to it too, which was basically Pogba performing in a Juventus kit (as Juve's home kit and United's third kit are very similar) and not in a Manchester United shirt.
How many times have you seen a comparison like that? Never! is the answer but why not do it if it demeans Paul Pogba!
The agenda has always been to target the Frenchman and all this is just a part of the hardships the media has caused the club and the player.