French Open 2021: Finals: Anastasia Pavlyuchenkova vs Barbora Krejčíková: Who is taking the trophy?
After two weeks of captivating drama, late-night thrillers, and stunning upsets, we have two women out to grab the prestigious French Open title. 
Women's tennis has retained its unpredictability tag in Paris as the 31st seed Anastasia Pavlyuchenkova faces the unseeded Barbora Krejčíková in the finals. Interestingly, this is their first-ever clash on the WTA Tour.
Why is the Roland Garros 2021 final special for Pavlyuchenkova?
The Russian trounced the big-hitting Tamara Zidansek 7-5 6-3 in the semis. Interestingly, Zidansek had hit more winners (109) than the likes of Stefanos Tsitsipas (97) and Rafael Nadal (86) after the quarterfinals. 
The 29-year-old Anastasia Pavlyuchenkova had a below-par winning percentage on her first and second serve at 58% and 54% respectively. However, the Russian converted 6 out of 10 breakpoints than Zidansek's poor conversion rate of 36%.
After 94 minutes of tiring rallies, Pavlyuchenkova made history by reaching her first grand slam final after 52 attempts. The 31st seed had never crossed the second round at the French Open in the past 4 years.
Her best performance in Paris was a quarterfinal finish in 2011. Ten years later, Anastasia Pavlyuchenkova is leading the Russian renaissance at the age of 29.
"Yeah, I had a lot of doubts because let us say I could beat some Top 10 players and make the quarterfinal of a major, I was very close to semifinals a couple of times, but then it would not happen, it was just up and down in terms of results," said Pavlyuchenkova relieved at reaching her first major final after several losses in the quarters.
How did Krejčíková balance both singles and doubles in the French Open 2021?
Barbora Krejčíková edged past the 17th seed Maria Sakkari 7-5 4-6 9-7 in a marathon 3 hours and 18 minutes in the semifinals. The Czech trailed by a break in the 3rd set and broke Sakkari's serve while the Greek was serving for the match at 5-4. She also saved a match point to triumph in the end. 
Overall, Krejčíková won 76% of points at the net and 62% of her first serve points compared to Sakkari's 63% and 61% respectively. The World number 33 emerged victorious despite hitting more unforced errors (58) than winners (31). 
The 25-year-old also maintained her intensity in the doubles semifinals with compatriot Katerina Siniakova. The Czech duo thrashed Bernarda Pera/ Magda Linette 6-1 6-2 in just 71 minutes.
Barbora Krejčíková deserves to be in her first grand slam final after being cast under the shadow of her illustrious compatriots, Petra Kvitova and Karolina Pliskova. The Czech will be eyeing two trophies simultaneously on Saturday.
Having already won two grand slam doubles titles with Siniakova (French Open 2018 and Wimbledon 2018), Krejčíková will be extra focused on her singles match.  
How will Hawk-Eye matter in the Pavlyuchenkova vs Krejčíková final?
Barbora Krejčíková had a match point in the semis against Maria Sakkari. Sakkari hit a return out and the line umpire too called it out. 
However, the chair umpire overruled the decision saying it was in though the Hawk-Eye review system declared it as out. This resulted in Krejčíková losing her match point. 
The French Open does not officially use the Hawk-Eye system when compared to other 3 grand slam tournaments. 
According to the Roland Garros tournament director, Guy Forget, the marks are visible on the red dirt after every shot. 
He also countered the calls for implementing Hawk-Eye saying it was also not 100% accurate. The ball marks shown on the court are also sometimes different from the ones shown by the Hawk-Eye system. 
"During the whole tournament there were some big points with some bad line calls, it is not just this one time so that is why I feel the system is not working right now," said Barbora Krejčíková supporting the need for incorporating Hawk-Eye in Roland Garros in the future. 
Though Krejčíková did win the semifinal despite the Hawk-Eye controversy amidst an umpiring error, such unfortunate incidents can make a big difference in the high-stakes final.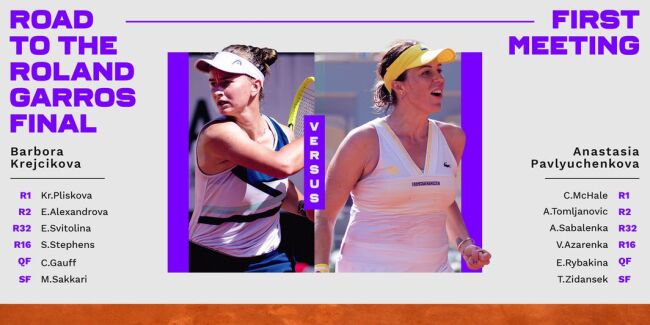 How Jana Novotna played a secret role in Krejčíková's career?
Krejčíková was ranked outside the top 300 when she first met the legendary Novotna at the latter's house in 2014. Barbora showcased her skills in a practice session and impressed Jana. Novotna, a former Wimbledon champion, decided to be the full-time coach of Krejčíková. 
The productive partnership lasted for 3 years before Novotna quit because of ovarian cancer. Just a few days before the 49-year-old Jana Novotna died on November 19, 2017, she had urged Barbora Krejčíková to go and win a grand slam. The Czech did just that by winning her maiden grand slam, the French Open 2018 doubles title with Siniakova. 
"From upstairs, she is really looking after me, I miss her and I really want to thank her, because of her, I am here," reflected Krejčíková dedicating her impressive run in Paris to the late Jana Novotna

Jana Novotna coaching Barbora Krejčíková. Image Credits  - Empire Tennis Academy
The 6 stats that give Pavlyuchenkova a huge edge against Krejčíková
Player Name

Anastasia 
Pavlyuchenkova

Barbora 
Krejčíková

Aces 
22
21
Double Faults
19
21
Time Spent on Court 
(after 6 matches)
10 hours 43 mins
12 hours 11 mins
Breakpoint 
Conversion Rate
53.83%
52.16%
Winners
174
148
Unforced Errors
140
186
The 4 numbers that give Krejčíková an advantage against Pavlyuchenkova
Player Name

Barbora 
Krejčíková

Anastasia 
Pavlyuchenkova

Sets Lost
2
3
Win % on First Serve
73%
66.33%
Win % on Second Serve
46.33%
45.16%
Points Won at the Net
71.67%
67
Wrapping Up
Krejčíková is aiming to become the first woman to win the French Open title after saving a match point since 16 years. The last player to do that was the Belgian Justine Henin at Roland Garros 2005.
Barbora will also try to become the first female player to clinch both the singles and doubles title at the French Open since Mary Pierce in 2000. 
The Czech has won 13 out of her past 14 matches and is on a ruthless 11-match winning streak. It is a cherishable moment for Krejčíková as she is playing her first grand slam singles final in just her 5th main draw appearance. 
Pavlyuchenkova took out the two in-form Belarusians Aryna Sabalenka and Victoria Azarenka in the 3rd and 4th round respectively.  The Russian later knocked out the 21st seed Elena Rybakina, who had upset Serena Williams in straight sets previously.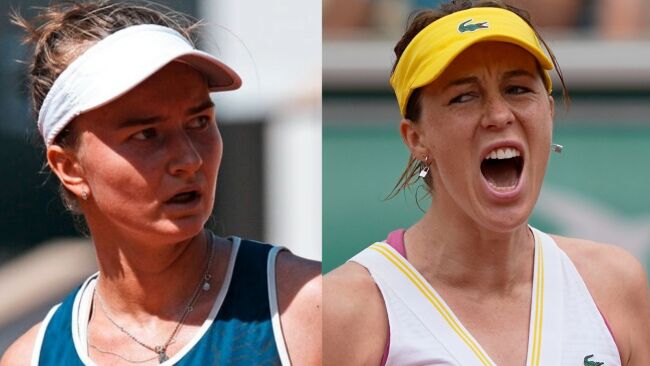 The unseeded Krejčíková lived up to her reputation as a dark horse, stunning the 5th seed Elina Svitolina 6-3 6-2 in the third round. The Czech defeated the American duo of Sloane Stephens and Cori Gauff before defeating the 17th seed Sakkari in the semis. 
"Grand Slam titles were predicted for Pavlyuchenkova when she was 15, when she was 17, when she was 20, it has been a long road, but this moment has been waiting for her all along", said Alex Macpherson, a renowned tennis journalist. 
A win for Anastasia Pavlyuchenkova in the French Open 2021 finals will surely draw comparisons with her compatriot Maria Sharapova who won 5 grand slams in her illustrious career.
"It is important to keep on top of your emotions, when Ivan Lendl played, he was always stone-faced, he played well and was successful, the thing is that I am calm on the inside too. I do not get nervous, so what comes out of me is actually what is happening inside of me. I am glad I have that quality,  I take after my father, it is in my genes," opined Krejčíková concentrating on her composure under pressure. 
Pavlyuchenkova and Krejčíková have defeated some star players in a tough draw at Roland Garros 2021. The late bloomers will try to play chess-like tennis by utilizing their weapons to good effect and pull off a historic triumph. 
Pavlyuchenkova will try to play aggressive tennis from the start while Krejčíková will aim to reduce her unforced errors and use that powerful backhand drive volley.  
So dear fans, who are you rooting for ahead of the French Open 2021 finals? Anastasia Pavlyuchenkova or Barbora Krejčíková? Who do you think will win their maiden grand slam? 
Do let us know in the comments below.
Featured Image Credits - US Open - Twitter