The man who stopped Pele on the roads
Being an ardent follower of Charles Bukowski, there was this famous line from this iconic author, "You will be alone with the Gods". How does it feel to stand in the towering presence of the almighty? 
How does it feel to find a presence ever so monstrous and yet so charming that your senses are benumbed? Have you ever wondered about it? 
Probably it is a feeling so very proud that you can sacrifice everything for that one moment. And in this article, we will talk about a man, who was born on the third of March, not only to defy God but thwart him in every aspect, backed on vociferously by eighty thousand people in a stadium packed to the rafters.
We are talking about a football God called Pele. The man who defined artistic football in its very true sense. Such was the mesmerizing brilliance, that even opponents took every chance they could to just see the man conjuring magic at will. 
Against him was a set of eleven players, standing in the jersey of a club that went on to thump colonizers in their very own invented game, almost 60 years back.
This team was called Mohun Bagan. The man who led them in this game of astronomical symbolic importance was none other than their very beloved Subrata Bhattacharya. 
The bloke who later went on to become one of the most successful managers of the club, was shouldered with the onus of snuffing Pele out on that illustrious day in Indian football.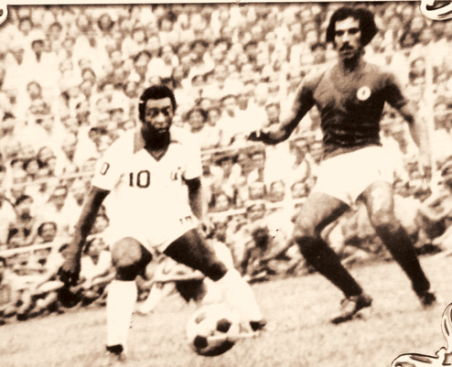 Much to the dismay of the supporters, who filled the stands of Eden Gardens, currently the Mecca of Indian cricket, it wasn't a bright sunny afternoon that would stay witness to fluid passing and artistry that the Americans are famous for. 
The heavens opened and it poured incessantly. This however, was an added advantage for Mohun Bagan as they were well accustomed to the Spartan conditions of a dampened field.
Carlos Alberto Torres drew first blood as he hammered home from point blank range to fire Cosmos to a lead. 
Bagan's instant reply stung the visitors hard enough to send the crowd into a frenzied delirium. Shyam Thapa restored parity within just a minute from a well-stitched pass directed to the star-striker. 
Bagan took the lead through a very well orchestrated move that spawned at the feet of India's finest, Akbar and was slapped into the net by Mohammed Habib.
It was then that the Brazilian maestro came back to life. From a double sombrero to an enchanting flip flap, Pele started conjuring his usual magic, leaving the defenders dazed and confused. 
However, despite all of these heroics, his artistry was met with substantial muscle by the Mohun Bagan skipper, Bhattacharya who didn't allow the World Cup winner to wriggle free.
The passes aimed at him were cut short and with the towering stature poking into the world's best, left the talisman begging for space.
Had it not been for an admirably wrong spot-kick, Cosmos would have probably left empty-handed from Kolkata. In fact, Pele himself admitted that it wasn't a penalty. 
After the penalty, he did choose to switch sides to ensure the optimizations of Cosmos sorties, but once again, Subrata was breathing on his neck as if his life depended on it.
On a rainy field that is jettisoned by gravity forever, one of the most enthralling and yet lethal moves is a sliding tackle. There were these couple of times when Pele did get himself acres of space.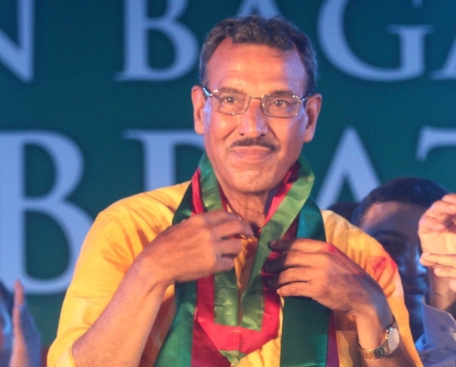 However, Subrata's clinically precise sliding tackles didn't let the delivery fly into the box. After the most tormenting spell of fifteen minutes, the referee put an end to all of it with a long blow at his whistle.
Pele exchanged a quick glance with his counterpart, who stamped his defensive superiority over the wonder-man who rose to ranks unparalleled. 
A face off between God and Satan would have been less exciting, like the way, Bhattacharya returned the glance to the Emperor of football.
Yes, third of March was the very day, the man who went on to deny Pele, was born. When Pele returned to Kolkata almost after 30 years, in an interview, Bhattacharya said, that wasn't a penalty. 
Pele screamed and his intimidating presence left the referee pointing to the spot instantly without hesitation.
This was extremely different from what others had to recount about the game. This is what made Subrata stand out amongst others. 
He coached Bagan in their first triumph in the National Football League and is most renowned for spotting Jose Ramirez Barreto, the Brazilian who took football in India to a whole new level.
 
Cover image credits: IBG News