PSG vs Manchester United UEFA Champions League 2020-21 Preview
The premier club competition in Europe is finally back as Manchester United heads to Paris to face Neymar led PSG in the UEFA Champions League. 
Manchester United was under tremendous pressure as they visited St. James' Park the past weekend but they managed to get through after some struggle.
The Red Devils were also shambolic against Jose Mourinho's Spurs in the game before and they paid a hefty 6-1 price for it. 
The game against the Magpies was looked upon as a crucial one considering Ole Gunnar Solskjaer's future at the club.
Reports suggested that a loss here could've put him under deep trouble but United remained patient and progressed in the game beautifully, scoring thrice in the last quarter of the game. 
They will be against Paris Saint-Germain, who missed out on the European glory by a goal's margin last season.
The two teams have a dramatic recent past when they last faced each other at the Parc des Princes, United winning 3-1.
Head to Head stats
The head to head battle is a close one as PSG have an edge. However, one of the three games played between the two was an International Champions Cup, which focuses more on the squad rotation rather than the result.
Even though the other two games have gone on either side, Manchester United won the tie due to the away goal rule and that will be something PSG should not have forgotten.
Recent Form
The Red Devils bounced back strongly after a game that raised severe problems and concerns at Old Trafford. United won 4-1 against the Magpies and they can forward or at least give their all to carry their momentum.
United was taken aback as they conceded an own goal very sloppily and it felt that yet another upset was on its way. However, Juan Mata and Bruno Fernandes began to dictate the game later on and that led to United's equalizer via a stunning Harry Maguire goal.
Considering their recent form, the Red Devils have won four of their last five games in all competitions, although the only loss was very exasperating.
PSG, on the other hand, have won five out of five and have looked pretty comfortable. 
Having scored ten goals in their last two games, the Manchester United defense will have to be at their absolute best to establish a reputation in European competitions like they once had under Sir Alex Ferguson.
Team News
Unfortunately, the visitors will be without their skipper, who had a brilliant game at the weekend. He had picked up an injury in some other game but he carried it at St. James'. 
Therefore, he has not traveled with the squad and it is reported that Bruno Fernandes will be handed the captain's armband. 
Ex-PSG striker Cavani will not be a part of the squad either as he has just finished his quarantine and needs more training.
Anthony Martial will be back in the squad after missing out the league game due to suspension while Mason Greenwood will be out too, as confirmed by Ole.
For Thomas Tuchel's side, Neymar will be back and that will be a huge positive. Neymar is yet to play a game against the Red Devils since he played against them in a pre-season game and scored too.
However, the injury list is enormous for PSG. Mauro Icardi, Juan Bernat, Thilo Kehrer, Leandro Paredes, and Marco Veratti are all sidelined.
Tuchel was concerned as he feels they may only have 11 players to feature in their first Champions League game of the 2020-21 season.
Key Battles
Ander Herrera vs Bruno Fernandes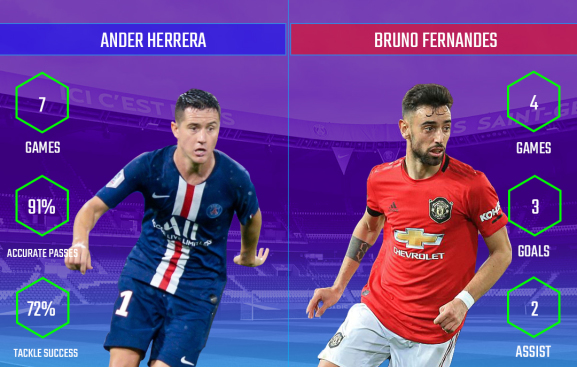 The Portuguese don't need the captain's armband to prove his leadership personality and he has been vocal about it from the first day itself.
He will be against Ander Herrera, ex-Red Devil who moved to PSG after his wage demands were not fulfilled. 
Bruno has been United's main engine while attacking while Herrera is known as a great man-marker.
Tuchel may plan to shut Fernandes and putting Herrera on him will surely be one of the most effective ways to do so.
Neymar vs Aaron Wan-Bissaka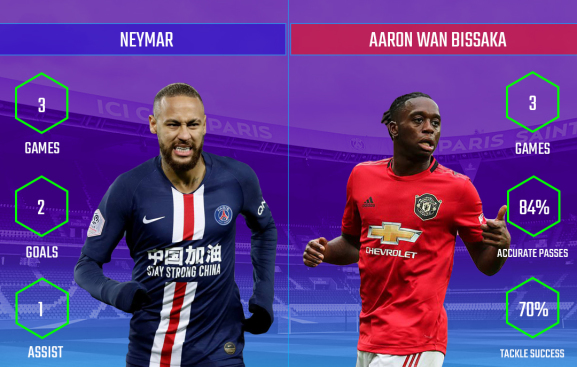 Neymar will be against one of the best tacklers in the Premier League and it would be interesting to see how it goes.
Wan-Bissaka will surely have to watch some videos as he will also be against one of the most lethal wingers in the world.
Neymar was present on the sidelines when PSG lost to Manchester United at home and his reactions post-match also landed him in distress.
This will be a battle between two players who are phenomenal in their positions and it will be interesting to see how it turns out.
Prediction
The game will favor PSG a lot. PSG have been in form, scoring well while United have shown some serious signs of suspicions in their backline. 
The exclusion of Harry Maguire makes it more difficult as the probable Lindelof- Bailly duo have barely played any games in partnership.
However, United's front three with Paul Pogba and Bruno Fernandes can cause some problems to the PSG defense, who are yet to face a tough competition.
Prediction: PSG 2-1 Manchester United