Real Madrid stays on top after Madrid Derby: five talking points
Real Madrid clinched a point to stay on the top of the table in what turned out to be a boring Madrid Derby, last night. The two sides displayed some solid defensive skills, which none of the strikers could get past and the match ended in a goalless draw.
This draw helped Los Blancos in keeping the one-point lead over second-placed Atletico Madrid and third-placed Granada. Real's arch-rival, Barcelona won their match and are currently two points away from Los Blancos on the fourth position.
Without further ado, let's find out the five talking points from the game:
5) Both teams played for a draw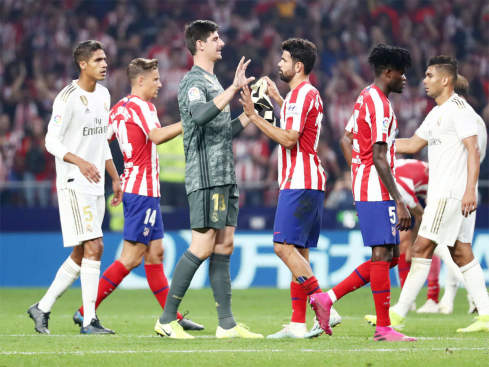 Everybody expects a lot from Madrid Derby and why would they not. The two teams of Madrid have given us a few nail-biting and heartbeat skipping matches in the past. Be it in La Liga or Champions League, the two sides have always entertained the audience with the display of phenomenal football.
Yesterday, however, all of this was missing. Both the sides solidified their defensive line as they wouldn't want to miss on three points. Real Madrid did put some efforts to win the match but none of it was enough to get past Jan Oblak. Atletico Madrid, on the other hand, were playing at home but didn't use this advantage, it didn't look like that they stepped down on the pitch to win the match. 
4) Los Blancos deserved a win?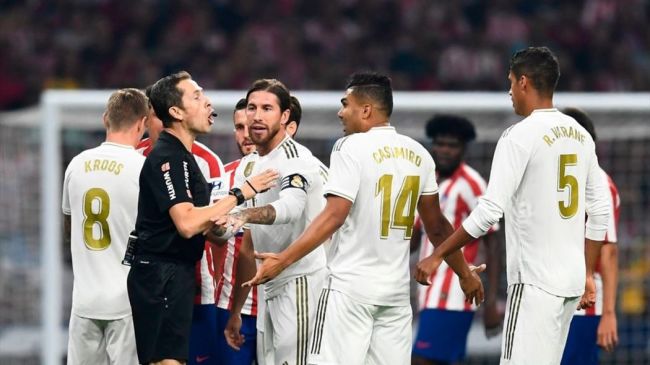 There is no doubt that Real Madrid was a better side overall. Los Blancos faced a lot of criticism in recent times. Especially, for their defeat against Paris Saint-Germain in the Champions League. We all have to understand, however, that this is not the old Real who had a lot of confidence or phenomenal creativity in the attack.
This Madrid side is going through a change and it will take little time to reach where they belong. Last night, however, they surprised everybody with the amount of effort they had put on the ground.
Los Blancos had 14 shots out of which three were on the target, this is the double of what Atletico fired on Real's goal. Also, Real were ahead of Los Rojiblancos in terms of Passes, corners and, possession as well.
3) Atletico's solid defensive display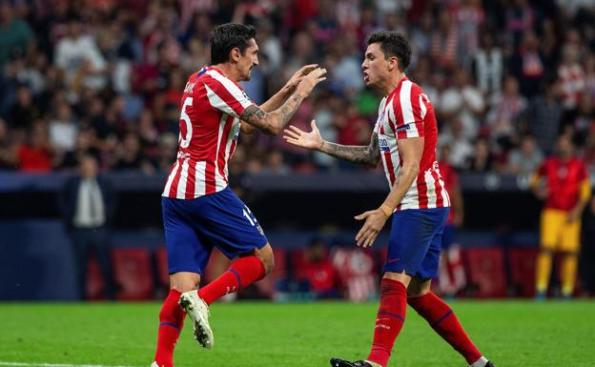 Once again, Atletico's defensive line was at their best. The defenders didn't let Real create a dangerous attacking opportunity that Oblak can't take care of. The backline was intact and made sure that they keep all the key players silent throughout the game.
Stefan Savic and Jose Gimenez were brilliant at the back. The two defenders made four successful tackles and 10 clearances. Los Blancos are quite good in the aerial battles, but here also two defenders won five aerial challenges.
There is no doubt that Atletico have got one of the best defensive lines in the top five European leagues. The defenders always give their everything in order to keep the ball away from their goal. Maybe if their forwards would have put more effort, then their hard work could have paid off.
2) Eden Hazard yet to play his natural game
Real bought Eden Hazard for €100,00 million thinking that he would be a good addition in the attacking line. The Belgian, however, has failed to produce a performance for, which Los Blancos got him to Santiago Bernabeu.
The winger has played four games and hasn't scored any goal or provided an assist. He is averaging one shot per game currently, which is too low considering the quality of the Belgian. Even last night, Hazard didn't take any shot on the goal and created two key chance for Los Blancos.
The Belgian we knew was used to break bring players to the ground with his tremendous dribbling skills. Against Atletico, however, this quality of the winger was missing as he dribbled past the player only once. There were many occasions on, which he could have got past the player, but came down to the ground claiming foul.
1) Sergio Ramos leading from the front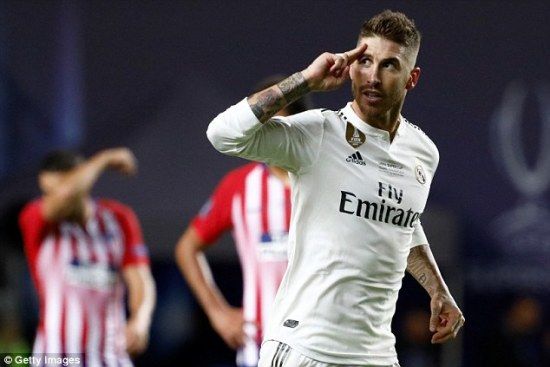 In recent times, Real's defensive line hasn't been at their best and have faced lots of criticism for their poor display. In this match, however, it changed as both Raphael Varane and Sergio Ramos gave out a mind-blowing performance. This helped Thibaut Courtois in keeping a second consecutive clean sheet in the ongoing La Liga.
Ramos won five aerial battle, made three successful tackles and cleared ball three times. His passing was also phenomenal as he provided 60 successful passes out of 63.
Many critics commented that the Spaniard is aging and finding it difficult to stop the youngsters. With this performance against Atletico, Ramos showed that there is still a lot of football left in him and we will witness a lot of it this season.
Cover picture credits: Sportskeeda