Stats & Records broken in New Zealand vs India T20I series
The 3-match T20I series between India and New Zealand was won by India (1-0). The first game was washed out due to rain. Suryakumar Yadav's heroics with the bat lead India to beat New Zealand by 65 runs in the second T20I. The last T20I ended in a tie (team score level on the DRS method).
Here are the multiple records broken in India vs New Zealand T20I series
Highest men's T20I score for India against New Zealand: Suryakumar Yadav (111* in 51 deliveries)
Suryakumar Yadav achieved this feat in the 2nd T20I against New Zealand. He also became the first Indian batsman to strike 2 centuries in T20I cricket with a strike rate over 200+.
Most T20I centuries with 200+ strike rate for India:
Suryakumar Yadav - 2
Virat Kohli, Rohit Sharma, and KL Rahul - 1
Biggest win for India against New Zealand on their soil in T20I's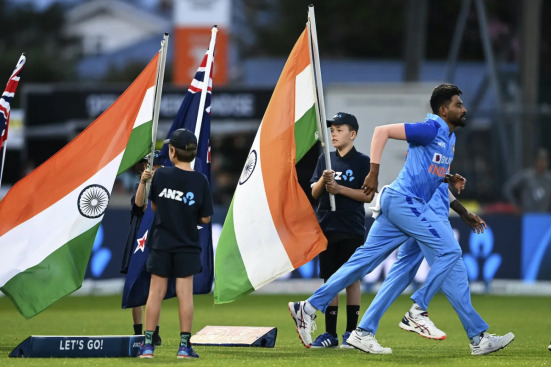 Suryakumar Yadav's century combined with the efforts of the Indian bowlers established India's biggest win against New Zealand on their soil, beating the blackcaps by 65 runs.
 
Best bowling figures for India against New Zealand in T20I's
Deepak Hooda registered the best figures for an Indian bowler against New Zealand in T20Is, taking 4/10 in 2.5 overs.
Best figures by an Indian bowler against New Zealand in T20Is
Deepak Hooda: 4/10
Jasprit Bumrah: 3/12
Krunal Pandya: 3/28
 
The highest number of hit wickets in T20Is
Lockie Ferguson became the first bowler to take multiple hit-wickets in T20Is after Shreyas Iyer got himself out by hit-wicket.
Most number of hat-tricks in T20Is
Tim Southee joins Lasith Malinga in an elite list as the bowler to take the most number of Hat-tricks in T20I's (2). The 33-year-old achieved this feat in the penultimate over by picking the wickets of Indian stand-in skipper Hardik Pandya, all-rounder Deepak Hooda and Washington Sundar. However, his heroic performance went in vain as the Indian side managed to get the better of the Blackcaps by a huge margin of 65 runs.
Subscribe to Sportco for more content.