Would you love to see Robert Lewandowski play for your favorite club?
Robert Lewandowski has had another terrific 2020/21 season with Bayern Munich. With 39 goals in Bundesliga from just 27 games plus another 7 goals from 11 matches in other competitions, it has been another record-breaking season for the Pole. 
With Gerd Muller's 40 goal record just within sight, it will be the fifth consecutive season for Bayern's no.9 where he will be scoring more than 40 goals. 
The Bundesliga legend has his contract with Bayern expiring in 2023. At 32, Robert looks prime for more and guarantees at least 3 to 4 more years for tons of goals. 
After winning the FIFA Best Player award last year he is on another campaign to grab the same. but at the same time there are various rumors of him leaving Bayern. Manchester City and Chelsea have been standing out as chief suitors and there are also some other contenders for his signature.
Background for the rumors
Robert Lewandowski's contract ends in 2023, meaning he still has 2 years left in his contract. But aged 32, he isn't a long-term commitment to Bayern Munich. 
Despite both the club and player declaring that they are ready to work on a long-term basis with a possibility of the player ending his career in Bavaria. 
However, Bayern wants to secure the long-term future especially with a very young and talented generation coming up at the Allianz Arena it is a normal concern for the directors. 
Hence there have been some floating talks about singing another top-class striker who can replace Lewandowski in the long run. 
Though the name mostly discussed is none other than Erling Haaland but other names too haven't escaped the radar. 
Such talks haven't been appreciated by the player's camp who would really like to lose out the first choice position to someone else.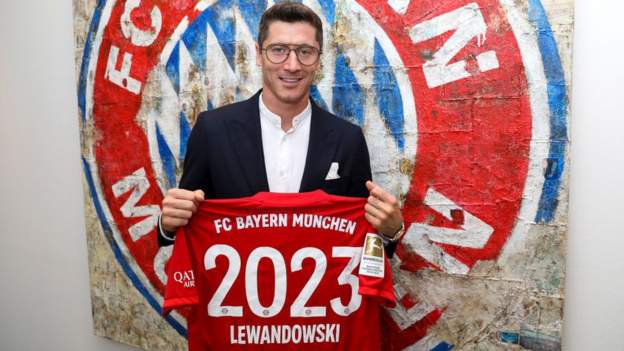 But the main reason for the transfer rumors has been the salary demands. Currently, the Polish striker earns close to $22m including taxes. But his agent Pini Zahavi has other plans. 
The Best player in the world deserves the best salary, or that's how his agent thinks. Meaning if Bayern wants to extend the contract of Lewandowski the player must earn a salary that matches the likes of Neymar or Cristiano Rolando who earns close to $30m a year. 
Pini Zahavi knows that Bayern under no circumstances would agree to such financial demands and so would like to transfer his client to some other European giant who can feed such a huge wage.
 From what information is available, any club who would want Lewandowski's signature must be able to meet the wage demand of nearly $30m and also able of buying him from Bayern who will not let him possibly go without a good amount of cash. 
Though nothing has been said from the club, believable sources have revealed that for any transfer to happen the bidders must cross the $60m mark or even more to start negotiations. 
Surely the Bavarian Giants will not their talisman leave without getting enough money for his transfer. There are only a few possible destinations for the striker and let's check out the most suitable ones.
Possible Destinations for Robert Lewandowski in case he leaves Bayern:
ITALY 
Starting with the most unlikely scenario, Italy has always welcome aging players with open arms. Several players have gone to Italy after completing their European adventure in other countries and flourished like being in their prime. The offers for Robert Lewandowski though have come from only two suitors:- Juventus and Inter Milan.
Juventus-
The Old Lady has been trying to sign a world-class striker ever since the arrival of Cristiano Ronaldo to form an exceptional attacking duo but has only received failure. And now after 3 years in Italy, even Cristiano Ronaldo is looking to leave Italian giants. Thus from the next season, they will be without a world-class striker and that has urged the directors to get one. 
Robert Lewandowski is obviously a very attractive choice given that he, just like Cristiano Ronaldo, likes the Champions league more than anything else. 
The third all-time top-scorer of the competition had recently won his first UCL title and would like to lead on to win another few. Juventus too needs the same trophy in their cabinet and hence having an interest in Robert Lewandowski is no surprise.
But the only problem is in reality it won't solve any of the problems for Juventus. Unless the Turin-based club solves their midfield and defensive problem no amount of good striker can lead them to European glory. 
And bringing in Robert Lewandowski would barely solve the problem as it neither would de-congest the wage bill nor will it open up the space for youngsters.
Unless Juventus are seriously planning for another economically-influence transfer move that for sporting reasons, like that of Cristiano Ronaldo, pursuing a transfer for Lewandowski might just be another failed move just like that of the Portuguese forward.
Inter Milan- 
Possibly just a floating rumor, there is no real reason for the Nerazzurri to try to sign Robert Lewandowski. 
Inter already have Romelu Lukaku and Lautaro Martinez fighting for the striker's spot and adding another striker just doesn't make any sense. Added to that, Inter doesn't really have the financial backing to meet Pini Zahavi's demanded wages.
SPAIN
Spain has always been a talked destination for Robert Lewandowski with him being several times linked for a transfer to the country. But in La Liga, the only club that has ever come close to transfer is Real Madrid. 2012, 2014, 2017,2018 the connection between Los Blancos and the Bayer Munich forward is a long one. And yet again he has been linked to Real. 
Real Madrid
Real Madrid has always offered everything for Robert Lewandowski but could never land him in. And even now the situation is a favorable one. 
Real had a somewhat decent season but will possibly miss out on any trophy. But a notable point from the season was they lacked goals by some substantial number. 
Karim Benzema obviously scored a lot with 28 goals from 43 appearances but was severely let down by others. Sergio Ramos could not repeat his last year's heroics and the wingers had a substantial display. Both Asensio and Vinicius Jr. had a pretty poor season with both of them scoring just 7 goals each.
Florentino Perez certainly wants to improve in this regard. While they might have marked Kylian Mbapee as their main man to take up the scoring responsibilities from next season but still there's no guarantee about the transfer of the young Frenchman. 
In such a scenario bidding for Robert Lewandowski would be a very quality step. Lewandowski alone can grant the team over 40 goals and along with Benzema he can form an iconic duo. 
In fact, the addition of Kylian Mbappe also wouldn't be a really tough job, as in the past Karim Benzema accommodated Cristiano Ronaldo and Gareth Bale. With Robert Lewandowski, Karim Benzema and Kylian Mbapee, it could be a heavenly trio and surely something every Madrid fan cherishes about.
The only problem in landing Robert Lewandowski would be his salary. Real's wage bill is just too full. Plus there will be an addition of David Alaba next season who will be earning close to $20m and possibly and a new deal for captain Sergio Ramos who also will be asking for a pay rise. 
But at the same time Real might also offload their top two earners Eden Hazard and Gareth Bale who both drain nearly $22m each season. Thus is could well open up the space for both the wage demands of Mbapee and  Lewandowski. A transfer for Lewandowski could obviously just be a matter of time in case he leaves Bayern and Real produces a suitable offer.
ENGLAND
Well, Robert Lewandowski's career could have been completely different if he were in the Premier League. He could have been another Sergio Aguero of Premier League. His transfer to the PL did not happen for a crazy reason. In case you don't know the story you much do and find it on Google or YouTube.
And still, however tempting does a transfer to Real Madrid look like, the really capable suitors for Robert are in the Premier League. Both the Champions League finalists Manchester City and Chelsea are reportedly interested in the transfer along with Manchester United also being in the race.
Manchester United:-
Manchester United have had a pretty decent season. They will in all likelihood finish as the league runner-up and could make their season even better if they manage to win the Europa League beating Villarreal. 
However, all Red Devils fans know their team lacks a world-class No.9. This season obviously Edinson Cavani carried Manchester United well on his back and along with Bruno Fernandes and Marcus Rashford scoring wasn't a hard task like last year.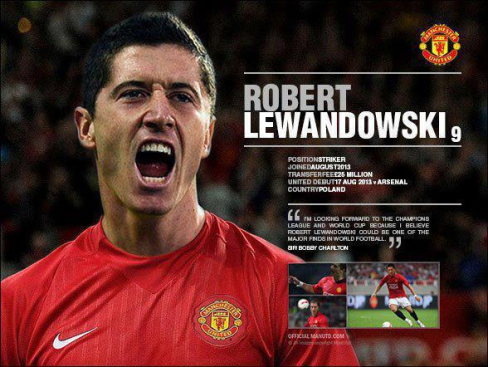 Robert Lewandowski like Real Madrid was also very much linked with Manchester United in the past and they came closest in 2014 for his signature though ultimately lost out to Bayern. 
Man United though might be more interested in luring Cristiano Ronaldo, who wants to leave Turin, and spending the last few years of his career at his breakthrough club.
Manchester City- 
Manchester City will be facing a similar situation from next year like Man United as Sergio Aguero will be leaving the Etihad Stadium after 10 long years of service. 
Man City has therefore grown interested in a transfer for Robert Lewandowski. The Polish International already has played under Pep Guardiola for 3 seasons at Bayern Munich and a reunion will not be surprising. 
City has no financial problems and playing his wages along with the sum asked to buy Bayern will be a difficult job. While Man City might be more interested in getting Erling Haaland but the Norwegian striker is obviously a very tough target to get hold of. 
Robert Lewandowski on the other hand will be far less expensive and easier to get and will bring in both goals and experience in the Arab-owned club.
Chelsea- 
Despite the interest from both the Manchester giants, the most likely destination for the Bayern Munich forward could be the London Club. 
Chelsea has some problem with strikers with many of them failing badly at Stamford Bridge. And this season's hot transfers Timo Werner and Kai Havertz have also failed to live up to expectation. Also, the backup strikers, Tammy Abraham and Oliver Giroud have been no better. 
Though all of Werner, Ziyech, and Mount came up well in the last phase of their campaign to lead Chelsea to the FA Cup and Champions League finals and also a decent PL season, Thomas Tuchel will surely like to have a great center-forward right from the start next season.
This opens the door for Robert Lewandowski. Roman Abramovic too like City doesn't have financial problems and can afford the demands for the Polish talisman. But what makes this transfer more likely is Timo Werner. 
Oliver Giroud, Robert Lewandowski, Timo Werner and Tammy Abraham all could be fighting for the place upfront and it will be something that neither Tuchel nor Abramovic will like.  
Bayern had always wanted to have Werner right from his Stuttgart days but never could reach a deal. A swap between Timo Werner and Robert Lewandowski would be a nice idea. Werner could also be able to work with Julian Naggelsmann, one who brought the best out of him a few years ago. 
Featured Image Credits - goolfm.net