Rogers Cup 2021: Finals: Daniil Medvedev vs Reilly Opelka: Preview and Prediction
Top seed Daniil Medvedev sets up an intriguing encounter against the 32nd-ranked Reilly Opelka in the finals of the Rogers Cup 2021. Medvedev leads the head-to-head record 3-1 against Opelka.
"Reilly is a player who can cause problems to everybody, you saw that today against Stefanos, who had been in very good form this tournament, he didn't even break him and maybe only had one opportunity in three sets, he has been playing really well from the baseline all week with good backhands down the line, I am looking forward to the match"-reflected Daniil Medvedev praising Opelka's game in Toronto.
Key Insights:
Daniil Medvedev is targeting his 12th career singles title and a 4th ATP Masters trophy in his 5th final.
Opelka has never beaten Medvedev on outdoor hardcourts (0-2).
Medvedev is aiming to join the big 3 (Federer, Nadal, and Djokovic) by becoming the champion in the         Toronto Open.
Reilly Opelka is playing his first ATP Masters 1000 final and will strive to win his 3rd career title.
Both Medvedev and Opelka are right-handers with two-handed backhands.
Daniil Medvedev lost 6-3 6-0 to Nadal in the Rogers Cup finals in 2019.
Opelka is the first American to reach the Rogers Cup finals since Mardy Fish in 2011.
How did Medvedev destroy John Isner in 54 minutes in the semis?
World number 2 Daniil Medvedev routed the 30th-ranked Isner 6-2 6-2 in the semifinals. The Russian fired 11 aces and won 90% of his first-serve points (27/30). 
Medvedev's second serve made a big difference as he took 64% of points when compared to Isner's dismal 17. The top seed also clinched his second straight-set victory in a row against John Isner.
How Reilly Opelka edged Stefanos Tsitsipas in a late-night thriller?
Tsitsipas, the World number 3 was leading 7-6(2) against Opelka in the semis. The Greek lost focus in the second-set tiebreaker and broke his racquet after losing it 7-6(4). 
Reilly Opelka used his booming serve to good effect in the decider and clinched it 6-4. Stefanos Tsitsipas lost his cool after getting a point penalty for ball abuse. Overall, the match was a cliffhanger as Opelka just got one more point (108) than Tsitsipas (107). The American also got his first victory against a top-5 ranked player. He fired 46 winners including 27 from groundstrokes. 
Why will the result be decided by the quality of serving?
Reilly Opelka has smashed 90 aces in just 5 matches in the Rogers Cup 2021.  Standing at an enormous height of 6'11", the American has been serving bombs in Toronto. 
On the other hand, Medvedev was ruthless against John Isner in his semifinal. The Russian broke the American's serve 4 times in the match. He also won 83% of return points on his second serve than Isner's 36%.
Though Daniil Medvedev has less time to recover for the final, he will be ready for the big challenge. The Russian has experience at the big stage and his first serve has been ticking the right boxes. Opelka would need fresh legs after a 2-hour 32-minute victory against the 3rd seed Stefanos Tsitsipas.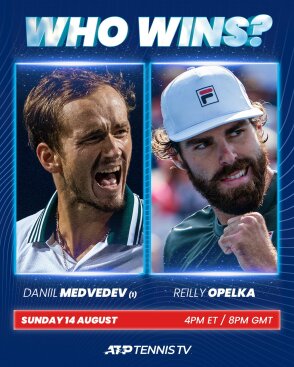 "With serves like John Isner or Reilly Opelka, you cannot stand too far back because the ball is not going to come down, it will just go higher and higher, so I tried to return a bit closer than I am used to and it worked pretty well, I am not sure how it will go tomorrow, but at least it was a good practice to get ready for the same thing," -said Medvedev after his easy win versus John Isner in the semis.
Wrapping Up
Daniil Medvedev stood 2 to 3 feet closer to the baseline to overcome John Isner's big serves. The Russian claimed 50% of return points, which is quite rare against the 6'10" American. Reilly Opelka has shown composure under pressure after beating the entertaining Kyrgios, counterpuncher Agut, and the higher-ranked Tsitsipas. 
The 32-ranked Opelka will aim to win the first set and capitalize on the momentum. He is yet to lose a three-setter (3-0) in Toronto this year. Expect the match to feature two tiebreakers and Medvedev to win by a narrow margin.
Prediction
Daniil Medvedev to win in three sets against Reilly Opelka and clinch the Rogers Cup 2021. 
Featured Image Credits - Getty Images