Is Ronaldo Nazario better than Lionel Messi and Cristiano Ronaldo?
Football remembers heroes and few players have set the field ablaze more like Luis Nazario de Lima aka Ronaldo, the Brazilian wonder.
El Fenomeno stunned the world with his huge personality and incredible goal scoring ability, despite his injury problems, and he imprinted himself on a generation of football fans during his career.
Recently, Jose Mourinho, when asked for a response as to who the best ever football player was, had this to say: "Ronaldo, El Fenomeno. Cristiano Ronaldo and Leo Messi have had longer careers, they have remained at the top every day for 15 years.
"However, if we are talking strictly about talent and skill, nobody surpasses Ronaldo [Nazario]. When he was at Barcelona with Bobby Robson, I realised that he was the best player I'd ever seen take to the field.
"Injuries killed a career that could have been even more incredible, but the talent that that 19-year-old boy had was something incredible."
It is in the wake of this that we are actually discussing if he, indeed was better than Lionel Messi and Cristiano Ronaldo.
Early years
He developed under the guidance of Brazilian legend Jairzinho, who purchased the player for $50,000 in 1992.
In his early years, Ronaldo showed an incredible talent, to do everything at high speed. In 1993 he signed for Cruzeiro and in two seasons' time he established himself as one of Brazil's outstanding players.
His performances caught the eye of national team manager Carlos Alberto Parreira, who called him up for the 1994 World Cup, aged just 17, although he did not play in the tournament. Brazil won the World Cup, beating Italy in a cliffhanger.
The road to Europe
Following Brazil's success in 1994, and with a spectacular return of 44 goals in 47 games with Cruzeiro, Ronaldo was set for a new adventure.
His time in the Eredivise with PSV Eindhoven finished with an impressive 54 goals in 57 matches, contributing to PSV winning the Dutch Cup.
As an individual he won the top scorer award and his two seasons in Holland were enough for him to become one of the most sought-after players in international football, leading FC Barcelona to lure him in to Catalunya.
Catalan career
At 20 years of age he looked set to make history with Barcelona and in his first season at the Camp Nou, in 1996/97 under Bobby Robson, he won the UEFA Cup Winners Cup, the Copa del Rey and the Supercopa de Espana.
Ronaldo won the hearts of Barcelona fans with some spectacular goals at the Camp Nou, while he ended the season with 47 goals in 49 games.
The start of injuries
Ronaldo decided to leave Spain and move to Internazionale the following year after the Italian club paid the release clause.
To the surprise of the Barcelona fans, despite a host of individual awards, including the Ballon D'Or, he left.
Everything went well in his first season in Italy and, alongside a gifted set of individuals, he won the UEFA Cup, beating Lazio in the final.
With the world at his feet, Ronaldo reached the World Cup final in France 1998, a game that look pre-destined for him, but that ended with a serious cardiac issue. The Brazilian suffered convulsions the night before the final and he was close to missing it.
He did start, but his performance was disappointing, and France won the game 3-0.
In November 1999 Ronaldo suffered his first serious knee injury in a game against Lecce and in April 2000 he suffered a second injury, shortly after his recovery from the previous injury, in the Copa Italia against Lazio.
Resurrection to Real Madrid
The 2002 World Cup in Japan and South Korea represented the resurrection of Ronaldo.
Despite his lack of game time, Luis Felipe Scolari trusted him and selected him for the tournament and Ronaldo did not disappoint, leading the team to the final as the tournament's top scorer, before he netted twice in the final win against Germany.
Ronaldo had returned to the international scene strongly and at that moment Florentino Perez decided to bring him to Real Madrid.
He was not the explosive striker that he once was, but was still as fast and lethal and in September 2002, following lengthy negotiations, Real Madrid snapped up Ronaldo from Inter Milan for 36 million euros.
He went on to score 104 goals in 177 games for Madrid across five seasons.
Retirement
Real Madrid were unable to win La Liga or the Champions League and finally Ronaldo left through the back door during the winter transfer window in 2006/07.
AC Milan and Corinthians tried to reignite the Brazilian, but in 2011 he threw in the towel.
"I cannot do it anymore; I wanted to continue, but I cannot," were the words of the legend on his retirement.
Why it is worth a serious GOAT debate
Some strikers are better suited to one style of football and consequently find goals easier to come by in one particular team or league. Ronaldo, on the other hand, scored goals aplenty regardless of where he played. 
His exceptional talent was not only rewarded with over 400 goals over the course of an illustrious career, it additionally saw him land silverware in every country he played.
Adapting to different leagues and styles is the calling card of a truly gifted attacking player and Ronaldo's incredible results in Brazil, the Netherlands, Spain, Italy and the international arena underline his ability as a well-rounded phenomenon.
And his adaptability didn't stop at changing to certain philosophies either. 
Serious injuries have thwarted the careers of many world stars. But not Ronaldo Luis Nazario de Lima. He suffered two potentially career-ending knee injuries during his early 20s after previously suffering a season-ending one during his teenage years at PSV. 
The Brazilian legend bounced back to claim football's ultimate prize in the summer of 2002 as well as a third World Player of the Year award in the same year.
Many football fans of today very much admire the talent of France star Kylian Mbappe, but it's fair to say the PSG forward is not even half the player Ronaldo was at his age. 
While many talented footballers strive to win the Golden Boy award in their teenage years and early 20s, the Brazilian was already lifting the FIFA Best Player award at such tender age.
At the age of 20, Ronaldo was already the best player in the world. That is obviously rare these days, and not even the impeccable Messi and Cristiano can boast of such a feat. 
In 1996, Ronaldo was voted FIFA Best Player. He again won the prestigious individual award in 1997, before winning it for the third time in 2002.
By contrast, Messi won his first FIFA Best Player award at the age of 22, while Cristiano won his first at 23. It is clear that Ronaldo was miles ahead of the duo and had he remained fit, there is no doubt he would have monopolized the award.
It would be totally erroneous to say Lionel Messi and Cristiano Ronaldo didn't show enough brilliance in their teenage years. In fact, the superstar duo was always destined to rule world football. However, their collective impact was nothing compared to a teenage Ronaldo.
Ronaldo was neither overawed by the challenge of playing in Europe and went on to feature for PSV, Barcelona and Inter Milan – all before he turned 21. In other words, as a teenager he had already dominated in the Dutch, Spanish and Italian leagues. 
Unlike many strikers of today, Ronaldo was not just a goal scorer, he was a complete footballer. And one thing he holds over Cristiano and Messi is his impact in the World Cup. The Brazilian won two World Cups, which could have been three had he not fallen ill before the 1998 final against France.
Ronaldo was part of a great Brazil team, featuring the likes of Rivaldo and Ronaldinho. However, he stood out anytime he was on the pitch. 
He was the team's go-to man in the major tournaments and he always delivered too. Prior to the 2002 World Cup, Ronaldo had been injured for the previous three years, yet he returned with aplomb, scoring eight goals to lead his nation to the ultimate.
At the end of his career, he scored a whopping 15 World Cup goals – a record which stood until it was broken in 2014 by Germany's Miroslav Klose. Messi and Cristiano may be dominating football now, but they've never quite had the world at their feet as Ronaldo did in his prime.
For the better part of the last decade, football has been all about the rivalry between Cristiano Ronaldo and Lionel Messi. However, that was not the case prior to the emergence of the superstar duo. Ronaldo had it tougher, with a lot more talented players laying claim to the World Best Player award.
The likes of Luis Figo, Zinedine Zidane, Dennis Bergkamp, Davor Suker, Raul Gonzalez, David Beckham and Ronaldinho, amongst others, were all on top of their game. Now that's some list to have as competition, yet anytime Ronaldo was fully fit, he was a level above each of them.
To be injured for close to three years and still return to win the FIFA Best Player award typifies the kind of special talent Ronaldo was. Messi and Cristiano have had it easier with the two players having no other contenders to step forward. Ronaldo had more competition but still came out tops. 
Lionel Messi: "Ronaldo was my hero. I loved seeing players like Zidane, Ronaldinho and Rivaldo, but Ronaldo is the best striker I've ever seen. I've never seen anyone hit a ball like him."
"I've never seen a player able to show such precise control at such high speed," said Marcel Desailly. "Watching him was like watching a character in a video game." Moreover, he had infintely better defenders to contend with, as opposed to say, a Messi or a Cristiano.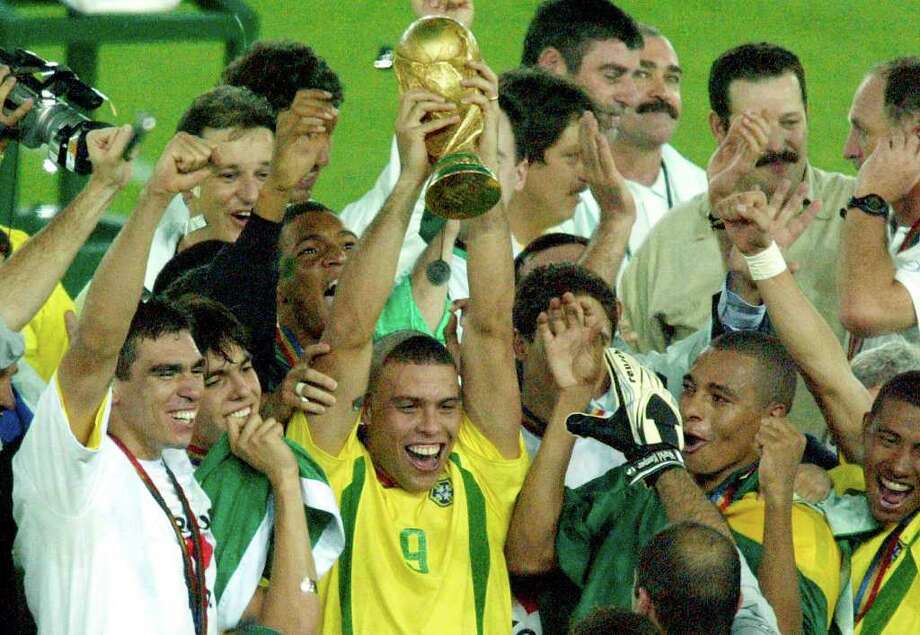 His most famous duel was with the great Alessandro Nesta in the 1998 Uefa Cup final. That match had been hyped as a meeting between the best attacker and the best defender in Serie A. Ronaldo destroyed his opponent. 
"It was the worst experience of my career," Nesta said. He watched the match repeatedly on video, trying to work out what he had done wrong, until he finally had his Eureka moment: there was nothing anyone could have done. "Ronaldo," he said, "was simply unstoppable."
Most blame those knee injuries for the fact he peaked so early, though others think it was more down to lifestyle. Either way, the romantic "what if" has enhanced his legend in some ways. We get to have our cake and not eat it; to wonder wistfully how good it might have tasted.
"He's the best player in the world. He's my favourite player" - Cristiano Ronaldo had this to say about his legendary namesake.
Ronaldo had a better international career than both Messi and Ronaldo combined. But the fact that he does not have a Champions League reflects poorly in comparison to the duo.
However, in terms of raw talent and ability, he is definitely up there with the two, if not better. If not for injuries, he might have indeed been the best ever. Who knows?